Vehement Vilette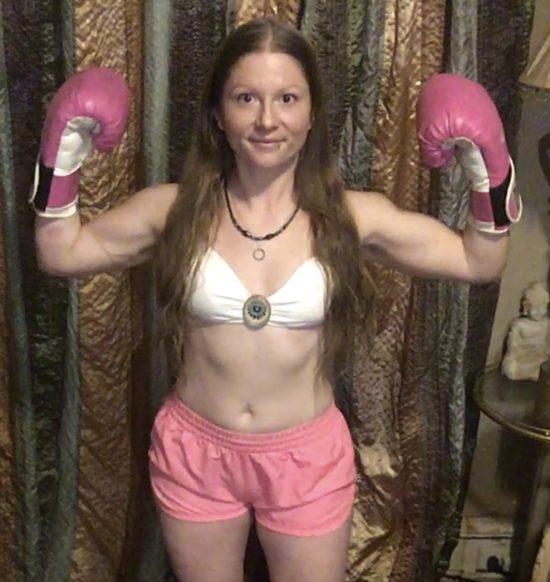 Contact
Location:&nbspUnited States , Pennsylvania, Philadelphia
Email: [email protected]
Last Activity: 11/20/2023
Stats
Height: 5'1" - 154 cm
Weight: 125 lbs - 56.7 kg
Physique: Athletic
Years Of Experience: 5-15 years plus

Tip Me
About
---
Hi this is Vilette! If interested in sessioning shoot Me an email at [email protected] I am very experienced in foot worship, fantasy wrestling, grappling, semi-competitive wrestling, bondage, muscle worship, lift and carry, scissor holds, gagging, hot wax, spanking, role play, tickle torture, humiliation, public humiliation, transformations, electrical play, spitting and with whips, floggers, paddles and crops. I have plenty of modeling experience as well for custom videos and have been in many fully competitive catfights. I am purely a Dom! I will never be nude and only seek respectful, truly obedient subs and session partners. I AM NOT AN ESCORT so do not even bother wasting My time asking. There is a mental connection between Dom and sub and that is what I seek out of this lifestyle, proving time and again My power as the Dominant and stronger sex.
Travel
I am traveling this weekend and the dates posted on My tour dates are flexible. I have the option to venture through Harrisburg, Philadelphia of course, NYC, New Haven, Hartford, Springfield, Albany, northern NJ and Wildwood NJ/Atlantic City this weekend. Starting Monday I will be able to also add Pittsburgh, Allentown, Wilkes Barre, Wilmington and Baltimore to the route. If you want to session: email your availability including location, days and times and I can see if I can add you to My route. I have a bunch of northeast region visits happening with My regular long term clients and I would love to add on a couple more matches if the timing and proximity align 🙂 I will be making another two trips like this around August 21 when I will be in Boston and again September 1 when I will be in Albany. I will be doing a midwest tour in October out to Chicago where I will be staying October 12-15 and will continue on to Minneapolis after and then loop back towards Philadelphia. Email Me if you think I should stop in your city along the way!
ATTENTION After taking a break since the start of the COVID-19 pandemic I am officially starting to host sessions again. Email with your location in the subject line, include in your email your name, interests, availability and at least one reference. If you are inexperienced you will have to do an in person consultation before scheduling a session. EMAIL BEFORE TEXTING. I will not answer a number I do not know and I will not respond to texts that are lacking all of My requested initial email information. ***I am actively moving and will be less available until October but still accepting custom travel requests where you cover travel fees to come to you***
Services Offered
Sessiongirl Services
Private Webcam / Skype / Video Chat
Phone Chat
Other Webcam Shows
Semi-Competitive Wrestling
Fantasy Wrestling
Pro Wrestling
Submission Wrestling
Pin Wrestling
2 on 1 Wrestling
Couples Wrestling
MMAJudo
Brazilian Jiu-Jitsu
Karate
Tae Kwon Do
Muay Thai
Grappling
Semi-Competitive Boxing
Fantasy Boxing
Semi-Competitive Kickboxing
Fantasy Kickboxing
Fantasy Catfighting
2 or More on 1 Handicap Matches
Tag Team Matches
Armwrestling
Foxy
Boxing
Female vs Female
Tickle Wrestling
Scissoring
Custom Videos
Feats of Strength
Lift and Carry
Posing / Modeling
Belly PunchingIn-Gym
Training
Bondage Wrestling
OIL Wrestling
Dominatrix Services
Age Play
Bondage
Breath Play
CBT
Chastity Control
Corporal Punishment
Crossdressing
Electro Play
Face Sitting
Financial Domination
Foot Fetish
Hosiery
Humiliation
Latex/Leather/PVC
Needle Play
Role Play
Sensory Deprivation
Smoking
Spanking
Tickling
Trampling
Virtual Sessions
Wax Play
Whipping
Others: Please email request
Travel
| | | | | |
| --- | --- | --- | --- | --- |
| Date Begins | Date Ends | City | Area | Country |
| 05/19/2023 | 05/20/2027 | Baltimore | Maryland | United States |
My Gallery
Events
Reviews
Old Reviews
Anonymous
05/05/2020
I've had two sessions with Vilette in Minnesota, once during September 2019, once during January of this year, and she was an absolute blast both times. Even before the session, just talking with her was a good time. She was friendly, funny, and it was cool to just discuss our lives with each other. Both times when the wrestling began, she throughly kicked my ass. But what sets her apart from the other girls on this site I've wrestled with was the sheer amount of energy she had.
She got me completely exhausted before even 10 minutes passed, and when it was clear I was tiring out, she would NOT relent. It was an utterly terrifying experience, and I loved it. She primarily used breast smothers and facesits on me, and they were impossible to get out of. She would often test my limits to see how far I could go, laughing and mocking me all the way. The second session with her in particular, she did a creative game where I would draw a lot at random, and that would determine the hold she would use and for how long it would be if (well rather, WHEN) she pinned me. And it was a really cool way to spice things up.
In my opinion, Vilette is the best girl on this site that I've had a session with so far. I would heavily recommend her.
bigz242
03/26/2019
While Vilette has multiple reviews of her domme work, let me offer a review in another of her domains. I recently had a semi-competitive wrestling session with Vilette, and she was quite the opposite personality-wise of what you might expect from reading her other reviews. She is very sweet, but also a feisty grappler, and perfectly suited to my particular style (I don't do a lot of offense, but I do try hard to avoid getting trapped). It had taken a while for the session to come together because of some unfortunate issues that kept her from traveling, but she proved to be well worth the wait. I recommend her for anyone who enjoys a friendly but feisty match.
07/23/2017
I can not wait to worship her again. She is the best Mistress I have ever served. Next time she is going to take me shopping. Vilette is so beautiful it is an honor to be seen with her in public. Serving her was everything I ever hoped for. If you get the chance you must see her
05/24/2017
I met her for the first time in MN. It was my first time doing anything like this and I was really nervous. She was very nice and comforting to get me to relax and then we started the session. She took me to a gas station for some public humiliation it was great she kept making me bend over so that people could see my panties she would spit on me and even made me kiss her feet in the store. She is so beautiful I did anything she asked. She truly loves her job and is great. We went back to her room and she allowed me to worship her beautiful body. Thiswoman
03/05/2017
I had been searching for a great mistress for some time. When I came across Vilette and saw her pictures and interests I knew that she was the one. Compared to other mistresses she was quick to reply and didn't jerk me around when it came to meeting up. I drove a pretty far distance to meet her, but she exceeded my expectations and our session was totally worth it. As great as she looks online, she is even more attractive in person. I could compare her to the Greek Goddess Aphrodite, but that would be an insult to Vilette. She was understanding and accommodating being that it was my first session. She was good at assessing my comfort level and made my fantasies come true. Her feet are very soft, her toenails perfectly painted, her toes nicely shaped, and she has great arches. She will get them as sweaty as you desire. She was a first class dom, but also a sweet, laid back girl. As some have pointed out, Vilette isn't a clock watcher and truly enjoys the sessions as much as her subs. This makes the experience even better because it feels right and it feels authentic. You also feel safe and you feel like you are in the presence of a true Goddess actually worthy of being worshipped! My only regret would be if I never got the chance to worship her again.
07/09/2016
My experience with Vilette was absolutely mind blowing. We acted out my fantasies and I got a variety of foot teasing, foot worshipping trampling and scissors. Her legs were incredibly strong and she is able to go from an anaconda to a sweet and sensual mistress in a heartbeat. Such a great personality and so gorgeous. Its like spending the day with an incredibly fun and beautiful girl next door. I felt comfortable the whole time. She is also not a clock watcher and I felt like she was enjoying the session just as much as I was! She was worth every penny and I will definitley rebook with her.
05/04/2014
I booked a session with Vilette and it was probably one of the best decisions I've made in a long time. I'd start listing all of the good things about her and our session, but it would be far too many things to include in a short review like this. Vilette is one of the most naturally beautiful people I've ever encountered and her personality leaves nothing to be desired. She's sweet, friendly, accommodating, easygoing, and extraordinarily intriguing. Deceptively strong, Vilette has a clear passion for what she does and is a formidable and skilled wrestling opponent, not to mention a rope expert (she was able to completely immobilize me with just 2 ropes!). She has a demeanor that walks the line between fierce and cute that makes her extremely unique and frankly, addictive. Our session consisted of a combination of wrestling, bondage, and domination and was exactly what I was looking for. It was clear that she understood my desires and was also perceptive to my reactions, wanting to be sure that I was enjoying our time together as much as she seemed to be. She was definitely not a clock watcher and was sure to leave plenty of time to talk and get to know me. I've never met anyone like Vilette before in this industry and am so thankful that I did. She quickly made her way to the top of my list and I can't wait until I have another opportunity to spend time with this amazing person again. I'd say she's worth every penny, but I don't think price is the right way to express the real value of time spent with her. If you have the opportunity to session with Vilette, you'd be crazy to pass it up.
12/17/2013
I've been searching for someone in the Philly area who could give me what I crave. After coming across Her pictures and exchanging a few emails, Ms. Vilette quickly charmed me and I knew that I coudln't resist. We set up a meeting for the next day. I was floored when we met. She is more beautiful in person. She is every girl I ever wanted when I was in college. She is sweet, kind, friendly and I instantly had a crush on Her. But I did start to worry. Is She too sweet? Will She be able to deliver what I craved from Her?
Then Ms. Vilette took off the long winter coat She was wearing. I couldn't take my eyes off of Her. Her body in that outfit. Tight. Black. Shiny. Petite. Athletic. The girls I wanted in college didn't dress like that. She is giggling telling me about how the emails made Her excited to meet. "Um… Vilette?" "Yes?" "You look f**king hot". She turned, looked at me and saw the way I was looking at Her. A devilishly evil grin appears on Her face. I realize now, this is the moment She knew that She owned me.
She forces me down and stands over me. I'm so lost in a wave of lust, fear and excitement that I'm not even hearing most of what She is telling me. I get the jist of what She is saying. It's our first meeting so She wants to start by testing my limitations. She may have told me what She was going to do, I'm not sure, I couldn't concentrate on anything but that deliciously sadistic glint in Her eye. I tell myself, whatever this beautiful Creature is about to do to me, I will not tap out… I Will Not Tap Out… I WILL NOT TAP OUT.
I tapped out.
If anyone wants details, Ms. Vilette can put you in touch with me. I will say this, Ms. Vilette is the real deal. I have never in my life met a Woman with a better combination of sweetheart and b*tch. She is intuitive. She knew what I wanted before I knew what I wanted. For those few hours, She became my obsession. I lay worshiping beneath Her feet, trembling in pain as I joyously accept all of Her punishment desperate for the brief moments of Her sweet smile and kind word when She was pleased with me.
As I write this, I am still living the experience through the remnants of the excruciating punishment that I couldn't get enough of. Every ache and shooting pain reminding me of how I so eagerly served Her. How in that moment, nothing else existed and there was nothing that I would not do to please Her. I finally found the Woman who can give me what I crave. I can't wait to see Her again.
Thank you, Ms. Vilette.
10/10/2013
In a word, Vilette is awesome. She is very friendly, genuine, and seems to really enjoy the activities we engaged in. Our session consisted primarily of ballbusting, foot worship, face sitting, and spitting. Right off the bat, she shoved her sweaty sock in my face and used clothespins, her heels and various other implements to work on my balls. She "made" me worship her feet which were very sweaty but extremely nice and soft. Vilette really loves to have her feet worshipped! She kicked my balls with her sexy heels and overall blew me away with her beauty and awesome attitude. I highly recommend her. -Drew
08/10/2013
Just had my first session with Vilette. She is really awesome! When I first met her she was very friendly, and she looked great! She was also much stronger than I expected. I was not expecting too tough of a session from someone her size, but she has some very strong holds, especially her scissors. I definitely recommend her!
05/17/2013
Vilette is deceptively strong and a very fun session! /her Grapevine and reverse head scissor will make you tap almost instantly!! She is very friendly and works hard to give you the best session possible. I highly recommend you see her NOW! (then stay away from her legs or you are DONE!) TAP!!!
04/16/2013
i have had the privilege of serving Vilette a few times before she became a member of this site. She is a great person and is very accommodating. i was a bit nervous when meeting her, but Her looks and personality definitely put me at ease.
i am a foot person, and Vilette's feet are amazing :cheer: i love worshiping them and it is great when she sits on me and puts Her feet on my face – they just smell amazing and taste even better!! i was glad i took time out from the licking and sucking to actually massage them. Her skin is so soft and She really enjoyed the foot massage.
i have not experienced some of Her other interests. i did get indications of Her capabilities. She is also willing to try things with You, all You need to do is ask. Vilette is definitely worth seeing! :woohoo:
04/15/2013
it was unexpected when i met vilette bc she was traveling with safa warda. i had a wrestling match with safa only, but she asked if vilette could stay in the room while me and safa wrestled and i said sure. boy was i glad i made that decision. I asked vilette if I could smell her feet after I was done with safa. the best thing I have ever done and im glad I had the pleasure of smelling/licking her feet.
her personality is great and she seems like a sweet person. shes cool and down to earth.
first of all, shes freaking hot. the pics are good, but in person shes even more beautiful. secondly, if you want to smell some feet that are very stinky, look no further. her feet are fucking sexy and licking them was awesome. with her toes pressing up against my nose and face is whole other experience. the taste I can describe is of salt, vinegar, sweat, and old sneakers. just smelling her shoe cleared my sinus which is a good thing. even after sucking the crap out of her toes, her feet still smelled. i cant imagine what it would smell like if she ran all day. i would like to know someday. I was lucky enough to get a souvenir of her socks ziplocked in a bag.
having a foot session with vilette is probably one of the best so far. smelly feet, beautiful feet, nice arches, its all there. if your in the philly area and you need to lick some feet, meet a nice person, look no further. thanks vilette
04/13/2013
If you are lucky enough to have her come to your area you are in for a sexy treat. While she may look sweet and innocent, and she is sweet, she will kick your ass. She is incredibly strong from a lifetime of sports. She can bring the pain. We wrestled and I didn't stand a chance. Want her to hit you? Be careful what you wish for. Do NOT miss her!
">