Nadia, aka LadyJustice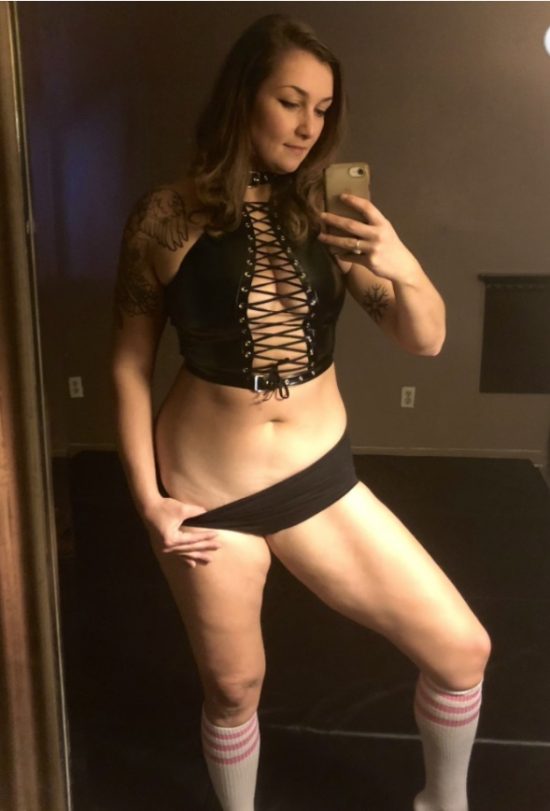 Contact
Location:&nbspUnited States , Illinois, Chicago
Email: [email protected]
Last Activity: 10/01/2023
Stats
Height: 5'11" - 180 cm
Weight: 190 lbs - 86.2 kg
Physique: Athletic
Years Of Experience: 5-15 years plus
About
If you would like to have the system let you know when I set new dates, hit the follow button!
My name is Nadia.
I was born in the USSR and have a love for competitive wrestling and sparring. Currently I am fascinated by Ju-Jitsu grappling, and competitive grappling is my favorite! I like play partners who offer a bit more of a struggle rather than ones who simply let me win, though I'll be happy to kick your ass at request.
You will find that I am much stronger than I look, and can endure a lot of physical activity and pain.
While I specialize in competitive, I love fantasty and domination sessions. Roleplay is one of my favorite things, and I can get quite creative. I often do performances of various mediums so improv is a piece of cake for me.
My job is in production (lighting, build, performing) and I travel often for that, so book in advance if you want local sessions as I may be out of town!
*Phone Calls Preferred.*
The best way to reach me is by phone: 224-509-4546
You're welcome to email, but sometimes I don't check that for a few days. Calling/texting is the best way to get a hold of me.
Pricing:
-Wrestling: 325
½ hr: 175
-Boxing/Striking: 400
½ hr: 225
Any kind of session requires a deposit of 75.00 to book.
I generally session out of a private dance studio that I rent in Pilsen called Eco Collective. Feel free to check it out online! If you would like me to book somewhere else, we can chat, but please understand that depending on the rate and distance there may be an extra fee. If you'd like me to come to you, I can, provided you have references or don't mind me bringing someone to wait in the car while we session.
Travel Pricing:
-I require a 100.00 deposit needed to book.
-When sponsoring me out, + hotel and flight, minimum 1.5hrs.   50% deposit.
If you want to have dinner or a drink after our session, I love meeting new people! That said, I reserve the right to refuse spending time outside of what has been booked if I find you unpleasant/am tired/etc.
No sexual services are offered whatsoever.
Thank you for understanding that while I love what I do, my time is as valuable as yours is. Feel free to message me with any questions. Lets play!
Services Offered
Competitive Wrestling
Semi-Competitive Wrestling
Fantasy Wrestling
Pro Wrestling
Submission Wrestling
Pin Wrestling
2 on 1 Wrestling
Couples Wrestling
MMAJudo
Brazilian Jiu-Jitsu
Karate
Tae Kwon Do
Grappling
Competitive Boxing
Semi-Competitive Boxing
Fantasy Boxing
Semi-Competitive Kickboxing
Fantasy Kickboxing
Fantasy Catfighting
2 or More on 1 Handicap Matches
Tag Team Matches
Armwrestling
Foxy
Boxing
Female vs Female
Tickle Wrestling
Scissoring
Custom Videos
Feats of Strength
Lift and Carry
Belly PunchingIn-Gym
Training
Bondage Wrestling
Travel
| | | | | |
| --- | --- | --- | --- | --- |
| Date Begins | Date Ends | City | Area | Country |
My Gallery
Events
Reviews
Old Reviews
Anonymous
01/06/2022
Just had my first session with Nadia and I really enjoyed it. She definitely exceeded expectations. My session was non competitive, I just enjoy being overpowered by strong beautiful women and she did just that.
Can't wait to see her again! Very highly rated and a great personality! A++
Thanks! Ben
ooooh
12/13/2021
Last Saturday, I stepped into the ring and faced off with Nadia in a cruiserweight matchup. We put on gloves and boxed each other. To say the least, it was the greatest experience of my entire life. I went 12 rounds with her, but I could've gone 50 rounds; she's that good. Though our match wasn't fully competitive, I worked up a good sweat — and she did too. We are evenly matched — same height and weight. That's what made this extra exciting for me.
During the fight, we spent a lot of time up close and personal, and this is where Nadia shined. We did a lot of "angry" clinching, and she was not afraid to smother me in the clinch. Sometimes we would clinch for up to 50 seconds at a time, and the only thing that would separate us would be the bell to end the round. No matter how much I tried to overpower her by putting her on the ropes, Nadia's strength wouldn't let me. I do believe that I won on points, though Nadia will definitely have you believing otherwise.
As an aside, I was most impressed by her commitment to safety. She understood that session boxing can be dangerous and took every step possible to ensure that our session was fun, but most importantly, harmless. I'm looking forward to seeing her again, whenever she visits the D.C. area again.
Steve12345
12/09/2021
Just had a session with Nadia!!!!!!! Whew. Still catching my breath, first off she's a natural beauty! And on top of that she's super strong and skilled. I did a fantasy session, but even if I did competitive I wouldn't have stood a chance. There were moments where she pinned me and I literally used all the strength I had to get up and she didn't even budge, she just smiled and looked really relaxed while I struggled. It was unreal. It honestly played with my mind, I'm thinking "how can someone this beautiful be so strong? How is that I can pick up heavy objects all day, but I can't even get her to budge? What is she made of? Lol, The way she tossed me around moved me from hold to hold without breaking a sweat, every angle I tried to attack I end up tapping within seconds. This woman was literally toying with me lol, it was a like I was dreaming. Her scissors are next level as well! It was honestly heaven lol
She also showed me how to apply a few holds and how to get out of some holds. Nadia is amazing! I'd recommend her over and over and over again.
Nadia you're amazing! Thank you so much!
Charlesboxer
11/22/2021
I had a competitive boxing session with Lady Justice last night and it was amazing. She opened the door in boxing shorts as I had asked her to wear, and within 5 minutes we were touching gloves and fighting. She had been traveling all day and was a bit tired so I asked if she'd like to wrestle since boxing wasn't going well for her, my mistake. She made me tap within 2 minutes of starting and was in control the whole time. We then went back to boxing for a few more rounds and wow does she hit hard and can take real shots. I can't wait for our rematch in the future!
Adamsaphan
10/08/2021
Hello to everyone reading miss Nadias reviews and thinking about booking a session with her. Good news: you do not have to think anymore, just straight up email her and setup the session, TRUST ME.
I sessioned with miss Nadia for the first time (ever) a couple of weeks ago on September 23rd and I have to say it was the best decision of my life. Since it was my first session I was suuuper nervous about the whole process but as soon as I emailed her, everything went perfect from there to the end! I had so many special requests and Miss Nadia was fine with all of them, she even bought an item i requested for our session!!! And on top of that SHE LET ME CHOOSE THE LOCATION!!!! The session spot was only 20 minutes from me which made the whole thing super easy. She was suuuper kind, she told me a couple of interesting stories, and made sure I got everything I wanted from the session. And i dont have to mention it because its obvious: but she is absolutly gorgeous!!
I wanted a scissor session and she gave me the best hour of my life 🙂 her scissors are not to be taken lightly btw, she is suuuper strong! She could have knocked me out super easily with her scissors but honestly since it was my first session I got a bit scared😂. But the feeling she gave me with her scissors were AMAZING. My only regrets are only booking an hour with her and tapping so fast when she was scissoring me and being chicken to not be koed by her scissors 🙁 . But I did request a rear naked choke KO and she gave me the most painless but enjoyable knockout ill probably ever experience. Miss Nadia literally put me in any hold I requested and even though time ran out, she continued with the session a little more. She was so nice that she even told me I could take a shower before leaving! But i didnt want to since she had traveled alot that week and I just didnt want to bother her. For the service she provides, her prices are nothing! I would pay more than what I paid to session with miss Nadia once more.
Anyways all you need to know is, your wasting your time thinking about it, just make it happen and send her an email for your session, I promise you will not regret it.
mixedfwrestlingfandc
10/01/2021
I just sessioned with Lady Justice at the tail end of her east coast tour. For the set-up, she was very responsive by text, and flexible with my time constraints. She's a kind, personable person, and set me at ease after a few minutes into our session.
I was actually caught off guard by how overpowering she was in the first 2 sec. of the match. My whole body was sort of curled up and pinned to the mat with so much force. She asked me 'what did you expect?' LOL, and I had no good answer, as she certainly looks imposing. Not only did I not get any submissions, but I couldn't even effectively resist her. I'm 5'8 and not very strong, so honestly it was hard to tell how much of her dominating me came from technical ability or brute force. I'm going to assume both! I honestly think she could beat 2 of me.
Arm-wrestling was fun too. It was more of an even match but she still won legitimately, with particularly strong wrists. I was also amazed that she carried me on her shoulders!
I'd love to session with her again. Next time, I hope to incorporate some scenarios and fantasy elements. But experiencing her raw power was something I'll never forget.
Anonymous
09/27/2021
Nadia completely dominated me. If you want to really get beaten up and tapped out continuously, she is the women. She is really friendly also, tall, and strong. I had absolutely no chance of tapping her out. Her brown belt skills really showed.
I am the same height as her, and I weighed 30 more pounds more than her. But I still had no chance. Even if I had the experience, I still probably wouldn't tap her out. That is how good she is. Nadia will definitely show you who the real boss is. I am definitely going to see her again. I highly recommend her!
C.B
09/26/2021
In my opinion, the best sessions are the ones where you're not only still thinking about it days later, but when your body is still feeling the after effects of it. It's been a few days since my first session with the stunning Nadia and I'd say that accurately describes how I'm feeling. Word of warning to all: DON'T MESS WITH HER. Nadia is the real deal and ridiculously strong. When you get on the mats with her, you can either give yourself up and willingly feel her brute strength or she'll have no problem in forcing you. Either way you don't have much of a choice.
I'm around 6'3, so facing off with a 5'11 Nadia was pretty much a session version of Kong vs Godzilla. While I had no doubts that Nadia was strong, I was unprepared to feel the immense power she unleashed. She easily got away from any grapples I attempted or slipped out of them with no struggle. Within seconds of each round, she found new ways to tackle me and bend/stretch/pin my body in ways I can't even describe. I managed to squeeze one submission out of her, but it paled in comparison to the 6 or 7 she got from me. By the second round, she completely wore me out and left me sucking in air. Any time I tried moving away from her, she was right on me, giving me no time to figure out a strategy or rest. I was so exhausted from the match by the time I got home that I passed out into deep slumber within an hour and slept like a baby the entire night. I can truly say I haven't felt that physically worn out from physical activity since high school wrestling days.
I tend to be nervous at first when meeting new people which was no different with Nadia, but I became much more relaxed as time progressed. She's a very sweet person with a calm and gentle-hearted vibe that's sure to put you at ease. And her green eyes are so enchanting, it's almost hard to look away from them. The quote "the most dangerous animal is a silent smiling woman." would probably be my best way to interpret Nadia. While she is incredibly friendly when talking with her, once the match starts she kicks it into another gear and transforms into an uncontrollable, animalistic, unbearably strong wrecking machine. She's practically like the Hulk. If I found myself in a 2 to 1 fight disadvantage and needed a strong ally to back me up, I'd choose Nadia as my partner.
Overall, Nadia is a gem to the session world. A sweetheart who deserves a lot more recognition and the utmost respect from those privileged enough to meet her. When she and others say she's strong, believe it. She's got strength! When she says she's trained in Jujitsu and a brown belt on her profile, those aren't made up accolades to try and sound cute. They're legitimate, stone cold facts. Nadia had been a high priority on my session list for years and I had no hesitation in booking a session with her when I saw she was finally visiting my city. Good things come to those who wait, I suppose! I look forward to working with her again! If you have the honor of sessioning with her, please treat her right. And if she happens to be coming to or near your city, don't pass up on the opportunity to work with a great person!
judoprince
09/02/2021
Nadia is *absolutely* legit, people. I'm telling you now I've rarely if ever had a better communicator or sexier grappler with BJJ skills work with me (or maybe work me over is more accurate). I have some training, so I threw some challenges her way, too. However, she triumphed in the end. Still, whether she rolls you into a triangle choke or locks your limbs into places they don't normally go, she always puts everything back where it belongs and sends you on your way with a smile. It was a climactic mat battle, and I sure look forward to the next go. In summary, my advice is: see her if you can, enjoy, repeat.
Anonymous
08/23/2021
A couple weeks ago I had the pleasure of sessioning with Nadia for the fifth time. Already I can't wait for the sixth time! I have so much fun sessioning with her. Our sessions are more fantasy than competitive, but we still get a sweat going. Each time we always do a role play scenario. Nadia always plays her part so well. I session with others that role play well, but Nadia is the best of the bunch. She's super creative and has a quick wit.
I do more fantasy with her because she could easily dominate me if she wanted. In fact she did when we first sessioned, but she quickly adjusted to make sure I was having fun. Nadia is good at knowing what her clients want in a session and has the versatility to do so! You will not be disappointed by sessioning with this beautiful woman!
JiggyGarson
06/21/2021
Great wrestler, extremely technical with great power behind her scissors. I had a competitive(in name only) session where she dominated me from beginning to end. She was able to put me in pretty much any hold she wanted and had KO power behind her scissors. Also a great striker if you're into that. I easterly await my rematch against Nadia and would strongly suggest her for anyone interested in a competitive session.
thebuescherman
06/17/2021
I had a fantastic session with Nadia this past weekend in NOLA. We did a mix of lift/carry with wrestling, and a little domination play thrown in there. She's quite strong, and very experienced. She had just finished a long drive into town, so we chatted for a while and had a little wine before starting the session. She was great fun to talk to, easy to be comfortable with, and even better to session with! I will definitely try to see her the next time she comes through the area!
Brandon6a
06/11/2021
Had a session with Nadia today she's so beautiful my heart skipped a beat! She's really nice she sat on my face and some head scissors it was really amazing I can't wait to book her again ! Best experience I've ever had 🙂
Anonymous
06/07/2021
Met Nadia again this weekend and she didn't disappoint! Another physical and satisfying hour of wrestling and boxing, and a little lounge time by the pool too lol thanks again for a great afternoon Can't wait till next time
Anonymous
03/29/2021
I had a great time doing a session with Nadia! She is very skilled, strong, and professional. I had the opportunity to session with her while she was in Kansas City. I asked for a scissor session revolving around bodyscissors (I'm a big fan of the hold) and she was able to accommodate
my request. She is incredibly strong she was able to get me to tap a few times in various forms of the hold (side, front, figure four). Anyways guys out there that are considering sessioning with her I highly recommend it she was amazing, don't miss out on seeing her. – cheers!
Daryl_A
03/24/2021
Had the pleasure of meeting Nadia in Oklahoma City 3/23, and all I can say is wow! Nadia is intelligent, beautiful, and crazy strong. She wiped the floor with all 6'1″ and 210 pounds of me and I enjoyed every second of it. She was also very fun to just chit chat with and is an interesting person that I enjoyed getting to know a little. Don't miss your chance to session with Nadia, I know I sure won't!
Anonymous
03/21/2021
Met Nadia in Dallas today, she's an absolute knockout in every sense! Professional, powerful and a real joy to spend the day with. We boxed and wrestled, and she absolutely pushed me to the limit and looked great doing it! Highly recommend if you want a real physical test Lady Justice is no joke guys
ClassChaz
02/08/2021
Yo from a little place called Omaha, a big paragraph can't do justice for LadyJustice herself. Simply the best, even convinced me to start a profile JUST to write her a review just to say this. She is very talented, and too dam sweet!
Treat these girls with the utmost respect! This is not your everyday profession! They put a lot on the line, from their safety to their rep to their own hard earned money! '
Nadia, thank you much for your time, I feel I made a friend!
Anonymous
09/06/2020
I had fortune of being able to session with Nadia for the second time. This time being even better than the first! We did a semi-competitive match with a role play component. Nadia got right into character and played her part perfectly.
As for the match, it was semi-competitive, but she could've easily turned it into a domination session if she wanted to. She is very strong and has great wrestling techniques. More than once I found myself in a position where I had to tap out. I'm 5'11" and 200 lbs, so not a pushover in terms of size and strength. I like a good challenge in my sessions and Nadia absolutely gave me that.
Besides the match, Nadia is a really cool and friendly woman. Also incredibly professional and communicative. I highly recommend sessioning with her if you get the chance!
Anonymous
08/21/2020
Had my first session with Nadia when she visited Cleveland and it will not be my last. She was magnificent! Easy to communicate with and to set up my session. So tall, so lovely and oh so strong. Did not want a competitive experience and glad I didn't as she would have destroyed me. She was able to lift and carry my 190 lbs in numerous positions including piggy back squats. Beat me easily in arm wrestling and with her long legs wrapped tight around me I was helpless! Her attitude, I must add, was just what I was looking for; friendly but no doubt dominant. Come back soon.
AgentBakes
07/03/2020
I did a competitive session with Nadia and was completely blown away. I come from a martial arts background and honestly went into the session thinking I'd have to go easy on her. She shut that down really quick. If I gave her any breathing room she would capitalize on it and soon enough I'd be forced to tap. Her scissor holds are insane. I don't see how anyone could escape her once she has you locked up. Her technique is top notch and she has a very sincere and kind personality. I will definitely have to go back when I train up more. Got humiliated this time.
Fetishsub34
05/08/2020
I have sessioned with Ladyjustice (Nadia) three different times. I have nothing but the highest compliments to give her. First of all, her wrestling skills are too notch. I'm not a wrestler by any stretch of the imagination, but Nadia was able to handle me as if were a piece of soft clay in her hands. I simply didn't stand a chance. Not only is she skilled, but she is incredibly strong.
I saw a post below that was pretty negative. I wholeheartedly disagree with whoever posted that. She always has been very professional and punctual and so easy to get along with. Nadia always surpassed my expectations and I look forward to my next session with her.
Her pics don't do her justice. She is very beautiful, even more so than the pics show.
Novalacrosse
11/26/2019
So, I will have to disagree with the seemingly jaded person who just wrote that review. I have known Nadia for almost 2 years. I met her in NY while she was traveling and we had a 2 hour boxing/wrestling session. I have since corresponded with her over the past few years meeting up with her quarterly either flying our to see her or flying her in to see me in different cities. And my experience with her could not be more amazing. She is kind, thoughtful, and absolutely loves what she does. We have never had a bad conversation nor an awkward moment. If that is the impression that someone got, it can only mean one of 2 things. That you rubbed her the absolute wrong way when you interacted with her, or she was absolutely having an extremely off day. Which I have never seen her have in the 2 years I have known her. She is ultimately interested in making sure you have the experience you were looking to have. I would recommend her if you are ever in Chicago. But furthermore, flying her out to where you are is amazing as well. She is not someone who watches the clock and is very interested in meeting new people and love to have new experiences. I hope that she will not get upset that I am defending her, because I know first hand that she can defend and stand up for herself. And if I were to post a comment like that I would make sure that if I truly believed those words to not post anonymously, Have the backbone and integrity to stand behind what you say and not hide behind anonymity.
Anonymous
11/26/2019
She's full of it. Three years ago I planned a trip with three friends to Milwaukee, WI during the month of March, had contacted her about a session, and the initial communications went well. I described to her my interests, she was fine with them, and I proceeded to schedule a session with her to where I could have the rental car for three hours and leave my friends busy in Milwaukee while I drove the rental car one-hour one way South to Chicago, IL.
She told me to meet her at this lil small cafe at a certain time so that we would meet face to face, socialize, and I would assume leave and session at her place if both parties were comfortable. I waited twenty minutes and she never showed up. I did text her two hours before I headed down to make sure that we were still on and she confirmed. From the time that I got the confirmation to the time that I drove down to Chicago, I didn't hear from her. She apparently ran into some issue but she never notified me that she had and I wasted my time driving down to Chicago.
When I did text her and asked where she was when I was at the cafe, that's when she told me about her issues so she's a liar. She doesn't notify you immediately when something comes up and she has to cancel. She knew that I was driving down from Milwaukee too. She talks about giving her deposits so guys won't "ghost her" and/or be no shows but she did it to me.
Guess what, Nadia, I've been to Chicago three times since that unprofessional handling of a potential session by you and have had sessions each time with someone else and have had great sessions with her. That's money that could have potentially been in your pockets going to someone else. On top of that, this person has come down to where I'm from, New Orleans, LA, four times to come down and see me for sessions and never asks me for a deposit, for airfare, for hotel, or transportation. She can pay for her own trip all the way and she'll get some money back from when we session each time.
As long as she's in Chicago and I'm returning, I'm seeing her every time and she comes down to see me and doesn't ask me for anything.
Anonymous
12/01/2019
Nadia,
To answer your question, I don't really come onto this website that often and didn't even find you on this website three years ago. I found you on another one. I just made a profile for this website five days ago to comment. I actually recently found you again by accident since I'm traveling at the end of the month and am looking for a service provider and I have a very good memory. What I posted are facts in what happened with the potential session that never happened; you had popped up five days ago when I was querying service providers and it led me to this website.
In regards to deposits, it should go both ways. Service providers are worried about being ghosted/no shows but how about potential clients (like in my case except you didn't ask for a deposit)? You are asked to send someone money that you've never met and there is always the risk of the service provider not showing up to the location, not being at the location, or giving you false information to keep in contact. I'm not that type of gambler while others may be. I've been seeing service providers for many years without deposits or paying for flights and hotels. Others may do that and I commend you on getting it done but that's not me. I pay for the service that I'm looking for and that's it.
Also for the two reviewers that are defending you. Biased reviews are all that they are. They seen you and had good experiences; good for them. My initial review was never about a session because we never had one because of your unprofessional handling of the session that never happened. My review was about what happened in regards to the session that never happened and how I wasted my time and travel so for those two reviewers to say that's a lie is immature and silly. Actual events that occurred are facts; not opinions. A review of a session is opinions.
As I said when I travel to Chicago, I already see someone else and that same person comes down to see me when she visits New Orleans. There are also service providers in New Orleans as there is so that's that. Maybe you've matured and have become a better service provider (as you admitted you had just started off at that time in your response to me) but I posted what happened. This section is for reviews; reviews are going to be good and reviews are going to be bad. You have to have tough skin to accept either. Some people may review with lies (mostly bad reviews and some good reviews) but my review was all facts. I'm not going to go back and forth with you and especially your "happy" clients because it's pointless. I was only hoping to talk and address you but two lil guys decided to comment. (For the male client) whether my username is posted or it's posted with anonymity is irrelevant. No one uses their real names in here anyway.
Mwlover
11/27/2019
I actually disagree with reviewer and why would you really post a review 3 years later, I actually think her communication and honesty is one of the best I had for my 20+ sessions. Also though not the most technical her passion, aggression and strength is more than enough to beat most guys she is absolutely fearless and if you managed to submit her she comes back even stronger!
Anonymous
10/10/2019
Yes she is professional. When she had to cancel, she told me right away and returned the deposit right away. She is one of the good ones. If you come to Chicago, treat her well. We want her to stay on the circuit for a long time.
Anonymous
10/01/2019
I had a Skype session with her once. I inquired if she would be willing to travel to see one person, I don't mind spending money.
She seemed dismissive of traveling to see one person, that was a huge turn off. If someone has money to burn and want to spend it on you, let him!!
By being dismissive, you come across as if you don't believe you are good enough to be spoiled.
If she not willing to come to me, I'm definitely not going to go out of my way to see her..smh
Anonymous
09/21/2019
Amazing! First time having a session with this beauty lady. Easy going, communicated very well. We met up last night in Philadelphia for a wrestling. Greeted me at the door and asked if anything i wanted to know about her or what i wanted for the session. I wanted her to pick out trunks for me to wear but she picked out a pair for herself to wear. Shocked and very cool she did that. She did tell me she was trained in BJJ and she showed everything about it. Putting me in several holds and made me tap out to everyone. She was very nice to talk to between each rounds and wasn't watching the time either. Highly recommended and love to book another session with her when she is in Philly. Thank you!
Anonymous
09/13/2019
Incredible! Had a match with Nadia today and what an incredible session it was.First, she was nice, polite and easy to work with setting up the match.Punctual and professional.
What a great time we had on the mat. She's strong and tough. And as a bonus, something that doesn't happen too often, we started from the standing position. We didn't stay there very often because she kept throwing me to the mat, demonstrating her technical superiority. But she was good natured about it.
I also agree that she is statuesque and beautiful. Pretty, her pics are nice but don't do her justice; And she has a sweet personality when she isn't competing.Also a smart young lady.
I've been wrestling for more than 10 years and she seems to be the most talented lady based in Chicago. I will see her again after I've recovered from the bumps and bruises 🙂
Anonymous
04/07/2019
I just had a couple of boxing sessions with the beautiful Nadia, and I can tell you she is the total package. Tall, strong, sweet and deadly. She will put you at ease with her chill demeanor and friendly attitude, but make no mistake she loves to play hard.
We boxed more of a competitive sparring type session, but it was clear I was no match for her skills despite being evenly matched in size. She has great dodge reflexes and hits like a tank. In the clinch she isn't afraid to trade body shots, or walk through a few shots to get to you.
I made the mistake of trying to take her down in our first session when I couldn't back her up in the clinch, and quickly found myself getting tapped out. She isn't just strong, she can lock you down like a vice and squeeze on the pressure till you give.
No matter what kind of session you are looking for, I strongly urge you to try to survive Nadia. You wont regret it, and you certainly wont forget it.
Joey
03/03/2019
"Wow!"
That's the best way to describe the session just had with Nadia this evening.
First of all, she's incredibly professional and prompt at responding. We had originally planned to rent the ring at Leather & Lace to Box and wrestle in, but the owner was unfortunately unavailable to unlock it for us. But Nadia kept in constant contact about it and was very gracious about changing locations to my hotel suite.
Second, she's an AMAZING athlete. I've wrestled multiple guys and girls and she completely DESTROYED me on the mats. I couldn't even get a single pin or submission on her. We'd lock up, and the next thing I know I'd be tapping out in one of her incredibly powerful holds. We actually ended up changing the session to fantasy/domination instead since that's what she was doing to me anyway.
Third, she's BEAUTIFUL! Between her scissors, breast smothers, and other various holds, she definitely made the fantasy come true again and again. She is wonderful!
If you're ever in the same city as her, definitely don't miss the chance to lock up with her. If you think you're good at wrestling—test just how good you are. And if you're looking to get worked over, she's definitely one of the best!
Anonymous
01/14/2019
Met Nadia for a semi-competitive session the other day and had a total blast. First she is gorgeous and deceptively strong. I'm 5'11" 190lbs. So I thought maybe this would be a fairly even match. But she easily had me pinned multiple times and even admitted she took it kinda easy on me. There were times I managed to get on top but she would have the strength and strategy to get me off.
We even had a role play scenario that she was totally into and man could she trash talk! She definitely seemed to be enjoying herself through the session. Nadia was very friendly, professional, and easy to communicate with. Very much looking forward to our next session!
07/14/2018
Just had a session with Nadia the other day…had a great time. I was nervous at first, having not met her before, but was glad I didn't pass on the opportunity. Great session and an impressive person to chat with during breaks. We did mostly semi-comp boxing (sparring), tried out a little wrestling, then played around with mma. I know almost nothing about wrestling, so Nadia was my accommodating instructor. She is strong and can manhandle you if she wants. Such fun…can't wait to put on the gloves again.
06/20/2018
Had a phenomenal session with Lady Justice yesterday. I wanted a role play session and she absolutely crushed it. And me. Nailed the outfit request as well. Her holds are amazing. I look forward to sessioning with her again
06/18/2018
Did lift and carry and she was incredibly strong. I'm about 5'4 and 175 lbs and she could do every lift with no problem whatsoever. She was able to scoop me right off the ground into a bear hug and walk around with me in her arms fairly easily. In addition she's got an amazing personality and can talk about anything. Highly recommend you session with her.
06/15/2018
Had a session with Lady Justice on thursday the 14th of june and it was intense!!! Nonstop action, she's full of energy and really wants to pin you, took a couple of breaks in between for water, because we were sweatin up a storm, great cardio!!! She likes using traditional wrestling holds to make you submit and as the session goes on and you're probably tiring a bit, she'll smother you out and or facesit you!! But, make sure you have stamina, she'll bring it!! Very exhausting and satisfying, would totally recommend
06/09/2018
I met Lady Justice on June 8th, 2018 in Philadelphia with high expectations that I was in for the session of my life based on her pictures and reviews on Session Girls! She is the epitomy of an Amazon; very tall with heels 6'6″ inches, extremely strong as she was able to lift my 190 lbs and throw me around her room. She was also full of energy possibly because she just recently turned 27 and very easy and fun to talk to. But, believe me she definitely has a dominant streak to her. I would easily place her at the top of the list of the women I've sessionsed with!
06/05/2018
I was in Chicago last month for work and set up a session with Lady Justice, whom I never wrestled before.
I reached out by text and response was good, we set up a date and I would let her know the time when I got in town. I texted her that morning explaining in detail my fantasy and scenario.
She responded excited to to meet me. She texted me her address and although the outside looked like i was not in the best part of town, the inside was nice . She had mats laid out on the ground and meet me immediately going into the role play. Once we began wrestling it was no joke that she was not just tall and attractive but new her technique and enjoyed having fun with it. I was in arm bars and scissors crying out in pain, she pinned me with a schoolgirl pin so hard that I tore a peck muscle trying to escape. The pain was high I thought for a second she had busted a rib of mine. We ended the session but next time I am in Chicago, I will be sure to repeat a session with Lady Justice.
06/05/2018
I was in Chicago last month for work and set up a session with Lady Justice, whom I never wrestled before.
I reached out by text and response was good, we set up a date and I would let her know the time when I got in town. I texted her that morning explaining in detail my fantasy and scenario.
She responded excited to to meet me. She texted me her address and although the outside looked like i was not in the best part of town, the inside was nice . She had mats laid out on the ground and meet me immediately going into the role play. Once we began wrestling it was no joke that she was not just tall and attractive but new her technique and enjoyed having fun with it. I was in arm bars and scissors crying out in pain, she pinned me with a schoolgirl pin so hard that I tore a peck muscle trying to escape. The pain was high I thought for a second she had busted a rib of mine. We ended the session but next time I am in Chicago, I will be sure to repeat a session with Lady Justice.
02/12/2018
I had my first ever session today and I was lucky to book it with Nadia. In person, she is beautiful and easy to talk to. We had a semi-competitive wrestling match with some light sparring. It was an experience that I would like to remember. We took breaks when needed and I was taken back by her friendly personality. During breaks, we would socialize and laugh while on the mat, we were in combat mode. She also took my request and was dressed like Sonya Blade, complete with the headband and fight moves.. I would like to have another session with her sometime later this year and I would supremely recommend her.
Had a great fantasy wrestling session with Nadia 2 days ago. She is personable, easy to talk to, and professional. If you are looking for the perfect combination of size, strength, and knowledge, book her asap. She knows her moves and holds and once she has you down there is NO escape and although it was just fantasy she could have made me tap at any time. Her pins are incredible. Once she is on top her sheer size and balance make her impossible to budge. I highly recommend her.
12/16/2017
I did a lift and carry session with her on December 13. She is very friendly and made me feel good. She lifted me with ease. I felt at peace during the session and afterwards.
08/11/2017
I had a session with her earlier this year (2017). This was my first ever session so I was pretty nervous, but she made me feel comfortable. She's really cool and easy to talk to. I went to her spot she has set up. I had requested a mostly lift and carry session with some wrestling. Right when we got in she just bear hugged me and lifted me off my feet with incredible ease. I'm 5'10 165 lbs. Then she asked what other lifts I wanted to try. I said cradle and before I knew it i was up off the ground and in her arms like nothing. Then she just kinda walked around with me in her arms, and not like down by her waste, she had lifted me high like above her chest! Then she just started doing different lifts, showing off her strength. She is really strong. She put me on her back and squatted me for reps. She was picking me up so quickly and effortlessly like before I knew it she'd grabbed me and was holding me up in a front piggy-back position and just walking around the room with me casually. Then we started doing some wrestling and I honestly didn't stand a chance. I don't know if she was that much stronger than me, (because I do work out often and am in good shape), or she was just a way more skilled wrestler; but either way I stood no chance and she basically did whatever she wanted with me. She was able to take me down really easily every time, and get on top and I couldn't get up or escape her holds. She even let me get on top of her and try to hold her down but she reversed it somehow and got up, and she was on top of me again holding me down lol! After she completely dominated and beat my ass in wrestling we spent the rest of the time on more lift/carry, because that's mostly what I like. We talked and got to know each other while she carried me around lol. And yea, it was a great experience.
02/02/2017
I had an amazing session with her in January 2017. She is very attractive, strong and technically knows how to wrestle – I had no chance. She is fantastic if you are into role play and listens carefully to your requests.
She's also fun to talk to – I highly recommend her.
">