Mistress Storm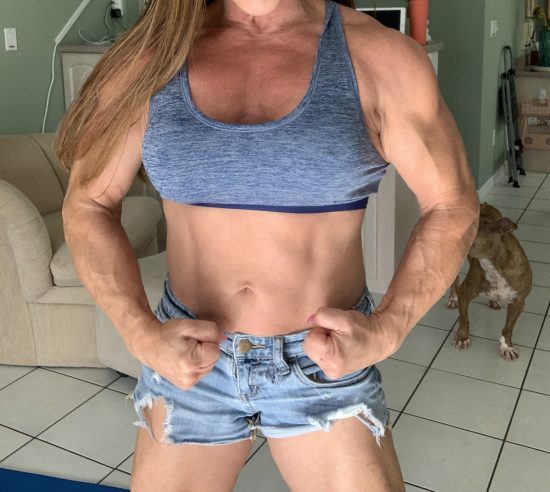 Contact
Location:&nbspUnited States , Florida, Fort Myers
Email: [email protected]
Last Activity: 02/28/2023
Stats
Height: 5'1" - 154 cm
Weight: 135 lbs - 61.2 kg
Physique: Bodybuilder
About
Hi Guys, These next 2 tours NJ and Philly will be my last for about a year with the exceptions of a few local gentlemen. I am faced yet again with another challenge. I will be getting  shoulder replacement surgery on both shoulders, 6 weeks apart from each other. This  will be 4 surgeries within a year, my lower back and hip replaced. I guess all the years of hard training, wrestling, lift and carries took a toll. My surgeon said i will have no restrictions once i recover so ill be back. I'll be the bionic woman💪💪.  I will be concentrating on killer leg routines while my my shoulders are healing and will be working very hard to heal and get back ASAP.I am Totally vaccinated and ready to have lots of fun with you!  Whether it's complete control or sensual, I love it all. Fantasy role play/wrestling, domination, and sensual muscle worship…Contact me to book a session. Please note any new client's bookings must be accompanied by a referral and deposit (no exceptions)
Services Offered
Phone Chat
Fantasy Wrestling
Fantasy Boxing
Foxy
Scissoring
Posing / Modeling
Training
Travel
| | | | | |
| --- | --- | --- | --- | --- |
| Date Begins | Date Ends | City | Area | Country |
| 03/26/2023 | 03/29/2023 | Philly | Pennsylvania | United States |
My Gallery
Events
Reviews
Old Reviews
Anonymous
05/03/2021
Amazing woman. From the neck up you get decades of experience reading men. From the neck down, she's a compact , incredibly powerful package of shredded muscle – a body most gym rats half her age would kill for.
Anonymous
10/29/2020
When I sessioned with her last winter, she was amazing but she's even more so now. She's seven pounds lighter and more ripped than ever, especially in there thighs, which are now like granite. I'm 5-9, 190 and fairly strong and in good shape, but she handled me like a toy when we wrestled, pinning me, immobilizing me and putting me in a body scissors so powerful that it felt like my navel was scraping my spine. Unless you're really strong or highly trained,she could put you in the hospital in seconds.,But when she turns the session sensuous she reads the guy like a book.
Anonymous
02/02/2020
I've been doing sessions for close to 15 years and can't recall one I enjoyed more. Like a lot of women on the site, she has a rock-hard body and considerable wrestling skill. But what sets her apart is her uncanny intuition. She senses what the guy will enjoy even before he does. An 11 on a scale of 1-10-.
Anonymous
01/21/2020
She looks absolutely shredded! Not an ounce of fat on her. Is she a pretty good wrestler?
DH
01/21/2020
Just recently sessioned with Jazzigirl. Be advised that she will meet the expectations of admirers looking for a strong and sensual muscle lady. If you crave muscle domination, muscle worship, or fantasy wrestling Jazzigirl will provide the top of the line for you!
Maxnrelax
10/14/2019
Got Jazzigirl on my mind now. She took care of me thoroughly. Seemed like she knew just what to say and do and how to do it. Strong, sensual, sensitive, caring domination. Rock hard body , naughty mind, caring heart. Loved being with her.
Bgmike1968
10/04/2019
Let me start by saying JazziGirl is a beautiful woman inside and out. I had a few sessions with her years ago and she hasn't changed one bit. Muscles still hard as a rock and sexy as hell. Also, communication is right on point. I reached out to her and within 5 min had a response. Don't miss out on a session when she in your neighborhood!!!
Squeeze me13
09/25/2019
Recently had a session with Jazzigirl. Guys you have to session with this girl!!! One of the best sessions I've ever had!! Communication was very easy and swift! Her pictures don't do her any justice at all. She is very pretty, extremely fit and muscular with an amazing smile. She has a personality that puts you at ease right away.
I requested a headscissor facesitting session and man did this girl deliver. She squeezed me deep in her muscular thighs and had me buried in her ass for an hour. Guys she also loves what she does. She brings a passion to her sessions like I've rarely seen. She can talk a little trash too as she threatened to make my face her personal throne( not sure if that was a threat lol) By request she also trampled my chest and face and forced her cute and sext feet in my mouth. I never wanted the session to end. If you are even close to the Fort Myers area you need to schedule a session with her. You will not be disappointed!!!!
">