Miss Taylor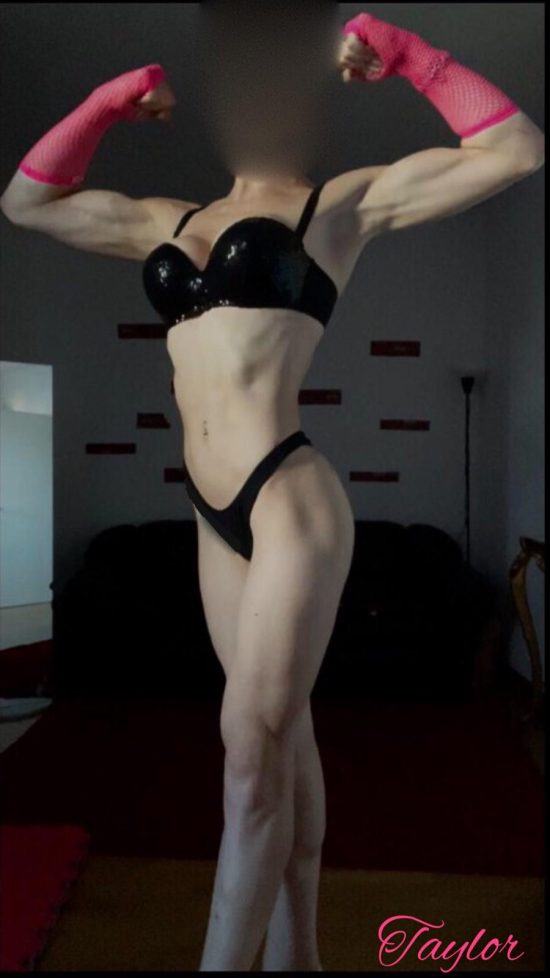 Contact
Location:&nbspItaly , OTHER, Milan, Rome
Email: [email protected]
Last Activity: 05/27/2023
Stats
Height: 5'11" - 180 cm
Weight: 150 lbs - 68 kg
Physique: Athletic
Years Of Experience: 1-5 years

About
Hello, I am a beautiful, tall and athletic italian fitness model and pro volleyball player. I practiced kick-boxing for 5 years.
I enjoy very much semi-competitive, fantasy and submission wrestling sessions. I'm also into BDSM.
We can have fun with all comforts (professional tatami, possibility of shower, etc) in my place in Varese, near Milan, or in Rome.
Please write me on Whatsapp if you are REALLY interested in a session with me. I do not show my face here for privacy reasons, but if you want we can have a brief video call before you book the session.
MEASURES:
Bust/Waist/Hips: 92/64/96
Biceps: 32
Quadriceps: 56
Calves: 37
Shoe size: EU 42 – US 11
italy
Services Offered
Private Webcam / Skype / Video Chat
Phone Chat
Competitive Wrestling
Semi-Competitive Wrestling
Fantasy Wrestling
Submission Wrestling
Pin Wrestling
Fantasy Boxing
Competitive Kickboxing
Semi-Competitive Kickboxing
Fantasy Kickboxing
Fantasy Catfighting
Armwrestling
Female vs Female
Tickle Wrestling
Scissoring
Custom Videos
Feats of Strength
Lift and Carry
Posing / Modeling
Dominatrix Services
Age Play
Bondage
Breath Play
CBT
Chastity Control
Corporal Punishment
Crossdressing
Face Sitting
Financial Domination
Foot Fetish
Giantess
Hosiery
Humiliation
Latex/Leather/PVC
Role Play
Sensory Deprivation
Spanking
Tickling
Trampling
Virtual Sessions
Wax Play
Whipping
Mommy Play
Others: Please email request
Travel
| | | | | |
| --- | --- | --- | --- | --- |
| Date Begins | Date Ends | City | Area | Country |
| 06/08/2023 | 06/10/2023 | Bruxelles | OTHER | Belgium |
| 06/13/2023 | 06/15/2023 | Bologna | OTHER | Italy |
| 06/22/2023 | 06/27/2023 | Berlin | OTHER | Germany |
My Gallery
Events
Reviews
Old Reviews
dadej85
10/05/2021
Miss Taylor is a force of nature. This beautiful lady has a body to die for!! I had 2 sessions in 5 days with her. The first I won and the second also, but just because of my stamina and her mistakes. She was on top on me or in control almost the whole time. My muscles (expecially neck) still pain, and I have a beautiful sensation of delay onset muscular soreness in my back and legs. What an experience!! If only she could capitalize some advantages, our session would become a total mismatch!! Her apartment near Varese is perfekt to unwind and have fun.
I don't have a background in BJJ or any combat sports but I do crossfit 2x week and I have good stamina.
She is very accomodating and easy to talk. She ask what I like or don't. She doesn't like the semi competitive sessions. Only full throttle, sweat, respect. That's the way to have fun together she says.
When I rang and Miss Taylor opened the door could not believe how beautiful she looked. Dropped jaw. She 's got a body to die for, soft skin and toned muscles. She's an enchantress, but on the mats she transform into a Tasman Devil. In 5 minutes I was already with my head trapped into her dangerous headlock. She loves to apply. Front, back, 1 or 2 arms, in few seconds she applies a lot of discomfort and pain. If she would formalize her dominance and power with bjj training, I'm sure she could take in the best 10 sessionist of all europe.
In both sessions, the first 20 minutes she broke me. She wore me down. Luckly for for me the gap was not too much on her favour and then came up my stamina to save.
That look, that behaviour remember me the italian version of Mysteria (from submission room).
I've had 10 session, but Miss Taylor's raw brutality, arms and competitiveness are second to very few.
Tiger of the mats and very gentle outside.
Lovely woman passionate of competitive wrestling.
She also likes role play and punishment round.
Her weakness is her lack of knowledge in bjj.
Her plus is the strenght of her arms.
I look forward to meet her again.
paul tea
09/19/2021
my first session of 2021!
quiet and very beautiful location.
she welcomes me in a bikini, slim and muscular, a good mix of muscle and femininity.
in hand strength tests she is amazing: she gets very good results.
4 place out of 76 girls tested in the right hand: 50.1 kg!
12 placed out of 76 in the left hand: 44.6 kg
with 94.7 total she is in 10th place
but in the relationship between body weight and power developed only anna m. strong did better!
sure, miss taylor has big hands that help with these exercises but her grip is truly remarkable!
she can bend my 50kg bar (very difficult for her)
she is passionate about these tests! let's try the arm wrestling. her hand is almost as big as mine and it feels good to be wrapped in such a big hand.
right arm: she starts to push hard but after 2 seconds she notices that she can't move my arm and releases her grip.
left arm: same situation; but before she lets go, I push a little and put her down.
She is a little disappointed and surprised by the ease of my victory and she tells me: I win very often, but not with you!
let's try with her 2 hands against 1 hand of mine. on the right she win easy, on the left I resist more, there is a few moments of balance, but then she takes advantage and after a few seconds she wins.
considering that I often win or draw with many session girls in this test (2 hands against 1) I must say that in armwrestling she is good !
she also defends herself well in legwrestling but even in this case, when she realizes that she can't beat me she gives up.
she instead she does better than me in a wrist strength exercise: wow! what a surprise!
in the fight she has a good technique although not yet very experienced. if she takes a few bjj or grappling lessons she will become a tough nut to crack.
she often has the edge in the fight, but when I reverses the situation she can't resist and she gives up. easy win for me. but she can improve a lot and with her strength and grip of her in the future she could also beat me … after all, that's what she tells me after losing the first round: "it's not impossible to beat you …"!
I know miss taylor, it is not impossible to beat me: sheena, warrior amazon, veve lane and some others have proved it to me, but you still have to work a little on the technique to get to their level.
for me a very nice session, she is kind, cultured, refined and enthusiastic. can you ask for more? even if I prefer the big women I will come back to find her! (and I still have many strength tests to offer you …) I am 180cm and 110 kg but she is a good opponenent for me! paul
Anonymous
09/20/2021
Paul – thanks for the great review. I'm interested in a lot of the same things as you eg hand/ grip strength. Can you pls email me any details of the rankings you shared here? Who were the top tankers for either arms etc and also curious what are some of the other tests you do when meeting competitors here etc. Email is [email protected] – thanks!!
Giovanni
08/21/2021
I met her yesterday in Rome. At least with me, she's been kind and nice. I guess that her behaviour somehow mirrors what people would expect from her. Amazing body but not "a classical beauty". Pretty strong in her arms and shoulders, she can easily defeat any untrained small/medium size man. She's not very technical though, so if you are young, strong, assertive or trained in fighting sports don't expect a big challenge. A pleasant hour wrestling and chatting, I wish her the best.
Anonymous
08/19/2021
Ciao Miss Taylor potresti venire a Padova però.
femmoie
08/05/2021
I met Miss Taylor today.
She is a really kind girl nice to speak and stay with, she has a wonderful body and face too.
As we started to fight she became a savage tiger who didin't want to surrender and gives her best to submit you.
Best wresting girl I met so far, the only one I'd like to meet again.
Topi
06/20/2021
I met Miss Taylor in Varese 2 weeks ago. Since she's new in wrestling I was curious and needed a few exchanges before driving till Varese. Communication was easy and I felt confident for doing the trip.
For the location : She's got a small mat in her flat in Varese, enough for a session, very clean with shower facilities. It's very easy to park just nearby.
Miss Taylor is an athlete. With a background of Pro Volley player and fitness champion, she a tall girl, lean, but all in muscle. When you see her in her sport bikini, you can admire an athlete body, without one once of fat. She told me she won every wrestling sessions she did, I can believe her.
We began our session with arm wrestling. Wow, what a strong grip!!! She beat me twice with the right arm, I had no chances. For the wrestling session, I can attest Miss Taylor is very strong. She's not very technical but… for sure she can beat most average men in pure strength, quickness and wildness. Since she's a competitor, even if she lose a round, she 'll come back to you with such an intensity!!!
Without any doubt, this pretty, tall, and very fit girl is one of the strongest girl I've met, pound for pound. She's got a very good stamina and can beat most guys in pure force (similar to mistress Hera from London). If she trains a bit her technical skills, she'll reach the top in this industry.
Anonymous
06/04/2021
I don't even know where to start to describe my session with Miss Taylor. Let me just warn you that meeting her will blow your mind and you will probably be hooked for life: she is simply a rare (unique) combination of breathtakingly gorgeous natural fitness physique, real strenght, power, skills and dominant personality. Her legs are so long, shapely, smooth, hard and POWERFUL, yet somehow her rear is still soft and simply divine.
If her looks alone do not KO immediately when she greets you at the door, be sure that she will take care of it when you wrestle her: she is extremely tall (all the advertised 5'11 if not even more) and her muscle are not just for showing. She is much STRONGER than the average man, both in her legs (which is obvious from her pictures) and her arms (which are less visible from the pictures but are still impressively strong, she even beat me easily in armwrestling!). I'm quite taller than her (6'2) but she just dominated me wrestling despite me trying my best. At one point, it was ridicolous how she was able to pin me and grapevine me at will, daring me to try to free myself and then casually announcing me she was about to submit me (i pretty much lost count how many times this happened). Although humiliating, the whole experience was absolutely enjoyable as she kept a dominant yet playful attitude the whole time, letting me experience a close contact with her divine body. Finally, her scissors: if you are one of those masochist looking to feel pain, you will have to do a lot of convincing as she is totally aware of the insane power she can generate if she squeezes full strenght and she is pretty reclutant to do so (she said I tapped all the time from her scissors when she wasn't even 50%).
I felt like she could be even more dominant and intimidating if I just asked her, and I'll probably explore this side of hers in our next session (which I obviously booked already straight away, as you all will inevitably do after meeting her..). All in all, if you live in Italy or travel here, please do yourself a favour and book her…trust me you won't regeret it!
Xemnas19
05/15/2021
I met Miss Taylor today, she is really beautiful, professional and strong. We wrestled in her booked apartment in Rome, she was very welcoming and kind. Her wrestling grip is amazing and her legs are very strong, she made me tap almost instantly in a neck choke X_X She is very tall, athletic and with a dominant attitude, a must meet!
">