Miss Daniels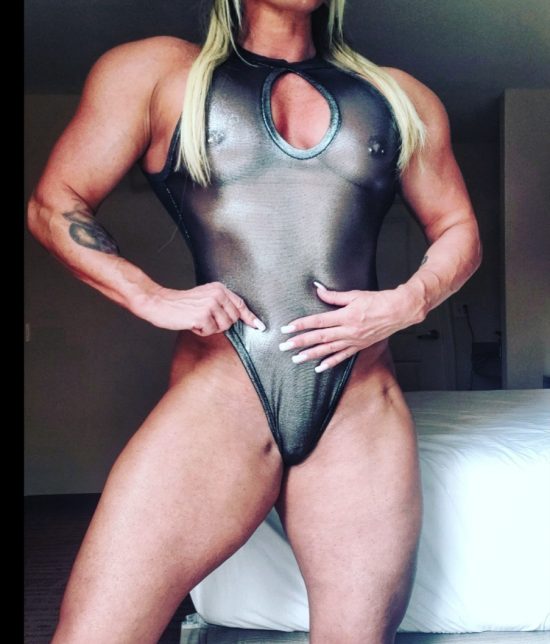 Contact
Stats
Height: 5'8" - 173 cm
Weight: 170 lbs - 77.1 kg
Physique: Bodybuilder
About
Not interested in touring to much and encourage FMTY! I prefer saving My energy for one person :). Currently residing downtown Toronto:)
Tour date details:
**Boston (airport): Wed. June 29th
**Secaucus, New Jersey : June 30th-July 5th. (limited availability)
**Tampa, Florida: July 28th-August 5th (staying downtown tampa)
**Sarasota Florida: August 9th-12th (outcall ONLY!, 2hr minimum)
  Unique and in charge. Tripple vaxxed 🙂 My layout within a session is driven from ample experience from travelling across the world as an entertainer / professional dancer/artist on stages internationally…fetish events, private parties/ cooperate, all genres of underground parties/events in the span of 25 years, including neo-burlesque events. I am also an IFBB pro physique athlete and take pride in being involved with a sport with such discipline and artistry and strive to be in top shape all year round with great reviews to show 🙂
Get ready to experience a true powerhouse lady like myself… I am known for My creative spunk when it comes to performing role play. I enjoy acting out your script but feel free to let me take the reigns if youre wanting an exciting session. I have many unique looks that I like to whip out and display or should I say show off to you. Let yourself be putty in My hands…as I am not a typical role play artist (ie. nurse, school girl…typically nothing basic like this…but am most definitely not opposed to it; as I love to be spontaneous with My creative ad-lib and scenarios. I can be a Master at fantasy/ out-of-the-ordinary characterism. Anywhere from mythical Viking Goddess to sleek catwoman to old century neo-Victorian burlesque…to leather biker boi/butch girl. Hey…I could even just be My good ol normal self in a string bikini tossing your sorry ass around and ravishing you with My strong, sleek muscles…playing flirty with you by showcasing My scissor holds….I will grant you your wish of letting you be in a presence of stern, fiesty yet kind open minded attitude…along comes the bonus deal of you  taking in My smooth, silky skin wrapped around My 'mature' well rounded muscle bellies…squeezing My flexed muscles…always stay conditioned all year. I'm devoted to taking you on a journey and stealing your mind away from reality…but dont worry I'll let you have a time out if you need one …probably lol..dont be too scared Im actually a really down-to-earth, cool chick and easy to talk to :). Check me on http://wb270.com/ind/missDan.htm.
■■Just an f.y.i gentlemen…before considering to book an appointment I do have a set-in-stone protocol when contacting Me■■::
▪︎When emailing Me, State the city you are inquiring about within the email headline
▪︎Please start off with telling Me a bit about yourself including your general stats (age/height/weight) occupation. I welcome down-to-earth, safe, sane, respectful, well groomed clientele. As well, let Me know what you are looking for within our time together. Im very open minded yet rightfully picky and tend to not take on many clients; so I want to be sure its the right fit for both of us. I have a great intuition…so your style and approach is very important to Me.
▪︎For first timers, I will require x2 references of ladies you have sessioned with before along with their current contact email information. AND/OR either photo i.d screenshot/LinkedIn/ or active social media of yourself to do a light screening for my safety, of course. I assure you discretion is of utmost importance for both of us.
▪︎I require a 50% non negotiable, non refundable deposit once we secure your date&time. This lets Me know you are serious. Donation of roses is for My time /companionship. If you cancel less than 24hrs before our session, you will lose your deposit, if you cancel the week of our session (over 24 hrs ahead and depending on the circumstances which I weight out) you will have the option of recieving 20% of your deposit back or putting it towards another session in the future, or simply losing your deposit. If I'm travelling, and you cancel at any time, you will lose your deposit/not refundable/no deposit towards another session. Clients should respect how much time, effort and juggling it takes for you to get on My schedule while Im travelling. Please respect My protocol and boundaries.
▪︎In My hometown, I have my sessions set up in a cozy, downtown private domestic setting, yet spacious enough for a great session. Discretion is always respected and boundaries/vice vera is expected and as well, respected. I always want to create a safe space where communication is essential and truly heard and clear from each parties.
▪︎FMTY and passport ready! 2 day minimum.  Travel/accommodation/dinners/donation can be discussed further.
■keep in mind, sessions over 4 hrs I will require meal breaks. Overnights I require at least 7hrs sleep.
■ When you email Me, you will receive an automated email response stating My protocol/questions to follow in case you missed some steps here. You will also find donation options for My time within the email. Please make sure you reply to this automated email with your answers and acknowledgement
■make sure to press the option "follow me" here on My sessiongirls page where you will be kept up-to-date with all My future travel plans
** Before I sound off here…I report all timewasters and immediately blacklist them on this site. Im a busy lady…so the earlier we arrange our session, the better. I don't take last minute inquiries. As with all the ladies on here, respect our time and we will respect yours….meaning you will get 100% of our genuine attention which will make for a great session for both of us! 🙂 Remember this is a luxury service for you and I can say for myself, I am a respected, professional at My job that I do take seriously.**
**As well…looking for a sponsor as I am keen on starting with a new coach to improve My condition. Just throwing it out there!
Now… let the fun begin!
Miss Lexi Daniels
Wish lists!! XOXOX
**https://www.amazon.ca/hz/wishlist/ls/2RI8VKNB5W1LS?ref_=wl_share
**https://www.amazon.com/hz/wishlist/ls/283E3FOA43K6N?&sort=default
My FAVORITE lingerie boutique :   *www.honeybirdette.com (online gift vouchers) send to [email protected]
*Carmen Rivera Strap on harnesses (in all colors!)
*https://mrhankeystoys.com/
*(My size just in case you wanna save it for the archives) *Bra: 38C/38D,  *Bralette: Large,  *Garder belt: Large, *Panty: Large, *Stay-up stockings: Large, *Bodysuit and camisole: Xtra Large , *Latex dress: Medium (10-12), *Latex leggings: M/L
Services Offered
Private Webcam / Skype / Video Chat, Other Webcam Shows, Fantasy Wrestling, Fantasy Boxing, Fantasy Kickboxing, Foxy, Scissoring, Lift and Carry, PosingModeling, Training
Travel
| | | | | |
| --- | --- | --- | --- | --- |
| Date Begins | Date Ends | City | Area | Country |
| 07/28/2022 | 08/05/2022 | Tampa | Florida | United States |
| 08/09/2022 | 08/12/2022 | Sarasota | Florida | United States |
My Gallery