Maria Manic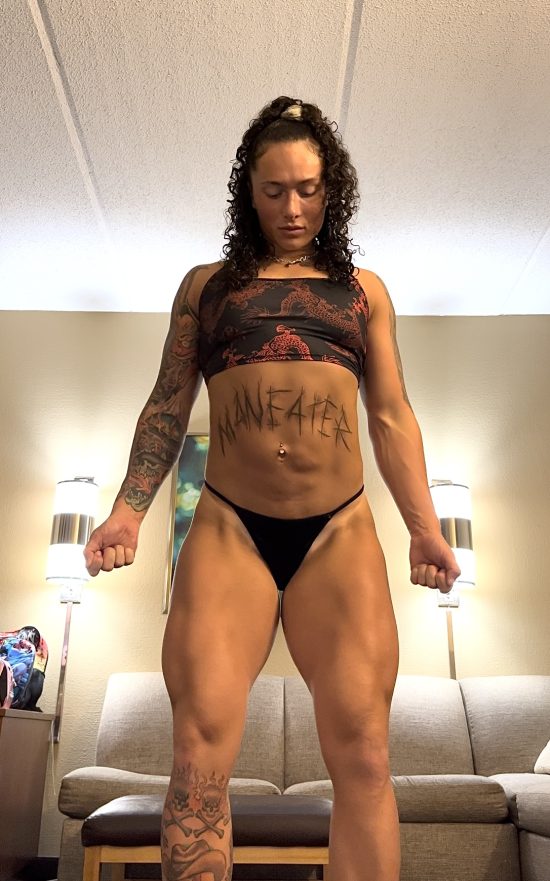 Contact
Location:&nbspUnited States , North Carolina, Raleigh
Email: [email protected]
Last Activity: 09/29/2023
Stats
Height: 5'8" - 173 cm
Weight: 200 lbs - 90.7 kg
Physique: Bodybuilder
Years Of Experience: 5-15 years plus
Tip Me
About
Services Offered
Private Webcam / Skype / Video Chat
Competitive Wrestling
Semi-Competitive Wrestling
Fantasy Wrestling
Pro Wrestling
Submission Wrestling
Pin Wrestling
Competitive Boxing
Semi-Competitive Boxing
Fantasy Boxing
Armwrestling
Tickle Wrestling
Scissoring
Custom Videos
Feats of Strength
Lift and Carry
Posing / Modeling
Training
Travel
| | | | | |
| --- | --- | --- | --- | --- |
| Date Begins | Date Ends | City | Area | Country |
| 10/02/2023 | 10/03/2023 | New Orleans | Louisiana | United States |
| 10/12/2023 | 10/13/2023 | Los Angeles | California | United States |
| 10/18/2023 | 10/19/2023 | Detroit | Michigan | United States |
My Gallery
Events
Reviews
Old Reviews
DaveyD
11/05/2021
Had my second session with Maria in Philadelphia a couple weeks ago and had another incredible time. Maria is just as powerful as advertised; I was on my back and getting crushed by her thick strong thighs in under a minute. Any time I would get an advantage, I knew it was just a matter of time before she'd end up on top again. In addition to her power and intimidating aura, Maria is very friendly and open-minded. She's also one of the easiest women to book with I've met. A total powerhouse with a great attitude, Maria is definitely worth booking a session with. Can't wait for Round 3 🙂
atlantaguy
10/03/2021
I had the opportunity to see Maria in Atlanta. She is very strong and open minded. We did a variety of lifts including torture racks and three overheads. She is very nice and was willing to try a variety of lifts. I will definitely reschedule with her the next time she is in town.
Anonymous
10/05/2021
Hello what do you weigh im looking to session with her thank you
dms303
09/01/2021
I had a competitive wrestling session with Maria last week , The set up went off without a hitch, she is very prompt with her emails., we wrestled best of 5 and Maria won all five matches, She was polite during the whole session
I have wrestled up to college but Maria is insanely powerful and strong , that while I could score takedowns on her , I could not put her away, infact I only had one pin attempt on her, which she easily kicked out of ,flip side , 3 of 5 matches she pinned me on her first pin attempt, I managed to kick out of a couple but just barely, most of my holds she simply just powered out of, her headlock is worse than most peoples leg scissors,(my eyes almost popped out).
So in the end I had more skill but I was not much of a match for Maria physically , look forward to challenge again 🙂
Anonymous
08/15/2021
Setting up session was easy. Maria answered emails fast.
Had mix of competitive and sensual session for the hour.
She is very strong and when we armwrestled she beat me easily.
Though she seemed nice, the one issue I had was that she seemed bored for the entire hour.
More like "going through the motion" and not really being into the session at all.
I've sessioned with many women over the past ten or so years and this was the first time I felt like it was a waist of my time and money.
Mixedwrestling4real
08/14/2021
I sessioned with Maria in Pittsburgh and i had a great time! We had a competitive style session and she totally delivered! The final score at the end of our session was 11-1. There is no escaping her smothers and her legs are insanely strong. A couple times she didn't even need to cross her ankles in a headscissor to get me to submit. I loved her attitude throughout the session as well. It was like she knew she would make easy work of me and at one point she grabbed my face and made me count the score out loud. Really made me feel like a loser! I would love to session with Maria again when she's back in the area!
Leglock
08/13/2021
Great newcomer to the scene! Easy to communicate with and also a pro background. If she's in your city and you miss…… it's your loss!
DaveyD
05/29/2021
I had my first session with Maria last night in Philly and had a wonderful experience. Setting up the session was very easy, Maria always replied very quickly and clearly. Asked her to wear a two-piece pro style outfit and was blown away by how amazing she looked when she opened the door. We did a fantasy-style wrestling match, with each of us gaining the advantage several times. When she wanted a tap (or several taps) to one of her chokes, smothers or scissors, she was able to easily force my surrender. On top of being a gorgeous and fun opponent, Maria was also a very friendly and gracious host, making me feel very comfortable at all times during the session. An incredible experience to take on a notable pro wrestler, highly recommend her.
Rick71
04/07/2021
I've had several sessions with MM over the past 2 years. Without a doubt one of the coolest ladies in the industry. She is certainly capable of dishing out more than I can handle, but still I like to try. She suggested incorporating a few of her pro wrestling moves during our session and really made me a believer. An incredibly strong and beautiful lady who is a privilege to spend time with.
Truly one of the best I've met !
Anonymous
04/08/2021
Thats cool she is the pro wrestler maria manic? Did she do an over the head lift on you? Or one of them devistating toreture rack. Can wait to have a session with her
Boxingd12
10/16/2018
Had a boxing session with her it and it was a good time very strong and can take a nice body shot also very laid back and chill and a cool person to get to know looking forward to more sessions with her!
">