JET STAR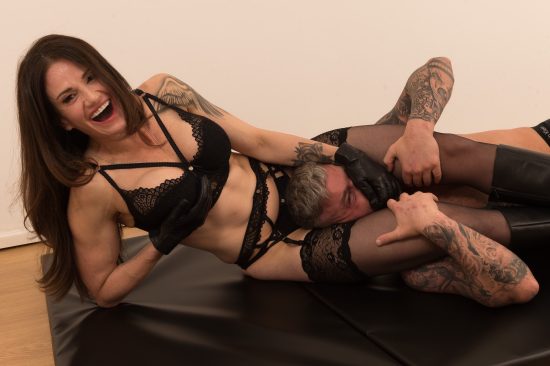 Contact
Location:&nbspUnited Kingdom , OTHER, LONDON LIVERPOOL MANCHESTER BIRMINGHAM
Email: [email protected]
Last Activity: 06/08/2023
Stats
Height: 5'10" - 178 cm
Weight: 155 lbs - 70.3 kg
Physique: Athletic
Years Of Experience: 5-15 years plus
About
The perfect powerful yet playful PERSIAN PRINCESS..
Standing at 5ft 10′ in bare feet, with my strong athletic build and exotic dark looks I am force to be reckoned with! My legs are pillars of pythonic persuasion!
I am a highly skilled in Wrestling, Brazilian Jujitsui and Grappling. I am the real deal, an Arabian Goddess – I have spent many years perfecting my skills in martial arts and combat sports so I know what I am doing and can offer sessions that range between complete fantasy right the way up to semi competitive. I love getting hot and sweaty. Sessions with me are on another level. Do you love being thrown around like a rag doll? Lifted and carried around easily? :)))) I can be playful and fun or rough and severe. My muscular thighs will have you begging for mercy or craving for more.
I can be the queen of mean or a beautiful wrestling goddess. If you are very lucky you may get both!
All your limits will be respected, well most of the time 😉
One of my signature moves is the reverse scissors, because I haven't met a man yet that can take the pressure of my legs wrapped around his neck without begging for mercy. Another favourite of mine is the figure four body lock because with my long legs there is no chance of escape (not that you will want too) :)))
Are you ready to be scissored into submission by this Persian Goddess?
I am also a dominant female and I am well versed in all fetish,bdsm and kink so your fantasy is my reality..
Services Offered
Private Webcam / Skype / Video Chat
Phone Chat
Other Webcam Shows
Competitive Wrestling
Semi-Competitive Wrestling
Fantasy Wrestling
Submission Wrestling
Pin Wrestling
2 on 1 Wrestling
Couples Wrestling
Brazilian Jiu-Jitsu
Muay Thai
Grappling
Semi-Competitive Boxing
Fantasy Boxing
Fantasy Kickboxing
Fantasy Catfighting
2 or More on 1 Handicap Matches
Tag Team Matches
Armwrestling
Foxy
Boxing
Female vs Female
Tickle Wrestling
Scissoring
Custom Videos
Feats of Strength
Lift and Carry
Belly PunchingIn-Gym
Training
Bondage Wrestling
OIL Wrestling
Others: Please email request
Travel
| | | | | |
| --- | --- | --- | --- | --- |
| Date Begins | Date Ends | City | Area | Country |
| 10/02/2023 | 10/05/2023 | LONDON | OTHER | United Kingdom |
My Gallery
Events
Reviews
Old Reviews
Mr1pac79
05/02/2021
I saw Jet on the 01-05-21. See looks absolutely amazing very tall. She is very strong threw me about and I weight 106 kgs.
Within easy walking distance from Liverpool stn. She is worth the visit.
Nemesis
01/09/2021
Well i won at last !
She can CLAIM it was a draw. She can CLAIM she was a bit under the weather
But we both know i won this one. Haha
To be serious i have the greatest times ever with Jet. She has evdrything you could ever want in a session wrestler. Skill. Speed . Strength. Looks and to top it off a GREAT personality.
I could not recommend Jet enough. I hadnt sessioned for years due to losing interest in girls that claimed allsorts and delivered little. I thought try again just to see and OMG what a great choice i made. Restored my interest and enjoyment.
This lady is a defo top draw 10 out of 10
BRING ON THE NEXT MATCH GIRLIE lol
Nemesis
12/10/2020
Just had my second session with Jet in a few days.
To say she has everything would be an understatement.
Looks, strength, technique, speed. Its all there.
Ive not met anyone who seems to like her sessions so much as she does. She through the whole time with a smile on her face.
Cant wait till next time
And yes, she won again ( just lol )
Nemesis
12/06/2020
Just a quick review
Havent sessioned for many years and i couldnt of picked a better partner to restart with.
Shes funny, organised, she listens and shes a tough cookie.
Thats without stating the obvious. Shes drop dead gorgeous ( and she makes a mean coffee lol )
She won ( because i let her lol )
Best thing i can say is i wont be going anywhere else
YoungUpAndComer
07/28/2020
First and foremost, what a powerful, beautiful and breathtaking woman Jet is!
My first ever session with Jet was nothing short of sheer perfection! When I first met her, I was shy and anxious but she put me at ease and was the most open and caring person! Kind, chatty, had a wicked sense of humour, nothing was too much trouble for her; everything you could possibly want and more!
Jets scissor holds were so so strong; squeezing every bit of energy out of me after only 5 minutes(probably even quicker than that, I'm just acting tough and edgy) she continuously preyed on every weakness I displayed and never let up for a second! Using a whole arsenal of moves; grapevines, figure fours, armbars, every move more lethal than the last!
She ensnared every sense, every fibre of me, holding me down, playing with me at her own leisure!
In short, if you are first-timer or have had many sessions before, choose Jet! You will not regret a second! Even the sore neck I will have tomorrow will be totally worth it!
Ausländer
07/13/2020
In my early thirties, I decided to meet Jet for some mixed wrestling. It's something I've always fantasised about, but never really got into with former partners. I was apprehensive, but honestly, Jet is exceptionally personable and all round lovely (we talked about all sorts – including personal stuff on my side which she was really empathetic about). I felt at complete ease and we discussed what I wanted. Respect counts a lot and she absolutely has it.
So the bit you're interested in. For those who have Xenia Onatopp fantasies – this woman would definitely have over-powered Bond and constricted him out. I'm a fit man in his 30s, and Jet absolutely wiped the floor with me early in a semi-comp bit (no shame in that though!). It wasn't over though, once she squeezed and smothered the fight out of me, she set about toying with me. Literally she is a python personified and can take you to the edge of being squeezed out; once she has herself wrapped around you, it's only a matter of time before your struggles weaken. This is someone who truly LOVES what she does too. She didn't just meet my expectations, she has truly set the bar at a massively different level!!
I can't thank her enough for what was literally the perfect first time session beyond expectation, and intend to see again in the future!
Thanks again Jet!
Mixwresfan
09/08/2019
Just had a semi comp wrestling session with jet nr Manchester.believe me she is the real deal she is as strong as an ox,her scissors have you tapping straight away as it's like having a
Boa constrictor wrapped around you squeezing the life out of you, her legs are that long I'm sure they went around me twice,my head feels like it's been dissected from the rest of my body. Her shoulder and hip throws are technically spot on she threw me with ease onto the mats and I'm 92kgs in weight.
To sum up she is as good as axa and Lisa at the wrestling factory if not better
And as strong as pussy willow so girls move over there's a new kid on the block
Jet is beautiful on the inside as well as the outside after a minute of meeting her it felt like I had known her for years I can't wait for our next session
larsljung
03/29/2019
Jet is the imagination of the perfect amazon.Fit and feminine body. She is very serious in wrestling and has even learn some from experts to make her self better wrestler. She always make her best to understand and listen at the client. For people who are a bit shy I guess that Jet is perfect, because she is very open and easy to comunicate with.
First time we met I won, The second time I lost. And next time I will lose even more. Because she will be better and better.
Topi
03/24/2019
I was very curious after I saw Jet's sculptural and athletic body on her photos. So I met her on friday at Monicas'mat, a very good place for wrestling.
First of all, Jet was very easy to join and quick to answer. When I saw her coming in her black sport leggings, I was impressed by her beauty and by her very fit body. Jet is tall, very athletic, and very good looking (long black hair, perfect fit body, nice smile).
Jet told me that she offers semi-competitive wrestling. As usual, I prefer competitive sessions but without chokes in order to limit the risk of injury. With more than 70 sporty sessions and a Judo background, I can adapt and have a reputation of taking care of my wrestling partner. So I was happy that she agrees for a sporty session.
We began with armwrestling. As you can see on her profile, her arms are strong. I succeed to win with the right arm after more than one minute but she destroyed me easily with the left one.
Then, we began the wrestling session. I have usually the upper hand in my wrestling session and can most part of the time begin on top. But this time, I met in Jet a very fierce opponent. Not only she's very strong, but she's very well balanced too. She can use all part of her body and every inch of it becomes a true weapon. I'm impressed by her wrestling skills.
Despite she began wrestling sessions only a few months ago, she managed to give me a very good match. I could compare Jet with Suzie in term of strength, flexibility, and permanent smile too. Jet takes bjj courses and it's clear she's a very fast learner. She really enjoys at wrestling and when she's on the top, it's almost impossible to escape from her and from her victorious smile.
On my point of view, Jet will soon enter in the top 5 of better wrestler in UK in company of girls like Scorpion, Axa, Sativa, Ivy…
So to conclude, beautiful tall girl, with a perfect muscular and deadly body, very nice to talk with and with very good wrestling skills. Perfect deal for a perfect session !!
Anonymous
03/04/2019
Meet up for a lift and carry session for my wife. Jet will not disappoint. She was fun and easy to chat to making my wife feel comfortable at all times. Very strong lady, lifted my wife with ease. Thanks for a great session. Hopefully see you again soon. X
larsljung
12/18/2018
Fantastic woman that I met in Manchester. Friendly and fun to talk with. Seems interested in what she do and is fit and strong. Worth to come back.
">