Beefcake Xena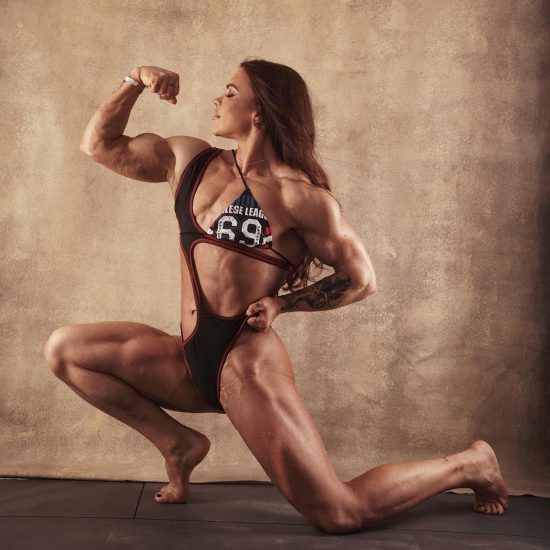 Contact
Location:&nbspUnited Kingdom , OTHER, Leeds
Email: [email protected]
Last Activity: 12/04/2023
Stats
Height: 5'8" - 173 cm
Weight: 165 lbs - 74.8 kg
Physique: Bodybuilder
Years Of Experience: 1-5 years

Tip Me
About
---
Currently in off season.
Catch me in a more chunkier shape for those who prefer me this condition 😊
---
I  am 34 years old powerlifter/bodybuilder and I am not your average girl you see on the street or in the gym. All that strength and muscle will blow your mind. I am here to let your fantasies come true and bring you an experience you won't ever forget. I am very open minded and easy going. If there's something that you can't see on the list of services offered, ask. However I DON'T offer :
competitive wrestling
semi competitive wrestling
knockouts
Now I am prepping for my first bodybuilding show and if you want to catch me in leaner shape and cut muscles, don't miss out! 
Let's have some fun 🙂
Also is there a city or country I have missed, let me know and I will do my best to add then if I have enough demand.
So don't wait till last minute, you will be sorry yourself 😉
Please send me an email with as much as information possible so we can make our booking very efficient. Endless questions will be flagged as time wasting and they will be ignored as such as one liner emails – the worst is – can we meet? If you fail to send me an descriptive email, how the hell we gonna communicate during the session? Don't be lazy!
Before sending me an email please read what I offer and the conditions. I am very open minded but also please be very respectful.
For all Lift & Carry session requests please state your stats!!! I'm currently working on my shoulder rehab so I don't do overhead lifts and I have a weight limit at the moment.
I really hoped I don't have to mention this and it would be a common sense but clearly isn't  – please make sure you attend my sessions without any body odour, I make sure I am showered between each session, if you are travelling far, I'll give you 5 mins to quickly freshen up. Don't be shy.
Also I may ask for references so please add them in the email before enquiring.
Be expected to pay deposits , NO EXCEPTIONS!!!
However if for discretion reasons you can't pay it, ADD REFERENCE (their email) from previous sessions so I know you're not a time waster!
If you're not willing to do either of them don't email me! I take me sessions serious if you don't respect the way I conduct business and respect me, don't expect that in return from me.
Limit : 5 emails before deposit has been taken due to heavy influx of messages that take large amount of time to keep up with and respond to. I am more than happy to continue to email you and figure out the specifics with a phone call or furthers emails after the deposit is paid. I am not playing ping pong with emails just to get your "fix".
Please note : be aware of the location I am working in, also follow up my tour dates once they're announced. If you wish for me to travel to you within UK outside tour dates, you will cover the cost of travel and hotel plus the cost of the session. Those clients outside of UK, please refrain from messaging me for a session if the tour isn't announced abroad.
ALSO for my abroad tours I pay for my own travel and hotel fees so be expecting my fees to be a little higher. And be respectful of that and don't try to barter it.
However, in meantime, I am more than happy to provide you with prepaid Skype sessions. Email the time and date that works for you and little description. Minimum time – 30 minutes.
I also offer custom videos. Or any type of used garments for your fetish needs. Don't be shy and ask 😊
I also offer exclusive GFE to respectful exclusive clients. If you wish more information on this please email as there's rules and boundaries to this.
Travel details : Please try to book sessions in advance as I organise my time well and I do my best to accommodate. So if you email me a day before I'm due to travel to a location of my tour, most likely it will be full or I have organised my time and won't be able to take you on.
I will be ignoring any DMs in my Instagram and OnlyFans. Please email me if you have any enquires.
Remember : All deposits are non – refundable. But can be left as open deposit if you need to cancel with reason.
I do not accept Amazon gift cards as an any kind of payment. Also if you fail to attend to a session or you're late 20 mins without letting me know it will be flagged as no show, you'll lose your deposit and you'll be listed on a time-wasters page. (you can redeem yourself and have a chance to book me again if you cover the remaining cost of unattended session).
If you turn up late to your session (without letting me know) I am not able to honour full session time as it is your responsibility to turn up on the session on time.
I understand that sometimes nerves do get best of you guys, please if you do change your mind let me know, it's just gives another person a chance to meet with me. I really hate turning people away.
So let's have fun and let me be your challenge. I can't wait to fulfill your fantasies and give you a memorable experience ❤️
Session Deposit Policy
Deposit is Refundable if I have to cancel and we are unable to reschedule.
Services Offered
Private Webcam / Skype / Video Chat
Phone Chat
Other Webcam Shows
Fantasy Wrestling
Fantasy Boxing
Armwrestling
Scissoring
Custom Videos
Feats of Strength
Lift and Carry
Posing / Modeling
Others: Please email request
Dominatrix Services
Face Sitting
Financial Domination
Foot Fetish
Giantess
Hosiery
Humiliation
Latex/Leather/PVC
Orgasm Denial
Role Play
Spanking
Strap-on
Tickling
Trampling
Virtual Sessions
Water sports
Whipping
Others: Please email request
Travel
| | | | | |
| --- | --- | --- | --- | --- |
| Date Begins | Date Ends | City | Area | Country |
| 12/05/2023 | 12/08/2023 | AMSTERDAM | OTHER | Netherlands |
| 12/20/2023 | 12/23/2023 | MILAN | OTHER | Italy |
| 01/15/2024 | 01/19/2024 | ZURICH | OTHER | Switzerland |
| 01/30/2024 | 02/02/2024 | BRUSSELS | OTHER | Belgium |
| 02/13/2024 | 02/16/2024 | PRAGUE | OTHER | Czech Republic |
| 02/27/2024 | 03/01/2024 | FRANKFURT | OTHER | Germany |
| 03/12/2024 | 03/17/2024 | VIENNA | OTHER | Austria |
| 04/09/2024 | 04/13/2024 | COLOGNE | OTHER | Germany |
My Gallery