ThinkingBig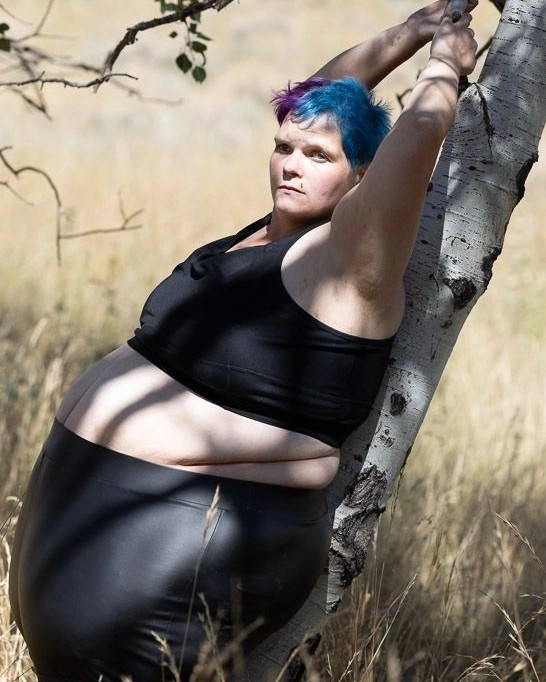 Contact
Location:&nbspUnited States , Colorado, Wellington
Email: [email protected]
Last Activity: 11/27/2023
Stats
Height: 5'8" - 173 cm
Weight: >500lbs
Physique: BBW
Years Of Experience: 5-15 years plus

About
---
---
Hello Everyone!
I am Gabi, a ssbbw model (orginal name Gaining Gabi), squash queen and wrestler, I have been doing various sessions for well over 14 years, first squashing/crushing and then wrestling. I have returned to my quest to overpower and squash men like pancakes. To date I succeeded every time and flattened every man who has dared to challenge me ;-). Proud to be a mancrusher!! The type of sessions I offer are the following:
Squashing
Trampling
Smothering
Human Furniture (350 an hour)
Face Sitting (750/hour)
I would prefer other sessions, but can offer wrestling on a case by case bases.
Wrestling Weight Limit is 225lbs, all other sessions, you can be any size. This is due to a injury in Oct 2022.
Sessions are to be held at a neutral hotel, I will not do sessions in my home or clients home.
No Sexual services are offered (don't ask)
If you do not see what you are looking for email me, I am very open minded
A little more about me, 5'9″ and 567llbs. I have no formal wrestling training (though I have learned some over the years), Despite that I have been able to very decisively defeat men who are well skilled, athletic, strong and fit with my weight alone. Many men have tried to take me down and none have succeeded thus far, so if you are among the brave email me for rates but be prepared to be added to my very large growing pancake list 😉
P.S. my weight tends to fluctuate every year!
Session Deposit Policy
Deposit is Non Refundable if you cancel anytime before the agreed session date.
Services Offered
Sessiongirl Services
Private Webcam / Skype / Video Chat
Phone Chat
Other Webcam Shows
Custom Videos
Posing / Modeling
Others: Please email request
Dominatrix Services
Bondage
Breath Play
CBT
Chastity Control
Corporal Punishment
Face Sitting
Financial Domination
Foot Fetish
Humiliation
Latex/Leather/PVC
Orgasm Denial
Sensory Deprivation
Smoking
Spanking
Trampling
Virtual Sessions
Water sports
Wax Play
Mommy Play
Others: Please email request
Travel
My Gallery
Events
Reviews
Old Reviews
pattyfan2007
07/16/2021
I contacted Thinkingbig for a custom video with another model and the final video was great. She was very communicating, highly professional and a all around great person. Her fee was also quite reasonable. I highly recommend her.
Anonymous
06/06/2021
I had a session with this massive woman a week ago, and I do mean massive…. I went full competitive pin against her but for her it was anything but, she handled me like a little kid and just overpowered me to the mat and plopped on me , she is not that skilled but her size and power more than made up for it, She can Easily!! beat anyone 300 lbs. or less without breaking a sweat regardless of what they bring to the table , no one that size is any physical threat to her on the mats
Anonymous
04/09/2021
Had a session with her to see if her reviews and reputation were true. I can say all that is true, After the session I was so flat you could have mailed me home.. my wrestling in school made no difference
musclehead411
02/01/2021
I Had a rematch with Thinkingbig and once again she turned me into grease spot…, Within seconds of her making contact I was down and crushed…nothing I could to counter or avoid it other than a few seconds of dodging but eventually she closed the gap on me it was pancake time… Nothing I did had any affect on her… needless to say she is way too much of a woman for me..
jiujitsu303
01/12/2021
I am way late in this review, actually reviews i have had serveral sessions with Thinkingbig. As for me i am 5'11" 215 , workout regularly , wrestled in high school, have done Judo (brown belt ) and am a 1st degree black belt in jiu-jitsu. i have done 4 sessions with thinking big.
how did i do.. ? Every time this woman has turned me into a pancake… easily despite my max effort. Any move or take down attempt she just powered right through and she put her weight on me (which i could not stop) and squish…. Never lost this bad to anyone and i never thought a fat lady who just threw her weight around would be the toughest opponent i ever had , but she definitely is The toughest opponent i have ever had, man or woman…
Anonymous
12/20/2020
Due to covid I have not yet been able to see this woman in person, but we talk and text a lot and she makes me love out my fantasies in more than one way. She is very detailed and knows how to take a story and twist it in your favor. During this time I would recommend her if you ever need to text or talk about what you want. She is amazing and knows how to make your $ worth it. Highly recommend to anyone looking for this during these times.
bud720
12/15/2020
Living in Denver i noticed the biggest woman on this site is in Denver herself, i am 6 foot 255 lbs and i wrestled in school and am still in good shape. Despite that i am outside her weight limit on her profile she agreed to wrestle me with some references which i gave her. After that the setup was easy.
To say this woman has never missed a meal is a huge understatement (pun intended). She made me look someone who is starving, by far the biggest person i ever meet .. well over 600 lbs.
as for the session, well i might as well have wrestled a elephant !!!. i could not move her in the slightest, even a full football tackle had no affect on her.. any hold i had she simply walked through due to her power and girth, and once she went on the offense.. five seconds later it was over, and i was squished flat… Still sore :-/
Anonymous
07/25/2020
a while back i had a session with thinkingbig right after i passed my first degree black belt in Jiu-jitsu so i came in pretty cocky to this session, me and my cocky ego got squashed , literally… learned a big lesson that there is such a thing as a opponent who is too big and that skill only goes so far, she completely dominated every part of the session … crushed me like a big
musclehead411
07/04/2020
I had a sparring session with this huge woman, at 6'2″ 275 and muscular I thought I would do well, I wrestled some in school and have done powerlifting and strong man contests, but despite all that Thinkingbig handled me like I was a little kid. within 30 to 40 seconds(or less) each match I was flat on my back under her bulk getting a close up view of her huge fat rolls… During the wrestling I had no idea how strong she was, since she just used weight and I could not challenge her enough for her to have go beyond only using her weight alone, later I found out as we did some tug of war and she wiped me around like a wet noodle, Never thought a woman could handle me that easy, and no man has ever beaten me that bad…
Marine720
04/21/2020
A while ago I decided to try a wrestling session, so I looked on this site and decided to go only by the biggest woman on this site. So I emailed thinkingbig for a session. She was very responsive to my emails and we arranged a session.
a little on me I am 6 foot and 225, did one enlistment as a marine, wrestled in high school, and have studied judo and kempo. I told her all of this and she was not worried in the slightest and told she would have zero problem winning each match.
When we meet I have amazed by her size, without a doubt the most massive person I have seen in my life . She makes a sumo wrestler look small… Yet she moves very well for her size , not fast at well but the movement of a average person. She weight in at 735 lbs at our session.
As for the session, despite all my training ,skill and fitness level it was no contest. She does not do anything fancy moves and spends most of the time standing in her starting position and waited for me to come to her. She kept me in front of her and forced me to deal with her immense girth. Her girth and mass were so overwhelming that any hold I attempted was completely ineffective. Once she I tried a move and got close then she put all her 700 lbs plus on me and had me on the mat in a second. She did sweat, or even breath hard at all. once she had me in her grasp I could do nothing to esacpe or even roll on my stomach to avoid getting pinned ooutright, well she pinned me outright each match and I was buried under crushing weight, had the win knocked out me every match and passed out a couple matches.
I have never been so overpowered or beaten down to that extent in my life. If you want to know what Invincible looks like , look at her profile picture
dms303
03/22/2020
Recently did a wrestling session with Thinkingbig before this coronavirus broke and I am glad I did. She destroyed me completely . I have 10 years plus of wrestling experience and other marital arts and she squashed like a pancake with barely even trying. none of my technique had any affect on her, not that I was doing it wrong, it simply did not work due to her mass and girth , Once she gets her mass centered on you it's game over.. there is no way to counter it or avoid it once she is on you and in a wrestling match eventually you have to get close. My bet is she remains undefeated
Andy411
02/28/2020
I had a session with this Gianormous woman. I wrestled all the way to college but she still crushed me like a bug, EASILY !!! the length of the matches were in seconds not minutes… she gave me a lot of handicaps but she still handed me my rear end each time..
Anonymous
01/23/2020
I had return session with Thinkingbig and it was a ever more powerful repeat of the last one. If you take her on my advice is leave your ego at the door. Her mass and girth are jaw dropping in person . due to that traditional holds or moves simply fail on her even if perfectly applied. Once you get close to her.. … it's over , within 3 to 5 seconds of me getting close I was on the mat and she easily counted the pin. it feels like I am buried alive and I got a up close view of her huge fat rolls. Everything from my neck to my thighs were completely immobilized …and she slowly counts the pin
Even with her giving me handicaps(her being only on defense only for 10 seconds, longer counts etc.) the result was I got squashed flat everytime…
Ben909
10/29/2019
I have heard how big and powerful Thinkingbig so I decided to see for myself and having wrestled in school I thought I would do well, Boy was I wrong !! She is not only big and powerful she is the biggest and most powerful person I have ever meet (man or woman). and she know s how to use it
Before the matches she told me not to hold back and give her my best shot, I did and nothing I did had any effect on her, I could not move her in the slightest , I even hit her with a full bore football tackle and it hurt me more than her( actually it did not hurt her at all) , she didn't even flinch and giggled after I hit her. Flip side, one move on her part and I was down and under her crushing weight. then she counted a easy pin, very slowly. Total mismatch.. I never have lost that badly before…
Anonymous
07/16/2019
I am way late in posting this review and I had my session with thinkingbig before she had to go leave. First off I had five match session with her but was only able to do four matches.. why? because I was getting crushed so badly we had to stop or else I would need medical attention,
She did not intentionally try to hurt me but anything she does hurts. she took me down with ease just with one shoulder block and pinned me even easier, . Both offensively and defensively I could not nothing to her or stop her. She took me down on her first takedown attempt and pinned me on her first pin attempt, 100 % domination. Hope to see her back soon
Bob
05/13/2019
Had a session with this Sumo sized woman a while back and she is a massive as I have seen online and heard. the setup went nice and she is very polite. I have wrestled up to college but against her it meant very very little.. As she states she has no training in wrestling she is very one dimensional but is a expert at using her weight to overpower someone . She beat me every fall in under 20 seconds with utter ease. her immense girth makes any hold or move useless. Thinkingbig is the toughest opponent (man or woman) I have ever faced by mile
Anonymous
03/27/2019
First things first, This woman can back up what she says in her profile. Short of hitting her with a baseball bat there is no way to beat her. I gave my 100 % effort and could move her at all. Flip side she did whatever she pleased with me.i hit her with full on target football tackles and did nothing to her. As for her size she makes a NFL lineman look malnourished . I Don't think anyone could beat her in a pin wrestling man, and i mean man or woman, she is simply to big to be defeated…
Anonymous
01/27/2019
I had a session last month with Thinkingbig and well say up front i have never been more crushed in a wrestling match in my life. She won all the falls without breaking a sweat as i could do nothing do her effectively . She is too massive for conventional holds or takedowns to work. And i wrestled in school. I was sore for days after the session.. Do not count on winning if you book a session with this enormous woman…
Anonymous
12/30/2018
Had a wrestling session recently with thinking big to see if she lived up to the tough statements in her profile (about never losing and squashing everyone she has wrestled ). So i set up and session with her m which went well and meet in my hotel.
Well she did live up to what she said in her profile , by a mile. Not matter what i did or tried she easily took me down and turned me into a grease spot… i only did a 3 match session and i could barely do the third match… which she pinned me in 10 seconds or less… i was sore for days after.. i don't think anyone has a prayer against this woman..
boytoy720
11/09/2018
I just had a wrestling session with Thinkingbig and if you do you better leave your ego at the door, even though i am a big guy and have wrestled before ,she completely overpowered and flattened me without ease, i could not not even budge her a millimeter , none of my holds or takedown attempts worked (her weight and girth prevented that) and she took me down at will . she pinned me on the first takedown and and pin attmept, She even gave me a takedown to one minute pin handicap (she needed a one minute pin to win while i just need to score a takedown), She got a easy one minute pin . After 4 matches i had to stop or i would have needed medical attention (no she was not trying to injure me), but apparently i lasted longer than average as most men she has wrestled cannot go more than 3 matches with her. So keep your ego in check if you wrestler her
Anonymous
10/26/2018
I was in Thinkingbig's area and booked a session(competitive wrestling )with her, the setup for it went of without a hitch. When we meet my jaw dropped.. She is without a doubt the biggest person i have seen in my life.
As for the session, she lived up to claiming she is undefeated… by a mile, She is strong , knows how to use her weight and i could not move her at all. i threw the kitchen sink at her and in the end it ended as the pictures of her pinning other men on her profile, as she told me it would. Once she gets the advantage on you.. game over and there was nothing i could do to prevent her from getting the advantage on me . i am big guy myself and have 7 years of wrestling experience under my belt but i could not even slow her down and she flattened me every match . Never have I been more overpowered by anyone else in my life. If you wrestle with Thinkingbig, you better pack a breakfast , lunch and dinner with dessert !!
">