Fightbabe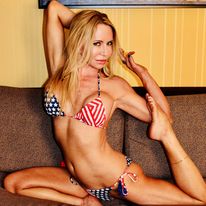 Contact
Location:&nbspUnited States , California, Los Angeles
Email: [email protected]
Last Activity: 10/17/2023
Stats
Height: 5'5" - 165 cm
Weight: 120 lbs - 54.4 kg
Physique: Athletic
Years Of Experience: 5-15 years plus
Tip Me
About
I am Fightbabe Robin! I am an Excellent Wrestle as well as Scissor and Smother Specialist! Look through my profile to see what other pleasures I seek in a Session with YOU!  I am a very experienced wrestler and have studied jujitsu under my sensei, Gokor Chivichyan.  I started my own company, Les Femmes Fatales Productions, in 1995 before most women ever hit the mats with men! I love my work and I love wrestling!  Especially with men! I also instruct men, women and couples in wrestling and love teaching women how to conquer their men at home! Outside of wrestling and jujitsu, I'm a certified yoga instructor, offering private Yoga instruction to my clients in Los Angeles so I'm thrilled to offer private yoga instruction when I'm traveling, in addition to Wrestling and Domination Sessions!  I am a huge animal advocate and I have 3 rescue dogs.  I have studied wine and have an advanced certification through the WSET.  I am a foodie, a traveler, a lover of different cultures and an adrenaline junkie!  I am an avid hiker and love all things in nature.  As far as wrestling goes, I particularly love Semi Competitive Wrestling, Role Play Scenarios, and showing off the intense strength of my thighs, as I play with your neck, compressing your carotid arteries while you are helpless in my Head Scissors!  I am, indeed, a Scissor Specialist! Do you prefer to be caressed by my thighs rather than crushed?  I offer Scissor Cuddle Sessions, too! Or any combination of what you love! I also love to smother! I'll be more than happy to take your breath away! Contact me for a Session!  You won't be disappointed! Don't see me traveling to your area? Make me an offer that I can't refuse! I'll be there!
Session Deposit Policy
Deposit is Refundable if you cancel a minimum of 2 weeks prior to the session date.
Deposit is Refundable if I cancel the session.
Deposit is Refundable if I have to cancel and we are unable to reschedule.
Services Offered
Private Webcam / Skype / Video Chat
Phone Chat
Semi-Competitive Wrestling
Fantasy Wrestling
Submission Wrestling
Pin Wrestling
2 on 1 Wrestling
Couples Wrestling
Brazilian Jiu-Jitsu
Grappling
Fantasy Boxing
Fantasy Kickboxing
Fantasy Catfighting
2 or More on 1 Handicap Matches
Tag Team Matches
Armwrestling
Foxy
Female vs Female
Tickle Wrestling
Scissoring
Custom Videos
Belly PunchingIn-Gym
Training
Bondage Wrestling
Others: Please email request
Travel
| | | | | |
| --- | --- | --- | --- | --- |
| Date Begins | Date Ends | City | Area | Country |
| 12/14/2023 | 12/17/2023 | San Francisco | California | United States |
My Gallery
Events
Reviews
Old Reviews
DuckBoy
12/20/2021
My session with Robin was like heaven! She is incredibly beautiful, even more so in person. She is also amazingly fit and flexible, and was able to perform technically difficult holds that I had never even heard of before. Her legs are so taut, and deceptively strong. She was able to pull off the role-playing session I requested like an award winning actress. She left me sore with a smile on my face. It was so easy to set up the session, her hotel room was very nice, her attitude was bubbly and sweet, and she seemed to enjoy our session as much as I did. I can't wait to session with her again. Thank you so much Robin!
Nick cardoso
09/09/202Wow what a wonderful Session I had with Robin!! She is beautiful and very kind person to be around. We had a Ballbusting, Scissors session with some wrestling and I had no chance of escape. Her Headscissors are by far the best in the Business, if you have insomnia she definitely will put you to Sleep😴😴 lol. I highly recommend Sessioning with Robin, she is very Professional and Skilled. Thank you for a wonderful Session. See u soon.
Georgiescissors
03/05/2021
I am the lucky one to be posting this review here, Robin's legs are from a different world, apart from being super nice and very friendly, I tell you the lady can do everything related to wrestling, headscissors is one of her specialties and I assure you these legs can do BRUTAL damage to your neck. She leg presses me as if I am a feather and she overpowered me in competitive wrestling. To sum up, if you like being scissored and you didn't session with Robin, you didn't try headscissors yet. AN ABSOLUTE STRONG BRUTAL BEAUTY. Definitely coming back on that mat 🙂
Judokahenk
02/15/2020
Had a few sessions with fightbabe , years ago in USA and Europe , she is a real strong fighter , with very strong legs and experience in BJJ holds , don't forget to tap when she has you in her killer headscissors.
lk
01/26/2020
I ordered a custom video with her before christmas. the video is a role play scenario and she is perfect in it…really this video is a 5 star video in which she dominate and humiliate her opponent with a lot of facesitting and trash talk. She play the role perfectly and not to mention she is a beautiful and a very nice lady… I really recommend this women for ppl who want a custom video with her as she did all I wanted to see in the video…a great model!!!!!!!!!!!!!!!!!!!!!!!
Anonymous
05/29/2020
Hi lk.
I'm curious. Is this the recent catfight video that Robin did with Christine?
Hi. You can purchase the Catfight video through my company http://www.lesfemmesfatales.com if you haven't seen it already or email me at [email protected]. Thank you. xo
Johnny Nobody
01/05/2020
When I arrived at her location, she asked me what I like and don't like. I told her I normally only session with those who offer full competitive sessions but made an exception in her case because she is the legendary Robin. She, to my immense delight, told me we could wrestle competitively, which we did.
I was after an intense and sweaty wrestle, and I got it. I am much larger and stronger than Robin, but she is in much better shape and significantly more experienced. She also has had training, whereas I have had none.
Even without training, I know enough to know how to defend certain things. I was able to defend quite a lot (she remarked that I have good defense) and even got some submissions of my own with my very rudimentary offense.
We went back and forth until we were tied at 4-4 and decided to go for one last fall as the hour was drawing to a close. When we tied up, I wound up on my back with her pinning me down in a cross body pin (once she got on top of me, I could not get her off). We struggled and strained for some time. After much sweaty grappling and heavy breathing, Robin was able to secure a sort of modified kimura (she got most, if not all, of her subs via joint locks).
She was now up 5-4 and the winner. For the last 15 or 20 minutes, as per my request, she put me through a punishment round of facesitting and scissoring. Her facesitting is fantastic. There were several times in which I genuinely tried to remove her and could not. She would take me to the point of passing out and then ease up. If I managed to turn my head and get a breath, she would turn my head back into her crotch or rear and tell me to "get in there". It was awesome.
Her scissors are legendary for good reason. She has levels to her scissors and cranks them as necessary. I think hers are the strongest I have ever felt. She put me through several front and reverse scissors. In one of the reverse scissors, she got me just right, and I felt myself lose consciousness right as she released. I don't think she knew I was out. It was very quick and subtle and not painful at all. I liked it.
She wore a two piece black bikini. She has a really nicely toned and shapely body. Her muscles are magnificent. She is athletic and muscular but still very feminine. I would describe her as being lithe. To look up at her as she mounts and wraps her body around yours is a truly a lovely sight. I had many great views during our time together.
And I found her to be very sweet and kind and accommodating. She hugged me when I arrived and gave me a good tight hug before I left. She really loves what she does and it shone through in our session. And she is so sweet, she even sent me an e-mail the next day to thank me for the great session and for driving to see her (I had to drive about 4 hours round trip).
I will see her again. I might even schedule for two hours.
Slugging Stogie
12/23/2019
I just ordered & had done a Custom & a Wrestling Clip with Robin! Robin Rocked it she Ruled it. She is SEXY in Red! So sexy……… Also, the pace she kept up at the whole video was impressive. She did a Killer reverse Scissor. Totally exceeded my expectations. I wanted to Thank Robin for all the time effort & hard work she put into the custom film & holiday photo shoot. She is really special. She allowed me to be apart of it & involved. she so well to get a long with & easy to work together. If you're a Fan of Robin's please go support her. buy these new clips on her website & c4s pages. I love your work and your custom videos productions are quality & quantity. Keep up the excellent work. Best Bang for your Buck! She gets 5 stars & 2 thumbs up. Fightbabe is Fiery Funny Foxy & Fantastic.
Slugging Stogie
12/08/2019
wow what can I say Robin is a Blond Bombshell a real Knock Out. I loved every second minute & moment of the Session we just recently had last month in NYC. I've had between 5-10 sessions now with Robin, she's 1st class top notch. Every session gets bigger & better. She's really Sexy in Blue! Her facesitting & smothers are to die for intoxicating suffocating & breathless. She's the best in Scissors I'm always Stuck in them. She's not a clock watcher. Robin is so friendly kind & generous. We always have fun a great time a blast. We take pics & film clips together. She has a heart of gold & a lovely personality. She kicks my ass every time. My favorite is how skilled, talented, & athletic she is. Every time she is in tip top great shape she's always looks amazing. I felt helpless in all of her moves, she traps me in her holds nowhere to go. She dominates & owns me. I promise you will enjoy your session with Fight Babe, I always leave in pain & sore. She is muscular over powering you won't regret it. Robin intimates me with her beautiful blue eyes. She always has her way with me. You will not be disappointed. I'm still feeling the effects of her trampling, chokes, & ball busting. I Love Robin she's respectful, caring, & I trust her sessions the most. Thank You Robin for all the wonderful sessions Worth It!
Muscularwimp
10/30/2019
Finally saved up the money for another session with Robin anf she did not disappoint. She wore a purple thong leotard and a massive pair of 7inch heels. I wore a pink little speedo and Robin was atleast a full head taller than me in the heels. She pushed me down to the ground with ease and made me her little bitch. She kept saying "aww" and smashing my little wee wee with her huge heels while she scissored me. After whooping my ass she walked around in the heels and made fun of how short I was, towering over me while I drank a glass of water completely exhausted. Robin had barely broken a sweat and was not tired in the slightest. Robin also complimented how muscular I was but it served absolutely not purpose because she completely overpowered me throughout our session.
HEADSCISSOR_SLAVE
07/13/2019
I saw Robin for a two hour session in Chicago and she was amazing! Her pictures do not do her justice – she is absolutely gorgeous from her long blonde hair, blue eyes, smile, and girly giggle, to her shapely and athletic figure highlighted by her legs and feet. Her legs are deceptive – they are feminine and shapely, but once she wraps them around your neck or head, you will discover that they are 100% lethal. By far my favorite hold is Robin's reverse figure four headscissors. You will enjoy a very intimate view of Robin's sexy ass while experiencing unbearable crushing pain that will turn you on and terrify you at the same time. Believe me, Robin's reverse figure four headscissors alone is worth the price of a session. Ask for it over and over to maximize your pleasure and ask her to wear some sexy pantyhose when she does it. The bottom line is that Robin is the best in the business and I have sessioned with quite a few women. I would strongly suggest that you set up a session with her when she comes to your city or sponsor her to come see you! You won't regret it!
Anonymous
06/27/2019
Robin was my 30th session. Ive been doing sessions even longer than her. Honestly, i can not tell you why i waited so long. She is beautiful, warm and an absolute pleasure to be with. She is not a clock watcher and she is a great communicator. She has a strong, thin sexy body. She beat me in arm wrestle, even with my strong arm against her weak arm. We did pin wrestling. I had over 50 pound advantage and she was still able to pin me each time within about one minute or so. While she had the upper body strength advantage, by itself that should not let her beat me that quickly (because of my weight advantage). But she was amazing at getting passed my defensive and doing these lightening headlocks. (With most ladies i can defend against headlocks.) Then using some incredible technique and crazy leverage to like triple her normal strength she effortlessly roll me from all-fours position onto my back for pin. I still cant figure out what happened. It was like she had super human strength. One thing unique, about wrestling with Robin, i could tell she was really enjoying herself so much during the matches, she giggled with delight. I dont think this is something you can easily fake. Once she pinned me flat on my back, she laid her body flat on top of me, with my ear pressed against her chest as i listened to her heartbeat. When she did this, it felt lovely and somehow she felt much heavier then her actual weight. I felt completely helpless. I asked her to count to 100 instead of 10 for the pin. We did boxing as well. She quickly got the advantage and her punches were non-stop. It took her about a minute and my head was spinning and eye blurry. I could not see the punches coming any longer. I was defenseless. She was hitting me full strength with MMA gloves and the punches were powerful. She knocked the wind out of me with a killer punch to the solar plexus and i started falling, but she pushed me back agaist the wall and kept hitting me. I started repeatedly begging and pleading with her to stop. She just kept pounding me. After several more hits to my head and i fell down to the floor. She started getting on top of me and raised her fist. I felt desperate, like she was a machine and in another minute she would kill me. I was scared, shaking and yelling "Please, please stop". She said "you didnt say the safe word" ( We had not arranged a safe word). Furiously i started guessing " "Enough, Red, Mercy". Mercy, that was it. Mercy saved my life. I took me almost 5 minutes to be able to focus my vision after that brutal beatdown. Thank you Robin for
an intense, but wonderful session.
Muscularwimp
06/12/2019
Robin was my first ever wrestling session experience. She greeted me at the door towering over me in her huge heels, I stripped down to my little gray Speedo and she began overpowering and dominating me from start to finish. We even had an armwrestling contest and she very easily beat me. I was absolutely humiliated and aroused at the same time as my tiny little boner poked through the Speedo throughout. I thought I would have to let her win going into it because I like to think I'm pretty strong but she legitimately whooped my ass and mopped the floor with me easily. I have been wanting another one with her ever since.
fightbabe
06/21/2019
That's funny….I didn't notice anything poking out! LOL!
99boom99
05/25/2019
I'm not man enough for this little lady. She's beyond my skill level.
Anonymous
05/25/2019
I'm not sure I'm man enough to take this little lady on. She is very skilled beyond my level of expertise.
SGS
01/30/2019
Just had a session today with Robin. Every aspect from the very beginning to the very end and all in between was simply excellent. Communication, listening and fulfilling my requests, her friendliness, openness, playfulness and of course her gorgeous face and body and the job she did on the mats.
Today it was -40 degrees windchill yet when she opened the door dressed in this sexy red dress and high heels…I felt NO cold lol.
So yeah, she then jumped right in to my little role play request and proceeded to wrestle me down and pin me. From there she continuously had me wrapped and trapped between her lovely legs in every head scissors you can imagine. She told me she was gonna slowly squeeze me until she put me out (part of the role play, I always had the tap option where she'd let up just barely a little), and so she proceeded to do just that. It was probably the most sensually devestating head scissors I've ever been in.
Robin the Fightbabe has unmatched control of all the muscles in her sexy legs. She repeatedly wrapped her luscious thighs around my neck and then squeezed me slowly, in stages, the last stage being her inner thigh muscles. It is at that point that I had just seconds to tap or I would for sure be out.
She took me to the brink several times and I mean right to the brink. I was hearing the ringing in my ears and was extremely light headed when I tapped.
Well then she dictated that every time I tapped she would hafta sit on my face and smother me. Many times I came close to being smothered out.
Then when I least expected it, she had me in a tight reverse and was just stretching out her legs and the next thing I knew I was having an intense dream which I can no longer remember. But as I was coming back, for a few seconds I didn't know where I was, but I continued to fade back into the reality of her thighs wrapped around my neck. What a trip I must say. Freaky but completely awesome.
I've had other girls who were strong enough to put me out but it was always too painful and I'd tap before it could happen. With Robin, there was no pain or even the thought that I was about to pass out. I was very surprised after it happened just because of how she was not even squeezing that hard at the time. I think other session wrestlers should pay Robin to teach them her head scissors techniques. 🤔
If you get the chance, just as EVERY OTHER PERSON leaving reviews for her also says; book a session with her.
BobLaublaw11
11/07/2018
Tap Dance
In an introductory email, I told Robin that I don't tap. Well, I admitted I had tapped a few times with two of the six women I've sessioned with, sometimes just to be polite. But they've all complimented me on my scissor endurance stamina compared to most men. So I challenged Robin to make me tap. She said she "hoped" to make me tap "several times." And did she ever.
Robin is a true celebrity, a veritable superstar of mixed wrestling, and I've fantasized for years about experiencing her skills. When I saw that her travel schedule was bringing her east, I immediately requested a scissors domination session. She delivered big time.
I was glad for yesterday's traffic hassles driving to her that left no time to be nervous. I parked at the hotel and went right to the room. Robin is drop dead gorgeous, and I melted looking in her eyes. She greeted me warmly and invited me in. We chatted a bit and she disrobed to reveal a stars and stripes bikini, appropriate for election day.
Her petite body is smoking hot, toned from her yoga, hiking, and martial arts practices. But her beauty is inner as well. She is an absolute sweetheart. She made me feel entirely comfortable and we got along like old friends.
Now, most girls I've experienced use an elementary scissors approach. They grip your head or neck with their legs, lock ankles, and squeeze, using brute strength to apply pressure. This is tiring for them, and most just aren't very strong. I've had sessions in which my providers quickly worked up a big sweat and became exhausted, sometimes even suffering cramps, needing frequent rest breaks and providing only mild discomfort.
Robin is really smart, and she's developed a technique of deadly efficiency in applying wrestling holds. She's studied anatomy and has created a systematic "art and science" scissoring approach that is energy efficient for her but devastating for her victims. She described and demonstrated this technique in her 2016 SessionGirls YouTube interview: https://www.youtube.com/watch?v=0vnAcJXncjI
She positions your head perfectly to insure carotid artery contact and then applies pressure in calculated stages. She grips with her thighs. Straightens her legs. Squeezes with her inner thigh muscles. Then adds the quads. Then adds the butt. Her final steps are rotating her legs inward and then flexing her body to pull the neck upward. I didn't usually make it through all the steps.
These scissors are potentially lethal, literally. I have never felt anything like this pressure. I was absolutely crushed by her scissors, seeing stars early on in her process. She turned my face beet red in seconds.
Remember I said I don't tap in most sessions? Robin made me tap every single time. It was tap or go out. So my game quickly changed from not tapping at all to trying to endure even one hold without tapping.
She demonstrated a variety of scissor positions on me. Regular rear, front and reverse figure fours including a unique double one she invented, and my always favorite frontal headscissors. Each hold was brutal and potentially deadly. She does not tire. She likes toying with her victims, like a cat playing with its doomed mouse. I enjoyed every torturous second, and I tapped every time to survive.
I especially enjoyed our conversations. We talked about everything, our childhoods, wrestling experience, our mutual love for animals. We chatted mostly when she was graciously giving me short rests, and she would hold me in position with her sexy legs while we talked. And then crank up the pressure again.
Today my neck is quite sore. I'm still feeling a bit wobbly, and I'm still smiling.
Robin is stunningly beautiful, super sweet, super smart, and super skilled at scissoring and wrestling. I told her she ruined me, as I don't know that I'll ever want to session with anyone else. Guys, she is the ultimate session girl. Don't miss a chance to experience her. You'll fall in love too, I promise.
I'll admit it. I'm a new to this session wrestling thing. I've been a big fan of female wrestling for years, but I've never "taken the plunge."
I finally worked up the nerve to try it. After reading reviews on this site and others, I decided to increase my chances of having a good first session – and cautiously selected one of the most experienced and highly-rated girls in the business.
I chose the legendary, Robin. I was not disappointed.
From the time I first made contact with Robin via email…to the time I showed up at her hotel room…I was impressed with her professionalism, positive attitude and sweet personality.
She immediately put me at ease and made me feel like what we were doing — was "normal."
We had a spectacular session. It was the perfect "introduction" to the world of session wrestling. Robin patiently "showed me the ropes" and demonstrated her strength and wrestling agility.
I was amazed at how strong and quick she is…and how she so effortlessly made me tap out of her wide variety of devastating holds.
I'm hooked now. I don't know what took me so long to try this. I'll be back for more…now that I've finally "discovered" Robin for myself.
07/20/2018
It's been a while… a good two years give or take. Last time I had the pleasure of sessioning with Robin was in the spring/summer of 2016. We both went through a lot during that time, but i finally decided "You know what? This isn't healthy that we haven't seen each other in a long time" So I decided to take the challenge after what seemed like forever ago this past Monday when I went to go see her in NYC.
In the past two years, Robin has proved again that she is getting better at strength AND technique, making me tap out multiple times in the course of an hour. Her double reverse figure four is the stuff of legend and if you had a hard time breathing while she applies pressure, as soon as she reaches back and grabs her ankle with both arms, its pretty much game over. I have a size 20 neck and even I felt the wrath of those killer glutes and had no choice but to tap.
Besides being a great session wrestler, Robin is a great and caring person who loves to help out those she cares about and will make sure you have the best experience possible. She won't send you home sore and unhappy. I mean, you'll eb sore, but you won"t be unhappy at all. While other "goddesses" have left the business after not getting it "after the bell rang" and relying on their IG and twitter accounts to help them get far in the business, she continues to improve herself, mentally and physically. Her work ethic is beyond amazing and is a true testament to her ongoing legacy.
<3
Pat
After reading and hearing about the "infamous" Robin for years, I finally decided that I had to book a session with her. I just finished our first session, and I'm speechless. In my humble opinion, she's the best. Robin can wrestle, grapple, and/or twist you into knots with her Jiu-Jitsu skills…if you like. Not only is Robin an accomplished and experienced wrestler, she's a pure delight to spend time with. She's even more beautiful than her pictures and videos depict. She's surprisingly strong and very enthusiastic about her "work." If possible, I would advise you to stay away from her legs. And while you're at it, don't under any circumstances – look into those eyes. If you do… Game over. You've been warned.
Listen up boys. I know what I'm talking about here.
I've been wrestling session girls all over the country for nearly 25 years. I've probably wrestled over 30 girls. All shapes and sizes. My experiences have generally been good. But after all those years, I have to say that I think I've finally "met my match."
I've known about Robin and her Web site, "Les Femmes Fatales" for a long time. How could you not? She's a legend. But for some reason (I don't know exactly why), I've never booked a session with her. My bad.
Well, I finally had my first session with Robin last year, and I have had several memorable sessions since then. Let me say up-front, that there's just no comparison.
As they say, "There is no Substitute." Robin is without a doubt, the very best there is. She's a gem. A true "one-of-a-kind."
My advice to you is…contact her. Do it now. Honestly, I don't know how much longer she's going to be accepting sessions with guys that are not already her "regulars." You will not regret it. You will thank me. I promise.
I don't usually write a lot of reviews, but I'm going to make an exception in this case.
Robin is at the top of her game. And you better bring your best game – if you intend to keep up with her on the mat. Robin is not some inexperienced, flaky young girl who is merely dabbling in the world of session wrestling. She is a substantial person, in her own right. Most importantly, Robin understands us session guys. She "gets" us. She's a pro, and she loves her work.
If you're a newbie to all this wrestling stuff, Robin is the first call you should make. She will take good care of you, and rock your world. Don't be afraid; she doesn't bite. If you're an experienced session guy, do not miss out on a once-in-a-lifetime experience.
Not only is Robin strikingly beautiful (which has been repeatedly well-documented long before this review), she's intelligent, well-informed, highly knowledgeable about a number of subjects, very sweet, and just a sheer joy to be with.
One look at this gorgeous woman, and you'll melt. She'll put you at ease, make you feel like a king…and then take your head off (if you want her to). Plus…she'll do it all with a big smile on her face, and a sparkle in her eye.
Make no mistake about it though; this girl knows how to wrestle.
Don't let those "girl next door" looks and that killer body fool you. Robin is very competitive. After all, you don't get to where she is in this business, without kicking some serious butt. She's an accomplished jujitsu fighter and a skilled wrestler.
Unlike many of the fantasy "poser" girls who can't really wrestle, Robin has wrestled and beaten some of the best female wrestlers in the world. Although she enjoys wrestling girls, she really prefers to wrestle guys.
I'm not the first one to say that, pound-for-pound…she's one of the very best.
Robin can do it all. She can easily wrestle you into knots. She can put you into positions that you didn't know existed, and make you tap before you know what hit you. She's confident and tough. She can go as hard as you like, for as long as you like. You cannot tire this girl out. I can't even seem to make her sweat.
I'm 6 feet tall. I weigh about 185 pounds and have no formal wrestling training. I'm in marginally decent shape, but Robing has no problem throwing me around on the mat — until she's able to get me into one of her famous submission holds – which inevitably leads to a tap out. She always seems to be two or three moves ahead of me, when we wrestle.
No matter what style of wrestling we happen to be doing (usually, semi-competitive), Robin manages to make it all fun….for everyone. Did I say that she's a really good wrestler?
Robin appears to be small, but she is as strong as some of the big bodybuilding girls. Plus she's fast, very coordinated, ridiculously flexible, highly-skilled, and she hates to lose. So proceed with caution
If you prefer a more fantasy-like experience, no problem. I can attest to the fact that Robin has quite an impressive imagination, and can be very creative. However, if you're more of just a passive face-sitting/smothering sort of guy, you'll quickly discover that Robin is the reigning "Queen of Face Sitting" for a good reason. She'll make your fantasies come true.
Just be sure to explain what you're looking for, beforehand. She'll take it from there. She knows what she's doing.
Anyway, you've now been "warned."
I don't like the idea of "sharing" her with all of you. I'd much prefer to keep her all to myself. But I suppose it's the least I can do, for my fellow session boys. You're welcome.
Treat her well. Very well. Have fun. Lots of fun. And please tell Robin that Sheldon says hello.
07/22/2017
I have had at least eight sessions with Robin and I can assure you that she is the absolute best. She is stunningly beautiful, feminine, and sexy, but absolutely lethal with her headscissors, facesitting, trampling, and jiu jitsu holds. My favorite hold is her reverse, figure four headscissors, which is absolutely devastating and sexy. Believe me, there is no chance of escape from this hold once she applies it. You will feel like your head will literally explode from the crushing grip of this hold. Robin is a lot of fun when it comes to doing role plays in sessions and she will accommodate requests for attire to wear for each role play. I recommend asking Robin to wear a pair of her Wolford pantyhose during a session as they give her legs an amazing glossy, and shimmering look. Robin is a total professional in handling all aspets of her sessions and she is very discreet so you can rest assured that she will give you a great custom video or session based on her response. My advice – Contact her immediately and schedule an appoinmnt for a session or custom vieo. She is the BEST!
03/09/2016
5 STARS IS NOT ENOUGH!!!!
Hell not even 10 stars is enough to explain how awesome of a time was had this past Wednesday with Robin in NYC!!! I also decided to up the ante and sign up for a two hour session this time around, which she agreed to with no delay!!! We met up and right from the get go, she was eager to show me some new moves she was working on and I swear she got stronger since last November!! I used to be able to hang in there for a good two minutes in her reverse headscissors, but now I had to tap in less than 15 seconds!! I can still make it to her strongest pressure before tapping, so that's a great achievement for me still:) Whether its a straight, reverse, figure four, etc, she can make most people tap in sooo many ways!! When it comes to power, beauty, and most of all TECHNIQUE, Robin has the triple threat down pact. We even did a small recording of her doing the double figure four she had applied on me, and man was that making me see stars when she squeezed!!! I almost went out, but it was still an awesome time, and even if I did get knocked out, I trust her with my heart to save me and make sure I am okay 🙂
11/23/2015
Everytime Ms. Fightbabe comes to NYC, I do everything I can to make sure not to miss up on the opportunity to meet up with her, have pleasant conversations, and getting my neck and body squeezed hard by her awesome scissors and triangles. This past Thursday (11/19/2015) was no different, as she treated me as her personal squeeze toy and gave me her full power on her headscisoors as we were discussing the rousey-holm fight and how much times have changed since she first started in this business (Super VHS FTW!!) Despite the years that have passed, Robin is just as strong and beautiful as she has ever been, maybe even stronger at this point!!! Near the end of the session, when she reached back with both arms and locked on that patented reverse figure four from a straight back headscissors, then went b back into the reverse straight headscissors again, I could start hearing the ocean, and realized I had no choice but to tap 🙂 ` Robin is one of the few female wrestlers out there that I would trust with my life when it comes to being safe and knowing when to stop applying the pressure and respecting tapouts and limits. There's really not enough words to describe the experience with her, but if you ever have the chance to book a session with her, stop thinking about it and do it!!!! You'll be glad you did!!!
10/26/2015
Robin is one of the few female session wrestlers out there that I would trust with my life when it comes to safety and mat awareness. I had met up with her for the first time in 2014 and instantaneously we hit it off!! Most people would freak out and try to escape her headsciccors, but I just struck up a conversation with her about different current events and gave her some friendly wrestling competition. I'm a pretty decent build at 5'10" and 245 lbs, have a size 19 neck and even i had to tap out to her reverse scissors after realizing that those trained thighs were not letting go, no matter how much I tried to pry them apart. I will be meeting up with her for the 4th time next month in NYC and honestly cannot wait!!! We have an amazing bond over the past couple of years and I couldn't recommend her enough!! If you are a person who is serious about having a session with her, I strongly suggest doing so!! Only serious people need apply, so no flakes or timewasters. Robin is a veteran of this business and her legs are only getting stronger 🙂
09/03/2011
I have had two wrestling sessions with Robin in the past. She is absolutely gorgeous and knows all the holds! Her pictures don't tell the entire story… if you are thinking about having a session with her, don't hesitate! She is amazing!
">