Fiesty Feminista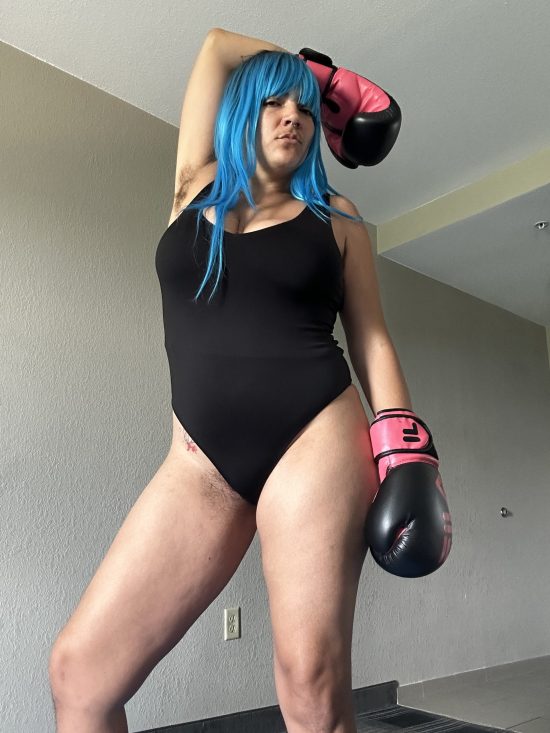 Contact
Location:&nbspUnited States , New York, Queens
Email: [email protected]
Last Activity: 12/03/2023
Stats
Height: 5'10" - 178 cm
Weight: 205 lbs - 93 kg
Physique: Curvy
Years Of Experience: 1-5 years
About
---

---
Hello Fans!
Come with me and indulge in the ultimate fusion of sensuality and strength with my exclusive session wrestling services. As a seasoned practitioner, I specialize in the art of fantasy-driven encounters, where every move and moment is tailored to fulfill your deepest desires. Immerse yourself in the enticing world of erotic wrestling, revel in the intoxicating allure of face sitting, surrender to the slippery sensuality of oil wrestling. Embrace a journey of heightened pleasure and escape reality through a tapestry of physical prowess and imagination.
Respecting your time as much as I value the art of session wrestling, I insist on a commitment to genuine interactions. I do not entertain time-wasters. For those ready to embark on this electrifying adventure, visit my website to complete the request form and unlock the gateway to an unparalleled realm of indulgence. Let our shared exploration of desire and connection begin, leaving you invigorated and captivated by the unique experience only I can provide.
Very Important:
Find my request form and links to my virtual wallets here.
https://fiestyfeminista.me/bookasession
I am currently only accepting requests from those I have already session with, or those of you willing to prove your seriousness with a $25 consultation contribution, which will go toward your session of course.
I ALWAYS require a 50% non refundable/non transferable deposit. I will return your deposit in full if I must cancel..
Time with me starts at $350+ p/hr depending on several factors.
If you'd like to film our session, simply add $100 to your tribute. Unless I can use the footage in my clips stores, then no additional $$ required (must provide ID and sign a model release)
Discounts when booking two or more hours and for those who are differently abled, students (ID required), queer, and anyone identifying as femme.
Until further notice, I will be based in NYC. Sponsored trips are always encouraged!
Please ask me about custom clips, I enjoy creating new content! And be sure to check out my Clip Store and other fan sites for videos of me in action. Get inspired!
If you've read this far, begin your email with "Thank You Your Fiestyness for considering my request"
See you soon!
Fiesty
P.S. Check out my Only Fans page and my Clips Store!!!
https://fiestyfeminista.me
Session Deposit Policy
Deposit is Non Refundable . Period .
Deposit is Refundable if I have to cancel and we are unable to reschedule.
Services Offered
Private Webcam / Skype / Video Chat
Phone Chat
Other Webcam Shows
Fantasy Wrestling
Fantasy Boxing
Fantasy Kickboxing
Fantasy Catfighting
Tag Team Matches
Armwrestling
Foxy
Female vs Female
Tickle Wrestling
Scissoring
Custom Videos
Feats of Strength
Posing / Modeling
Belly PunchingIn-Gym
Training
OIL Wrestling
Others: Please email request
Travel
| | | | | |
| --- | --- | --- | --- | --- |
| Date Begins | Date Ends | City | Area | Country |
| 12/10/2023 | 12/11/2023 | Albany | New York | United States |
| 12/12/2023 | 01/06/2024 | Queens | New York | United States |
| 01/07/2024 | 01/14/2024 | Puerto Rico | OTHER | United States |
My Gallery
Events
12/15/2023 NYC

Surrender: Wrestling, Role Play & Ropes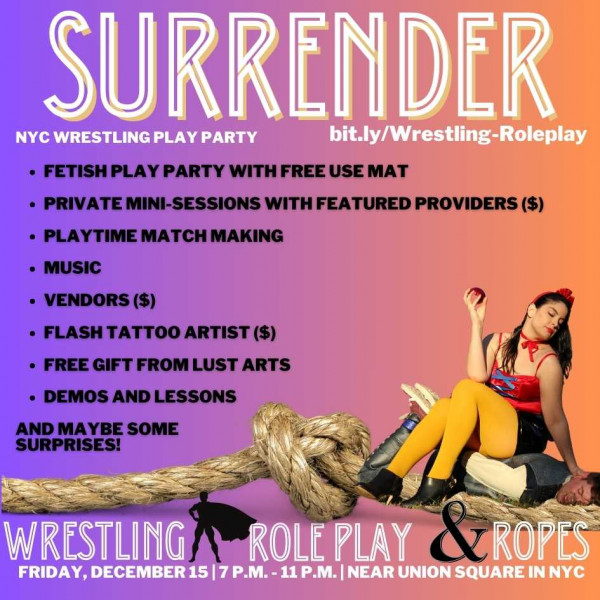 the Dommekate is hosting a ropes and wrestling party. I will be there!! Follow the link below to grab yourself a ticket and come play with me!
https://forbiddentickets.com/events/kat-scratch-studios/2023-12-15-surrender-wrestling-role-play-ropes?code=FIESTYroleplay22
Reviews
Old Reviews
Anonymous
12/15/2021
Wow!!! Had a session with Fiesty Feminista a short while back. Setting it up was very easy. At first the dates didn't work out but she actually offered to extend her time in my city to accommodate me. She was coming back the next month so we scheduled for then.

When we met for the session her looks blew my mind. I couldn't get my mind off her incredible body to think about a how I was going to compete against her. Before I knew it I was trying to escape a headlock. She is very strong. Next I knew I was being wrapped up by her gorgeous thick legs. As I tried escaping she taunted me about not being able to escape, while applying more and more pressure till I had to tap. When she told me we would take a break from scissors I thought she was getting up, wrong. She was just partially getting up so she could put me in a facesit. I could enjoy the view when she was coming down on me but from there no light, no air and no moving her an inch until she decided to get up.

I usually have semi competitive sessions but do to some bad knees I asked for the session to be on the lighter side. I'm glad I did because I think she could have destroyed me if we went competitive. She may not have a ton of experience but she demonstrated a lot of holds she knows that could be devastating if she wanted to hurt someone. I'm very glad I met her. She has a very laidback attitude, very interesting to talk to and a nice person. I talked a lot about her looks which are amazing but her strength and skills are right up there as well.

I highly recommend anyone who hasn't sessioned with her yet to schedule one with her if she comes to your area.

Thanks for a great session Fiesty. Sorry the review took awhile.

Boxingman34
12/03/2021
I had the great pleasure of boxing with Fiesty earlier this year in Boston. When we met at her hotel room she opened the door and greeted me with a beautiful smile! She was very engaging and wanted to make sure that she understood what I wanted in the session. We talked about what I wanted (Mixed Fantasy Boxing) and she showed me some different shorts that she could wear and allowed me to pick out the ones that I liked.
She then explained to me about how the session would go and what we would be doing. Before we started we both faced the camera and went through the "rules" for the match. Once we started she was very good at the "role playing" and gave me just the type of session that I wanted.
She is very beautiful, extremely sexy, and has two of the most beautiful breasts that I have ever seen!
After our session she was very gracious and a joy to talk to. She has a wonderful personality and I didn't want the session to end!
I plan on seeing her again when she comes to Boston and look forward to spending time with her and her beautiful smile!
Fiesty is a true joy to know and experience!

Jeb200441
11/13/2021
Met fiesty in Pittsburgh yesterday.
Setting up session was easy as she responds quick to emails.
She greated me at her hotel room door with a warm, long hug. Fiesty is the best hugger ever!!
We started out with some wrestling and then did arm wrestling.
She easily beat me at both as she is very strong.
We then did some cuddling. In her profile she says she's a "professinal cuddler".
I never had someone who cuddled soo good!!!
We cuddled and talked about various things.
I easily felt like I can tell her anything.
This was more than simply a "session", this was theraputic!
This wonderful lady is beyond amazing!!
To end out time I asked if she could give me a bearhug.
She did and easily lifted my 220 pounds off the floor!
Very strong and a beautiful woman inside and out!
We totally connected on many levels.
Fiesty is sooo amazing!
She did say that not many people ask for cuddling time, but I want to say that for all who reads this, if you don't cuddle with this wonderful woman, you don't know what you're missing!!
Perhaps the best recomendation I can make is that I will see this lady everytime she comes to Pittsburgh!
Thank you Fiesty for the best session I ever had!!

JD2554
09/29/2021
I had the most amazing session with Fiesty! She is super personable and easy going. She definitely packs a punch and let's you know you're not as strong as her! Definitely worth it and cannot wait to box, have a beat down, and be ball busted again!

Bogdan70
09/29/2021
Fiesty, a guarantee, if you want to see someone dominated without many frills, she is the one.
Ask Tanya Danielle for confirmation.
Awesome!!!

Johnny42
08/31/2021
Had a belly punching match with this beautiful strong lady , definitely looking forward to our rematch, if she's ever in your city book her don't miss out!!!

your personal punching bag
08/30/2021

I enjoyed my session with fiesty feminsta on Sunday!! It was a boxing session and we had a blast!! I'm honored that I got to meet her. She definitely packs a punch🥊 I had a great time with her!!!

ironkobe
08/11/2021
I'm happy to say I lucked into a wonderful last minute double session with Fiesty with wrestling, some semi competitive boxing (sparing), and a little MMA ground and pound. Hands down when of the best sparing sessions I've ever had. Worked several rounds of solid action, Fiesty was in the goldielocks zone through all of it, just enough force you feel it but I didn't walk out of sparing with a headache. She's got the reach, skills, and toughness I had to work for my shots and defend myself. Also a total blast of a person, super warm and friendly, first class cuddler, but when the gloves went on and the mouthpieces went in we threw down. Lady is stronk too, took me down and beat my ass with ground and pound. Well worth your time.

Dannypthemisfit
08/11/2021
Be specific and hope you are taken seriously. Will deviate from what was planned

Hoodman
07/26/2021
Fiesty is amazing and so strong. She also has a lot of technical skill and can make holds you wouldn't usually think are that painful camel clutch, facesitting holding your legs up, or smothering quite painful. She has a great knowledge of skills and can give you a wonderful beatdown. I was so sore the next day after wrestling her and getting beat up but I loved it. She's also great to talk to about any topic and an intelligent woman

Cjones
07/16/2021
I recently just met Feisty in Philly and she was Amazing. She was easy to communicate her emails made me want to see her more. I loved her personality she's tall curvy very nice smooth skin. I told her what I liked and she gave me her full attention and exceeded my expectation. She is very good at wrestling, domination I loved the way she talked and she also gives a great massage and has some strong scissors. I was also lucky to meet her traveling partner and legend Kristie Eltzold who is super nice. If you can see both that would be a great session. I'm looking forward to seeing Fiesty again if she comes to your town definitely see her.

Johnny42
06/13/2021
This review is long overdue me and this beautiful lady went 8 rounds of boxing and then had a belly punch match right afterwards, if she's ever on your side of town don't hesitate the book her

BoxingGuy
06/06/2021
Had a 1 hr boxing session with this lovely woman while she was in Houston. She's beautiful and is very down to earth. She has some power behind her punches and knows how to take punches. I truly wish I booked her for at least 2 hours. I didn't want it to end. I've been sessioning for over 5 years now and she's definitely in my top 3. Any time she will be in my city, I'll definitely book her.

fiesty feminista

06/11/2021

You my dear were so much fun to pound on!!! A full 12 rounds, damn!! I appreciate your kinds words. Can't wait to see you again.

Brandon6a
06/04/2021
Had a session with her today and wow what a woman! I loved how she was sitting on my face I didn't think I would struggle so much lol I loved every minute under her! I can't wait for another session!

fiesty feminista

06/11/2021

Brandon, you are too sweet!! I loved completely dominating you!!! Thanks for the gift, I'm certainly going to wear it to our nest session!

fbond02
04/22/2021
What a lady.
I had booked a two hour session and communication prior to the meeting was fast and frequent. Feisty and myself met on "neutral" ground at a hotel room. I had driven into Dallas a bit early and when she arrived, it was straight from the road. So I offered her use of the shower in the room which she accepted. When she emerged, she was wearing a stunning one-piece bathing suit. We had a brief discussion about what I wanted and limitations I had. She started the timer after a thorough discussion and we got down to business. She had no problems imposing her will upon me; scoring easy tap-out after tap out on my part. The session included grapevines, scissors, countless smotherings from face sitting. All the while, our communication was steady; her voice was pleasant and level during the entire time…there wasn't the over the top "macho" attempts at humiliation or the equally as bothersome (in my view) self adoration that I've experienced in the past. In the second part of the session she indulged me in some of my fetishes which I will not describe here…suffice to say that she was more than happy to play her role. This is where Fiesty shined the brightest I believe. As I said, I won't go into the details but the bottom line is that she cared about my experience. Again, she's a lady.
Unlike many here, I reckon, I look for more than just physical prowess or muscle mass. I want a connection. Feisty and I connected on many levels. By halfway through the second hour, we were simply holding one another, speaking like friends. Her voice was lower and our mutual guards were lowered. We were like two atoms in the cosmos, discussing our families, our goals, and our pasts over bottled water, grapes, chocolate and kombucha tea. The timer went off during this point. She got up and silenced it and returned to where we were sitting and allowed the session to come to its natural conclusion which was about 10-15 minutes later.
Simply put, she checks all the boxes.
Height; 5'10"; Long and lean, legs to the sky and very long arms.
Weight; she says 230 but she looks closer to 200 to me.
Exotic appearance; She is tattooed but not for the sake of body art…the tattoos tell her story. They are like small veins of gold on a landscape you can't wait to explore. The ten years of growth on the braids have accoutrements of jewelry. There are body piercings
Intelligent; we had discussions about so many things; politics, the industry, travel, history, social issues, even the space program.
Manners; She could have easily pressed her physical advantage and tried to bait and parry verbally but she had listened to my desires and read my facial expressions and the outcome was 100% satisfaction on my part.
Aggressiveness; she was ready for anything.
Beauty; Feisty certainly is easy on the eyes but in my view, her beauty comes from inside out. There is a humbleness about her that is disarming and intriguing.
I could go on and on….but I will close as I opened. She is a performer…she is a professional…but she is above all else…a lady. I look forward to another encounter at some point in the future.

fiesty feminista

06/11/2021

WOW!!! you are so sweet!!! Not ever sure where to begin. thank you!!!

Ohwhatup11
04/19/2021
I met her in Phoenix shes Dope AF. At the end of our session I didn't want to leave!

Johnny42
03/08/2021
Just had a boxing and belly punch match with this beautiful strong woman she almost knocked the wind out of me, I'm already looking forward to our next match, if she's ever in your city book her.

kandylegs
03/01/2021
Sexy, real, powerful and accommodating. Schedule a session with her she's amazing

DARKNISS
02/28/2021
So after months of back and forth, today Feb 28th, I finally got to session with the one and only Fiesty Feminista. We met in a nice hotel by South Street Seaport. The room had ample space. As she opened the door, I could tell she was as ready for the session as I was. Initially, we were supposed to be going full competitive, but due to my recent fall and knee damage, I decided fantasy would be best. Her pictures dont do her justice. She has a beautiful smile, nice soft skin and long flowing dreads (hair). Before beginning we talked about each other's session history. Though she's fairly new, she wasn't shy at all. I asked her about KRAV MAGA and she had no problem enlightening me. She demonstrated some of the techniques. Fellas, she's got some skill, be careful. Now, it came time for the match. She was to play my stern instructor out to teach me how to have respect when in the DOJO. I initiated the fun by giving her a playful smack on her soft booty. BAD MOVE. She jumped right into character. She threw me to the ground and began pummelling me in the stomach with hard punches. Each hit caused a slight groan of pain, which only made her laugh. She incorporated some of her KRAV MAGA workout routine as she connected with kicks to my legs and stomps to my chest. Next she demonstrated her leg strength, to her pleasure and my pain. She reversed head scissored me til I nearly blacked out.. As I tapped, I could hear her giggling "Wow..already…that's not even all my power." Lucky me. Next she had me stand against the wall as she practiced her kicks and knee strikes. We had to stop because the wall behind me didnt feel like it could take the pressure of my body hitting against it due to the power of her kicks. She's fast accurate and loves to dish out the punishment. Throughout the session, she would constantly remind me that if she really wanted to, she could do alot more damage then I'd ask for. She really gets into her character. Towards the end, she was gracious enough to allow me to worship her feet. I LOVED IT. Her toes were freshly done, smelled good and were so soft. Fiesty Feminista delivered on everything I asked for. Next time Sensei Fiesty….it's on!!!

Boxingd12
02/22/2021
Had a fun session boxing session with Fiesty down in Florida had a good time we went 12 rounds and a little extra at the end she got some skills and has a great personality can't wait until she is back in Fort Lauderdale

Anonymous
02/01/2021
I had a competitive session with Fiesty this week, and I'm so glad I did. She loves to fight and dominate, and she definitely had her way with me. This girl is an incredibly outstanding and robust wrestler. Her punches are brutal too. She's beautiful, smart, and one of the strongest girls I've faced. I really recommend her and can't wait to see her again.

fiesty feminista

02/14/2021

Why thank you!! I'm blushing… I'm down to kick your butt again anytime!!

DocJ71
01/25/2021
Here is why you should have a session with Fiesty:

1. Fiesty makes it easy and fun to book a session. If you are polite, clearly state what you want in a session and don't waste time you'll be in a session in no time. Fiesty is so easy to communicate with, as long as you're polite.

2. Fiesty looks great in her pictures but she's even better in person! She's very strong, fast and flexible and she'll have you tapping out in no time! She's very knowledgeable with holds and submissions and she's very fit. I was gasping for air and she hardly broke a sweat.
3. She loves what she does and she'll make sure you have a great session. She wants to hear your ideas and will help you plan out a great session. During our session I could tell she was enjoying herself as much as I was.

I can't wait to book another session with her!

fiesty feminista

01/28/2021

And what a pleasure it was to roll around with you!! I appreciate your generosity, punctuality, humor, kindness and overall fun vibe! Yes, we shall meet again because you've shown that you value my time and my work! I appreciate your quick and crafty review full of praise for your Goddess! xo

I am glad I had the opportunity to wrestle Fiesty. She is very strong, tough and a lot of fun. I really enjoyed our match together.

fiesty feminista
01/28/2021
You sure made me sweat!! I had great fun with you too!! Hope your heads ok. hehe. Looking forward to a rematch! Thanks for the review!!

Anonymous
01/04/2021
Just had my first session with Fiesty Feminista. It was probably the best session that I ever had. Fiesty is able to skillfully combine her strength, athleticism and affection into all session components. Her various Lifts and Carries are performed with grace and strength supported by her thick/sexy legs, arms and powerful shoulders. While I was off the ground she easily and adroitly adjusted my back! Her many wrestling holds are both binding and smothering and as you futilely try to escape the clutches of her legs, arms and size 10 feet, she will breathe on you in a very sensual and relaxing way. Before the end of the session Fiesty will cuddle with you, if you like. Somehow she was able to entwine and mesh her voluptuous and super warm 5 ft. 10 in. frame around my helpless and willing body before I surrendered to her total control. Can't wait for my next session!

fiesty feminista

01/28/2021

Hey! I had fun too!!! Thanks for the review!!

Johnny42
12/14/2020

If you have a chance to book this amazing woman don't miss out, I'm already looking forward to our next session 😁

fiesty feminista

12/15/2020

You are sweet!!! Thanks for the review! And thanks for a truly challenging match. You're so much fun!! Can't wait to kick your butt again soon 😜😘

fiesty feminista

01/28/2021

Thanks Johnny!! You're so sweet!! What a challenge you gave me!! I love to sweat and take hard hits. I can't wait to touch gloves with you again!! Thanks for the review!! xo

Johnny42
12/13/2020
Had an amazing match with this beautiful lady when she was on my side of town, it's been days and im still thinking about it, im excited to have another match her soon.

Anonymous
12/12/2020
If she ever comes to Minneapolis id book a 2 hr session with her. She responded to my email and was not rude nor bout money. Shes a very delight lady. Please respect her thanks…..

fiesty feminista

12/15/2020

That's sweet of you to defend me!! I appreciate you!!

Anonymous
12/15/2020No problem. Please come to Minneapolis i wanna have a session with you 🙂

Anonymous
12/11/2020
I guess that's why she's called fiesty feminista! I'll have to shoot her an e-mail!

Anonymous
12/09/2020
Just had a hostile text experience with Fiesty. I like regular Submission wrestling. I'm much more into the sport side. I consider myself to be a gentleman and try and treat the ladies with respect.

I really didn't want to write this review but, the attitude I've received is too much of a red flag.

Feb 2020 we were texting about a possible match. I got hives and stopped texting because of that. Sent her a gnarly picture of my body with spots all over me, to prove I wasn't just making up a story.

So, this evening 12/8/2020 she texted me to see if I was up for a match, as she was in town for a quick visit.

I told her I was broke as someone had just ripped off from my last job. She mentioned about a possible, "short session" so I was thinking maybe I could borrow the dough and make it happen. I asked her if I could call and talk about it, as texting can be time consuming. She replied with, "Guys like to jerk off and never book a session. I have you saved in my phone as cheap potential…I guess not much has changed"

Up to this point, as far as I can see, I had been polite and in no way had insulted her. She assumed that I was cheap and just wanted to jerk off. She has no idea who I am. From there on, it was slimy little insults that you'd expect from a 2 year old, like "You're asshole" (great grammly much….not) I've not met her, and I don't want to either, let alone session with her. I've met some really great wrestlers before, and they're absolute ladies. Jennifer Thomas, Pippa La'vinn(UK), Shelby Beech(UK) to name a few. Stick with those girls, not this one.

fiesty feminista

12/10/2020

They call me Fiesty for a reason, cuz I take no shit! I do not have time for time wasters, who beg for reduced rates and 30 minute sessions, and then flake. No apologies, no explanations, just totally ghosted me. Then when I reach out, because I believe everybody deserves second chances, you beg for discounts again. And you want me take time from my busy schedule to talk to you when you've invested no time in me?! You act as though you are unaware of the kind of abuse that men enact upon women in this industry, and that we must keep our defenses up… even though you are one of those men! And then you go even further to write a bad review because you're sad that you can afford my services? And I was direct with you about it? And because I demand that my time be valued? And now you've wasted more of my time because I have to respond to your nonsense. And you try to sabotage my earning potential?! And you tried to insult my intelligence by pointing out typos. And you made disparaging comments about my hairy armpits?! True misogynist you are!! The karma coming your way almost makes me feel bad for you.

Anonymous
12/10/2020
You assume that every man wants to abuse you. You contacted me. All I did was ask civil questions, and you insulted me numerous times, even after it was very obviously that I wasn't going to be sessioning with you. Like the ladies I have cited above. They are tough on the mat, but they carry themselves very professionally. I suggest you work on doing the same.

Anonymous
12/11/2020
I agree with u sir. I had a similar situation where I almost booked a session and could tell she wasn't patient and somewhat rude when I kept asking questions. Before my deposit I kindly asked if she could shave and she straight up laughed and told me to not contact her anymore. It was a simple question and in no way did I mean to offend or demand her and she responds like this? She could be a great session wrestler but this attitude shouldn't be tolerated.

Anonymous
12/11/2020
Agreed. It's not that I want to put her out of business. Looking at other reviews there are some satisfied customers who talk about her work on the mats. But, it's just a matter of, put some manners in. Represent the community and yourself better. Don't fly off the handle if you disagree with someone, or they don't give you answer you want. She mentions that I insulted her about her hairy armpits, back in Feb 2020. All I recall from that was that I said something like, "That would off putting to me, but no offense" When she texted me a few days ago, I didn't at first recall who she was, and had forgotten about the armpits. I've nothing against them, just not my thing.

Anonymous
12/13/2020
Haha! This is funny because I believe it. This woman wants to charge Amber De Luca prices and can't even shave! Not even the best, sexiest, and strongest women out there charge what she charges. I to was amazingly turned off by her attitude which sucks cuz she is a beautiful amazon who I'm sure is strong but such a horrible way to be in a people business especially for a rookie.

Anonymous
12/14/2021
Late to this here thread, but yup, you gentlemen are pretty spot on when it comes to the way she talks to people. The chick is decent at best because of her big ass to say the least. Heffa' needs to check her attitude and how she responds to individuals or else someone may check it for her if she happens to run into that wrong one (male or female). I don't want her to miss out on making her cheese either, but she needs to cut all that stupidity out!

John Carpenter
11/25/2020
On October 10, I did a two hour session with Fiesty in Seattle. This was my second session of my life and was extremely nervous. When we met, she wrapped her strong arms around me and gave me the biggest hug. That put me at ease and from there we were best of friends.

First part of our session, we did fantasy boxing!! This lady can box!! She move so fluidly and had lightening quick hands. I spent most of the time just covering up. She even challenged me to punch her rock hard abs. I gave her my best and she just kept coming at me with her aggressive offense!! Best time I've ever had boxing a woman!!

Second half of the session we wrestled. What a strong lady that can move like a jungle cat. This amazing Amazon moved me around the mats like I was a bowl of feathers. Putting me in submission hold after submission hold!! The most damage I did was tapping out over and over. Even the couple times I thought I had the upper hand, she just smiled, countered and amde me tap……again.

The two hours flew by and I had the time of my life. If Fiesty is ever in your area, you must book a session with this Amazon Muscle Goddess. You will not be disappointed. Fantastic lady on and off the mats. When she comes back to the Pacific Northwest, we WILL meet again!!

fiesty feminista

01/28/2021

Mr Carpenter, you are just the sweetest!! I truly appreciate you making our first contact so easy going yet to the point. And for joining me in making the booking and deposit portion of our relationship quick and smooth. Thanks for such a detailed review full of wonderful compliments for your Queen!!! Cannot wait to beat you up again!! xo

jakeyjeezy79
10/27/2020
I just had a session with Fiesty. It was incredible. The pics don't do her justice. She is strong and had me tapping out when she wanted me to. I did get to trap her in a leg hold once and she could not get out. The rest was all her. Can't wait until we can do it again. Thanks so much. Come back to Alabama soon.

DB17
09/21/2020
9-15-20
I met with Fiesty for a Fantasy wrestling Session with a scenario. I had sooo much fun! Setting up the session was easy and timely. Upon meeting Fiesty…..Wow! Tall, Beautiful, and Very Sexy. I had so much fun with Fiesty and I'm looking forward to rolling and tussling with her again. Thanks Fiesty for such a great session……. DB

Anonymous
09/09/2020This woman is awesome. We did a fantasy wrestling/role play session scene and she played to the role really well. She is really gorgeous hella strong and can really dominate a man and make it feel sensuous all at the same time. After our match we talked for a bit and she is a great conversationalist and if she ever makes her way back to Vegas or I make it to New York I will definitely be booking another session. I highly recommend her😎

bigrilesks
06/29/2020
I met Fiesty awhile ago, having finally seen the opportunity I jumped. I expected her to be a challenge but as a big, strong guy with some experience I try to temper my expectations. However, she exceeded all my expectations. She's still a relatively newer to some technical knowledge, but she's a powerful woman who can hold her own with almost anyone. I'm a former state qualifier in my high school wrestling days, for someone to earn what basically amounted to a draw from me gains my highest respect. Outside of wrestling, she's wonderful to get into deeper conversation with. She's an intellectual, which is rare to find and well worth the conversation. We even kept talking well after the session was technically over. If you get the chance, have a session with her and be prepared with an open mind. Can't wait to meet her again.

Grapple1940
06/27/2020
Has anyone boxed her who can report in some detail about it? She looks like she's tough and packs a wallop. I'm exactly her size and was thinking of taking her on if she's up for it. :).

Anonymous
05/20/2020
Recently had an amazingly fun session with Fiesty. First, communication was easy and she was very responsive. Now for the session itself. We had a semi-competitive match with a role play scenario. She played her character exceptionally well and we had so much fun!

She is very strong and is learning more techniques to become even better. We had a back and forth match which I prefer, but if she wanted to I could tell she could dominate me. A few times she had me pinned and no way I was getting out. Afterwards we talked for awhile, she was very friendly and a joy to conversate with. Will definitely session with her again!

Rolock
02/21/2020
I had a competitive session with Fiesty this week and I'm so glad I did. She loves to fight and dominate and she definitely had her way with me. This girl is incredibly strong and a really good wrestler. Her punches are brutal too. She's beautiful, smart and one of the strongest girls I've faced. I really recommend her and can't wait to see her again.

Landshark mark
02/19/2020
i sessioned with her in Nashville and had a great time. she is very strong, and sensuous. i have sessioned with a dozen ladies and this lady is in the top 2 and i really hope to cross path's with her again

Anonymous
10/04/2019
She is the best! I met her a couple weeks ago and can't stop thinking about the session. She is EXTREMELY strong. Setting up was easy too she is very responsive. She's also a really cool and funny person to talk to. By far the best on this site that I've met so far.

">