Denise Anders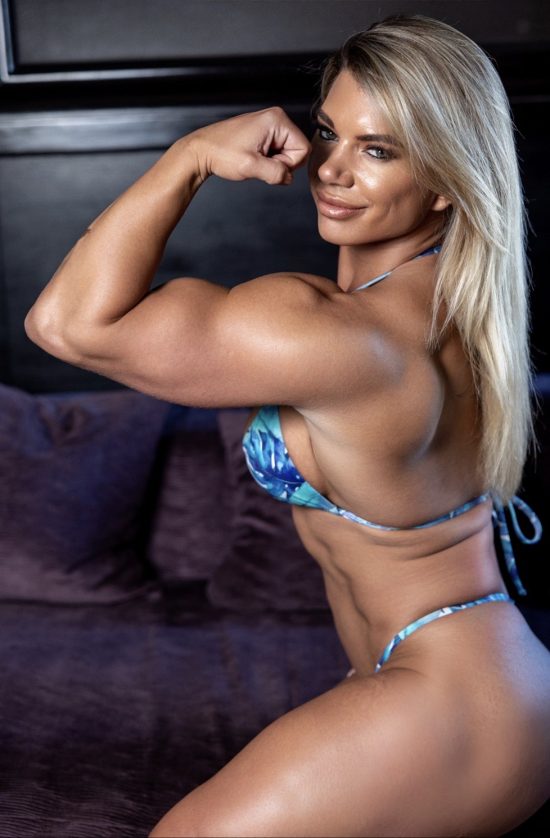 Contact
Location:&nbspUnited Kingdom , OTHER, London
Email: [email protected]
Last Activity: 05/29/2023
Stats
Height: 5'6" - 168 cm
Weight: 170 lbs - 77.1 kg
Physique: Bodybuilder
Years Of Experience: 1-5 years

Tip Me
About
**Mistress Denise: Pro Dominatrix, Fetish Wrestler, and IFBB Pro Female Bodybuilder**
Welcome to my profile page! I am Mistress Denise, a highly experienced and well-established professional dominatrix, fetish wrestler, and IFBB Pro female bodybuilder. With a combination of physical strength, psychological dominance, and a deep understanding of your desires, I offer a wide range of exhilarating and unforgettable sessions to fulfill your darkest fantasies.
**Fetish Wrestling:**
For those seeking a physical encounter, I specialize in fetish wrestling sessions. As an accomplished athlete and wrestler, I bring my strength, agility, and technical expertise. Whether you desire a light competitive wrestling match, a playful domination scenario, or a combination of both, I will use my skills to overpower and control you.
*please note I do not offer fully competitive wrestling, light wrestling only with the emphasis on me dominating the match.
**Pro Dominatrix Services:**
As a pro dominatrix, I possess a repertoire of BDSM techniques and an intuitive ability to explore your submissive side. Whether you crave strapon, bondage, discipline, role play, or humiliation, I will expertly guide you through an unforgettable journey of pleasure and pain. My sessions are tailored to your individual desires and limits, ensuring a safe, consensual, and electrifying experience that will leave you yearning for more.
**IFBB Pro Female Bodybuilder:**
In addition to my prowess as a dominatrix and wrestler, I hold the prestigious IFBB Pro status as a female bodybuilder. My sculpted physique and muscular strength allow me to dominate both physically and mentally, adding an extra layer of power and intimidation to our sessions. Witnessing the embodiment of strength and femininity before you will ignite your deepest desires and create an unforgettable muscle worship experience.

**Sessions:**
I offer a variety of sessions that can be tailored to suit your specific desires and interests. These include but are not limited to:
– Wrestling Sessions: Fantasy wrestling, light semi comp wrestling, scissorholds, smothers, facesitting and more.
– Muscle Worship: Admire and worship my powerful physique, exploring your muscle fantasies in an intimate setting.
– BDSM and Fetish Play: Strapon, spanking, bondage, role play, sensory deprivation, foot worship, sissy training, and more.
– Domination and Submission: Explore power dynamics, obedience training, and psychological domination.
– Consultations and Training: If you're new to the world of BDSM or wrestling, I also offer consultations and training sessions to help you discover your interests and explore your boundaries.
**Discretion and Safety:**
Your safety, privacy, and consent are of utmost importance to me. I maintain a strict code of confidentiality, ensuring that our sessions remain discreet and secure. Prior to any session, we will discuss your limits, boundaries, and any health concerns you may have, to ensure a safe and consensual experience. I am dedicated to creating a space where you can freely explore your fantasies without judgment or fear.
**Venues**
I host my sessions in private hotels and apartments.
**Contact:**
To embark on an unforgettable journey with me, please contact me via email, providing a brief introduction and detailing your interests.
*Availability & Booking Procedure
I have a strict booking process ensuring an efficient and organized experience for both you, and myself. Please read carefully.
I only offer sessions on specific days and locations as shown in my travel plans below.
To secure a session with me, please follow the booking procedure outlined:
1. Visit SessionsGirls.com/Denisewrestler to access my published calendar and list of services
2. Choose a date that aligns with your schedule and preferences.
3. Send an email to [email protected] with the following information:
   – Name:
   – Age:
   – Height:
   – Weight:
   – Location:
   – Preferred date:
   – Type of session:
   – References (if applicable):
4. Upon receipt of your email, I will respond within 1-3 working days to confirm the availability of your requested date and discuss further details.
*Emails that do not follow the rules will be ignored
**Please note the following important information regarding session rates and policies:
– A 50% deposit is required in advance to secure your booking. Details for payment will be provided in our email correspondence.
– Discounts may be applied to sessions lasting three hours or more.
– Please be aware that I operate under a strict 5 email policy prior to receiving the deposit. This policy ensures that our communication remains efficient and focuses on finalizing the details for your session.
-You will receive very short responses until a deposit is paid – after which we can discuss your session in more detail.
Thank you for your understanding and cooperation adhering to my scheduling system. I genuinely appreciate your continued support and trust. I look forward to providing you with exceptional sessions that cater to your desires!
In the meantime you can get to know me a little better here onlyfans.com/deniseanders
Mistress Denise xx
Services Offered
Sessiongirl Services
Semi-Competitive Wrestling
Fantasy Wrestling
Submission Wrestling
Pin Wrestling
Scissoring
Custom Videos
Feats of Strength
Posing / Modeling
Others: Please email request
Dominatrix Services
Age Play
Bondage
Breath Play
CBT
Chastity Control
Corporal Punishment
Crossdressing
Electro Play
Face Sitting
Financial Domination
Foot Fetish
Giantess
Hosiery
Humiliation
Latex/Leather/PVC
Orgasm Denial
Role Play
Sensory Deprivation
Spanking
Strap-on
Trampling
Water sports
Whipping
Mommy Play
Others: Please email request
Travel
| | | | | |
| --- | --- | --- | --- | --- |
| Date Begins | Date Ends | City | Area | Country |
| 06/07/2023 | 06/08/2023 | London Heathrow | OTHER | United Kingdom |
| 06/14/2023 | 06/14/2023 | Birmingham Central | OTHER | United Kingdom |
My Gallery