Constancecakp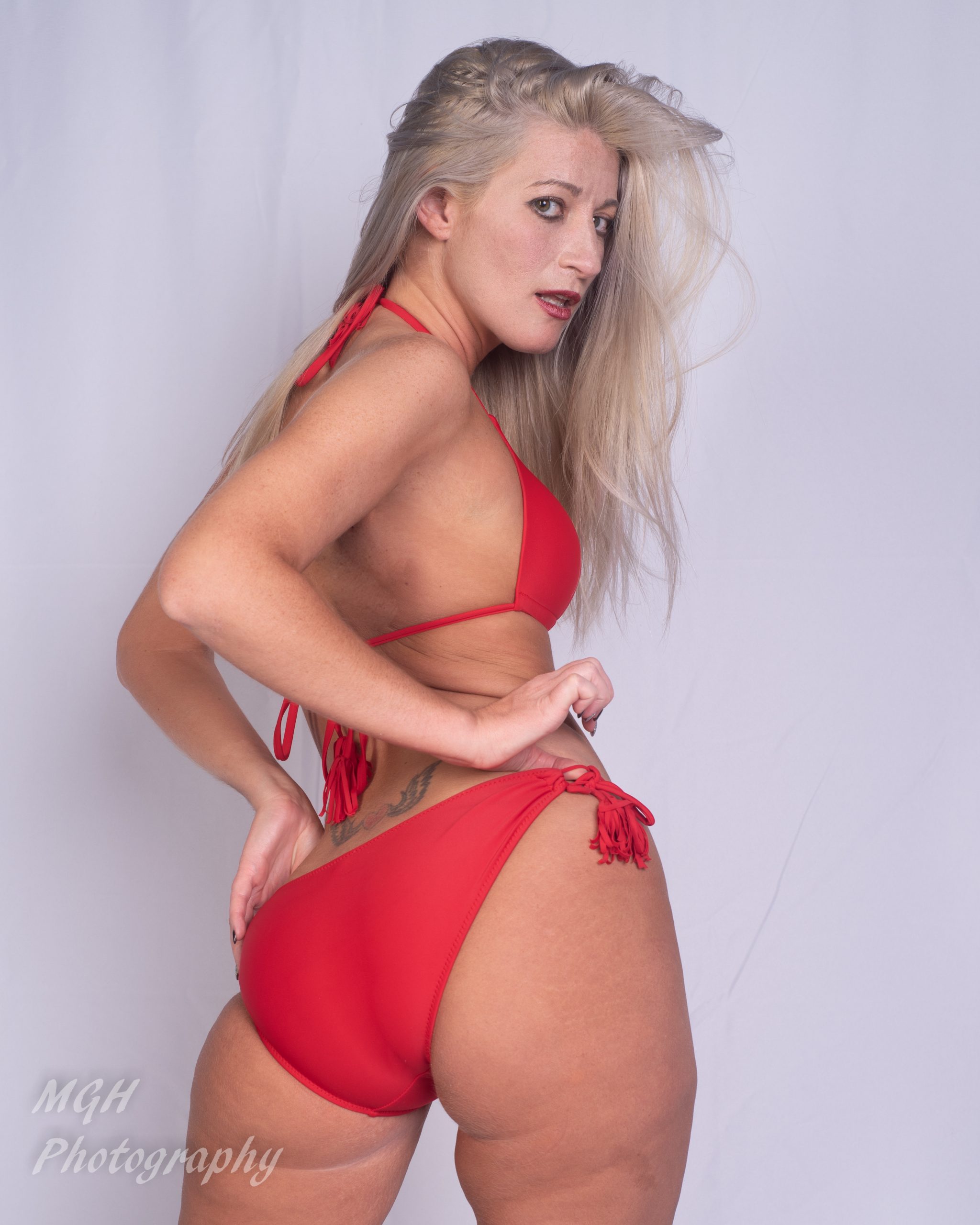 Contact
Stats
Height: 5'1" - 154 cm
Weight: 105 lbs - 47.6 kg
Physique: Slim
About
Hello All,
I am a professional traveling fetish model/wrestler/producer for 13 years.
I am currently  5 foot 1 and 107 lbs.
Twitter and IG is @modelconstance1
When booking me for a session, I do require a booking deposit of 50% and I also have a cancellation fee. My rates start at $400/hr and go up. All of the booking requirements including rates and deposits are located at my website on the booking tab.  http://constancescrazycinemas.com/
Please include in the subject line your location, and in the body of the email what type of session you are asking for. If I DO NOT have these DETAILS  in the subject/body, your email more than likely will not be answered in a timely manner. Please be ready to provide references as well.
Also, when on tour I work between the hours of 9AM-9PM. If you are wanting to session outside those hours, then I charge an extra $100. So Please take note of that when inquiring about a session.
xoxo
Constance
MAKING ALL YOUR DREAMS COME TRUE!!
https://onlyfans.com/modelconstance1
https://www.clips4sale.com/studio/75491/constance-s-crazy-cinemas
https://modelconstance1.gumroad.com/
[email protected] or [email protected]
Services Offered
Semi-Competitive Wrestling, Fantasy Wrestling, Pro Wrestling, Submission Wrestling, Pin Wrestling, 2 on 1 Wrestling, Couples Wrestling, Grappling, Fantasy Boxing, Fantasy Kickboxing, Fantasy Catfighting, 2 or More on 1 Handicap Matches, Tag Team Matches, Armwrestling, Foxy, BoxingFemale vs Female, Tickle Wrestling, Scissoring, Custom Videos, PosingModeling, Training
Travel
| | | | |
| --- | --- | --- | --- |
| Date Begins | Date Ends | City | Area |
| 01/13/2022 | 02/04/2022 | Tulsa | Oklahoma |
| 02/05/2022 | 02/07/2022 | Dallas | Texas |
| 02/07/2022 | 02/07/2022 | Austin | Texas |
| 02/08/2022 | 02/08/2022 | San Antonio | Texas |
| 02/09/2022 | 02/11/2022 | Houston | Texas |
| 02/12/2022 | 03/03/2022 | Tulsa | Oklahoma |
| 03/04/2022 | 03/09/2022 | Sioux Falls | South Dakota |
| 03/10/2022 | 04/03/2022 | Tulsa | Oklahoma |
| 04/05/2022 | 04/05/2022 | Pittsburgh | Pennsylvania |
| 04/06/2022 | 04/07/2022 | Cleveland | Ohio |
| 04/06/2022 | 04/07/2022 | Akron | Ohio |
| 04/08/2022 | 04/10/2022 | Detroit | Michigan |
| 04/10/2022 | 04/10/2022 | Grand Rapids | Michigan |
| 04/11/2022 | 04/11/2022 | Milwaukee | Wisconsin |
| 04/11/2022 | 04/13/2022 | Chicago | Illinois |
| 04/14/2022 | 04/14/2022 | Indianapolis | Indiana |
| 04/15/2022 | 04/17/2022 | Columbus | Ohio |
| 04/15/2022 | 04/17/2022 | Cincinnati | Ohio |
| 04/18/2022 | 04/27/2022 | Tulsa | Oklahoma |
| 04/28/2022 | 04/30/2022 | Boston | Massachusetts |
| 05/01/2022 | 05/02/2022 | Providence | Rhode Island |
| 05/03/2022 | 05/03/2022 | Hartford | Connecticut |
| 05/04/2022 | 05/06/2022 | Newark | New Jersey |
| 05/07/2022 | 05/08/2022 | Philadelphia | Pennsylvania |
| 05/09/2022 | 05/10/2022 | Arlington | Virginia |
| 05/09/2022 | 05/10/2022 | Fairfax | Virginia |
| 05/09/2022 | 05/10/2022 | Washington, DC | OTHER |
| 05/10/2022 | 05/12/2022 | Baltimore | Maryland |
| 05/13/2022 | 06/23/2022 | Tulsa | Oklahoma |
| 06/24/2022 | 06/24/2022 | Omaha | Nebraska |
| 06/24/2022 | 06/25/2022 | Des Moines | Iowa |
| 06/25/2022 | 06/27/2022 | St Paul | Minnesota |
| 06/25/2022 | 06/27/2022 | Minneapolis | Minnesota |
| 06/27/2022 | 06/27/2022 | Kansas City | Missouri |
My Gallery
Events
02/04/2022 TX, PA, OH, MI, WI, IL, IN, MA, RI, CT, NJ, MD, DC, VA, NE, IA, MN, MO

The MaddCrazy Tours Feb 2022-June 2022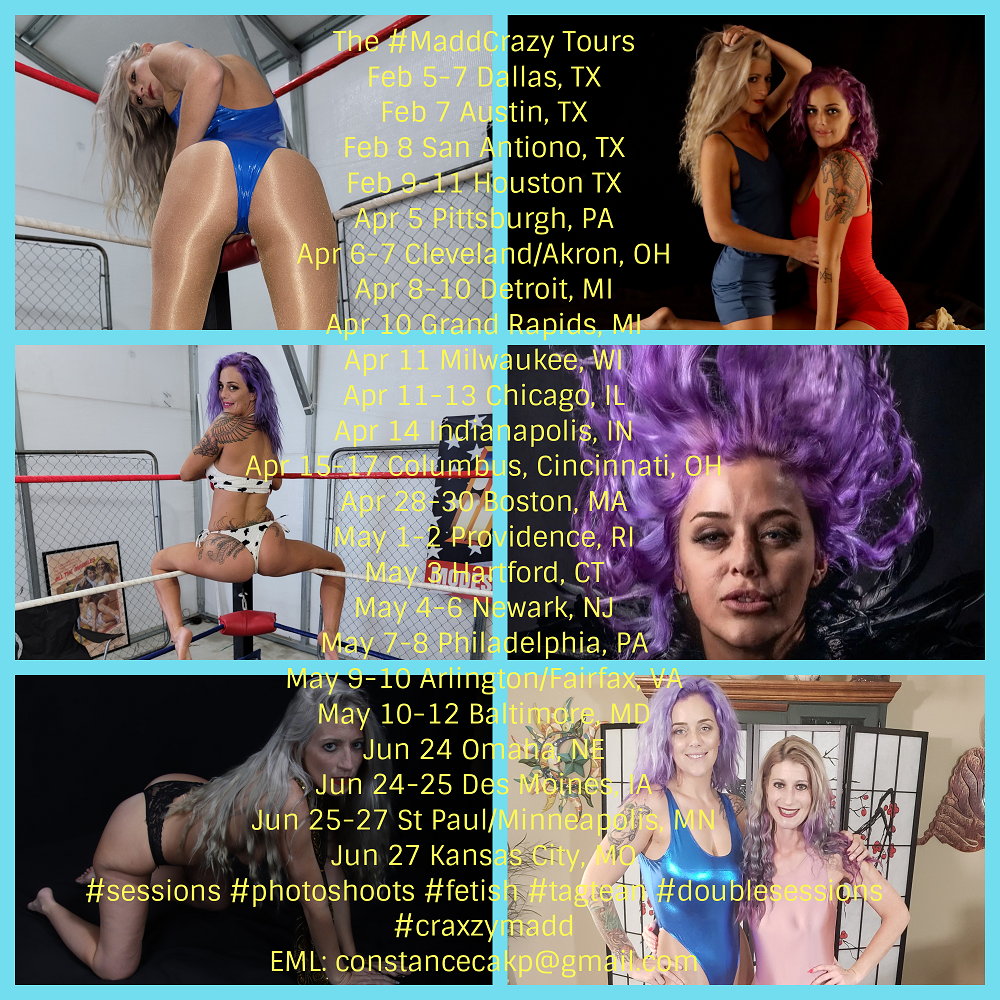 Constance & Andï Traveling to Numerous States The tour name is for Andï @maddmystic and the crazy is for Constance's Crazy Cinemas. Hence the #MaddCrazy tours xoxo Constance EML:
[email protected]
or
[email protected]
Reviews