Claudia Black Panther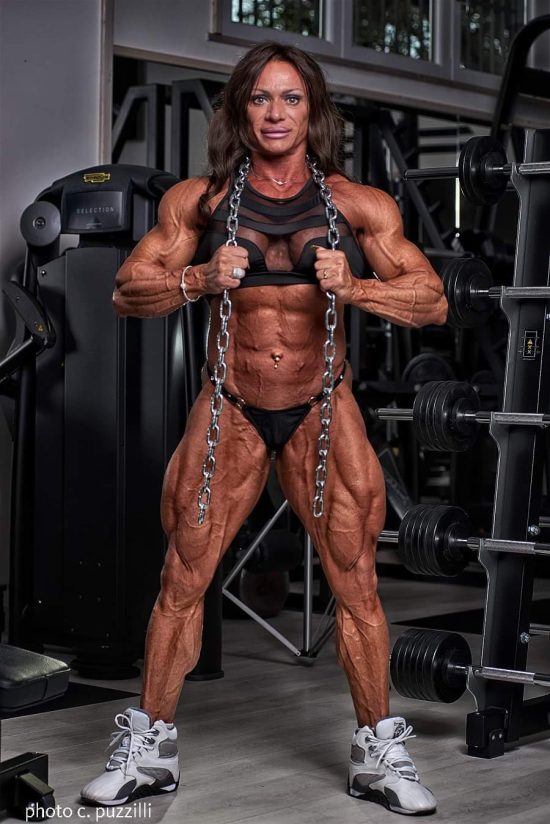 Contact
Location:&nbspItaly , OTHER, Milano
Email: [email protected]
Last Activity: 09/14/2023
Stats
Height: 5'3" - 160 cm
Weight: 150 lbs - 68 kg
Physique: Bodybuilder
Years Of Experience: 5-15 years plus
About
About me: I'm a Professional bodybuilder since 2006 when I wan the overall in world championship. I'm a Personal trainer in my own Gym.
I love building my muscles cause I find them sexy, being in good shape ever, I love to show my results to my fans and be worshipped. I'm very grateful to my costumers and fans who appreciate my body and my sacrifices.
I enjoy to show my strength and wrestle for fun.
I can travel all over the world.
You can contact me by mail or Whatsapp if you like to see my ripped and vascular muscles or if you want to test my strength.
I'm now on OnlyFans: https://onlyfans.com/claudia-black-panther
I have over 100 videos there now and it's getting more and more every day 🙂
Services Offered
Private Webcam / Skype / Video Chat
Fantasy Wrestling
Submission Wrestling
Grappling
Armwrestling
Tickle Wrestling
Scissoring
Custom Videos
Feats of Strength
Lift and Carry
Belly PunchingIn-Gym
Training
Travel
| | | | | |
| --- | --- | --- | --- | --- |
| Date Begins | Date Ends | City | Area | Country |
| 10/20/2023 | 10/21/2023 | Roma | OTHER | Italy |
| 10/26/2023 | 10/28/2023 | Frankfurt | OTHER | Germany |
My Gallery
Events
Reviews
Old Reviews
Anonymous
07/12/2019
Just had a session with Claudia in NYC. Amazing physique aims to please! I have been in 19 sessions and she was one of the single best providers. Must see! You will not be disappointed!
04/28/2018
I met Claudia three times e I can only say the best about her. I'm a tickle fetichist e I do really love to tickle women. Claudia doesn't explicitly offer that sort of session on her profiles (wb270 and sessiongirls): I just tried to ask her by email if she would agree to try it and she was immediately very kind and available. My three meetings with her went well just at the first one and better and better as I met her again: she immediately put me in confort; during the pauses between the tickling shots we talked about various subjects and I was really glad to know her better: she does really give me the impression she is a good person.
From the logistic point of view, she was always very punctual and careful and doesn't fussy mind the clock. I'm not an expert about fitness or bodybuilding, but I try to say anyway my opinion: her muscles are big and hard bodybuilder muscles and are at the same time well proportioned and really beautiful even to a person who, like me, doesn't like a bodybuilder physique. Her eyes are very beautiful.
According to me, whatever sort of session you prefer, you should meet her at least one time. As far as I am concerned, I will keep on meeting her.
02/16/2018
I had the pleasure of meeting Claudia very recently and wanted to summarize my experience. First off, her communication is extremely prompt, polite, and warm. She was very flexible on time, and setting things up was easy.
Now to the session. Goodness. Her pics are amazing, and she's even better in person. Claudia takes great pride in maintaining ripped conditioning for her sessions, and it is something to see. She is an incredible poser, and knows how to display every peak and ripple. Her symmetry and balance is off the charts. Six pack abs, quad striations, massive biceps, width and thickness in her back, all framed by some crazy delts.
There was no clock watching, and Claudia genuinely enjoys showing off her hard work and dedication. To top it off, she has beautiful green eyes, and extremely soft skin covering her rock hard physique.
Absolutely wonderful woman, highly recommend.
01/26/2018
Claudia is awsome! super easy to comunicate with,humble and outgoing, allways on time and patiant, looks amazing – she really looks better in person, I met Claudia 5 times and she is one of the single most proffesional ladies out there. Made my time super special.I highly recomend her!
01/05/2018
She is awesome!!!. I had one of the best session in my life with her, not a wrestler but she is muscular everywhere, one piece of art, see her pictures!!!! On the sensual side is one of the best ones, trust me, I had lot of sessions in the last five years, she is the best sensual one, of course I'm not an ugly guy, I think is needs to have a feeling between…. try to seee!
05/01/2017
Io ho incontrato questa spelndida dea nel luglio 2016. Avevo un fisico mozzafiato, muscoli enormi, una forza pazzesca. IN modo naturale mi sono ritrovaro ad adorare questa splendida dea del ferro. Ho provato a fare un match di armwrestling, ma lei mi ha battutto in meno di un secondo. Un'ottima sessione con una bellissima e splendida donna
">