Brooke Diesel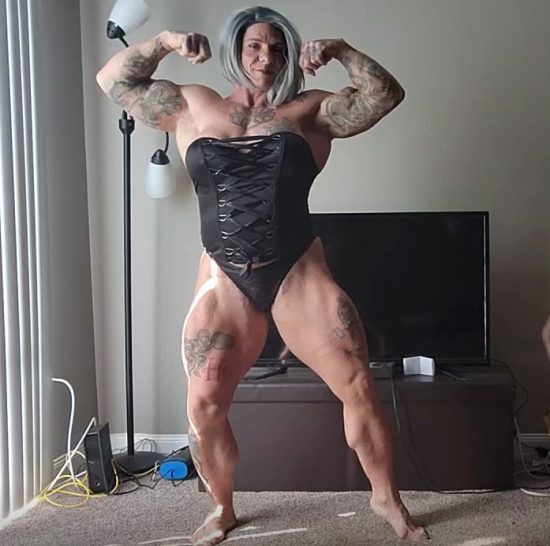 Contact
Location:&nbspUnited States , Syracuse
Email: [email protected]
Last Activity: 11/18/2022
Stats
Height: 5'2" - 157 cm
Weight: 175 lbs - 79.4 kg
Physique: Bodybuilder

About
10.9.22 Update: Introducing my THREE distinct characters!!! You can specifically request one of my alter egos and I will be be in full character for that session!!
Brooke Diesel the Gym Meathead
Brooke is huge and muscular and just wants to keep getting bigger!! She loves to show off her hard work and her hard muscles. Oil her up and worship every peak of hard, dense muscle. Brooke can show off her strength as well with light wrestling, scissoring, bear hugging, possibly some lift and carry. Bow to Brooke's power or be crushed!
Aries the Dominatrix
There are MANY different styles and levels of intensity and a variety of acts that this service can encompass. Aries is NOT comfortable with degradation. If you would like "dom" play with her, it will be her way. In fact, Aries doesn't even like talking much … but she doesn't need to. Aries will discuss with you the area that you would like dominated. For example, nipple play. She will lay out her tools before she begins so you are aware. Once the session begins, you no longer have any control over the actions of the session (outside of a "safe" word). It will be at her artistic discretion. Aries uses alot of eye contact, movement, the ambiance of the session is defined highly by the feelings of not knowing what is coming next. She will tell you when to speak, She will tell you what to say, She will praise or punish as needed. I have been told Aries can be very intense. But when you get this session with her, you are paying for the artistic interpretation of pain vs seduction. Aries will not be instructed as to how to behave. I call this type of session "Dominique", "… belonging to a lord"
Trinity the Seductress
Trinity is a sexy, mature woman who can put on a little black dress or a black bra and robe and make every woman envious of her and every man desire her. With her muscular curves that people desire even though they can't explain why, and the tattooed edgy side that exudes the naughty, bad girl in her heart, Trinity can set your hormones racing with fire. Trinity poses and moves with a slow, sexy style. She moves close, moves away, moves around you in a way that drives any man or woman wild with passion. Oil, massage, worship is Trinity's expertise. Touch her beautiful muscles, kiss her muscular peaks, worship her from her traps to her toes. Experience the passion and desire that everyone chases but that she lets no one claim as their own.
******
High level powerlifter for 14 years and now an IFBB Pro Bodybuilder. But my ultimate goal is to GROW. I want to get to 205+ at 12-15% bodyfat. I just want to be freaky huge!!
I want to make sure you are choosing someone who can give you the experience you have been dreaming of so I will be honest if I'm not the one that can give that to you. I am not domme, dominant, aggressive. I have my own "dom" style. Feel free to ask about it or check my website. I love to pose and flex for you while you feel just how dense and hard my muscle is. I have very little experience with wrestling, scissoring, face sitting, but have no problem trying! But I do not want to be aggressively dominant or degrading. That is NOT me.
I'm adding a phone number you can text me at. I may not be able to answer immediately but I will answer. Do NOT send repeat back to back messages. Phone calls will be sent directly to voice mail which I will check as soon as I can.
I can be very particular who I work with. Not looking to offend anyone ever but I will be honest! Feel free to ask me anything 😉
Services Offered
Private Webcam / Skype / Video Chat
Phone Chat
Fantasy Wrestling
2 on 1 Wrestling
Fantasy Boxing
Fantasy Catfighting
Female vs Female
Scissoring
Custom Videos
Posing / Modeling
Training
Others: Please email request
Travel
| | | | | |
| --- | --- | --- | --- | --- |
| Date Begins | Date Ends | City | Area | Country |
| 12/05/2022 | 12/09/2022 | Los Angeles | California | United States |
| 01/03/2023 | 01/08/2023 | New York City | New York | United States |
My Gallery