Rexy_Flex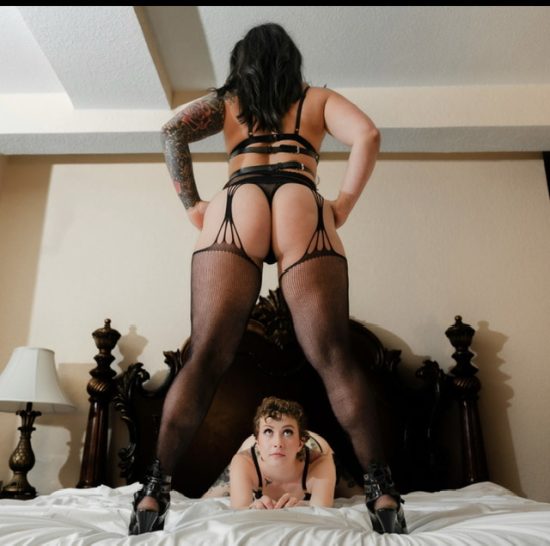 Contact
Location:&nbspUnited States , Florida, Tampa
Email: [email protected]
Last Activity: 09/21/2023
Stats
Height: 4'11" - 150 cm
Weight: 135 lbs - 61.2 kg
Physique: Athletic
Years Of Experience: 5-15 years plus

Tip Me
About
---
---
Brain_Brawn_Beauty :   Your Favorite Pine-sized Feminine DOMMY- Muscle-MOMMY with 1000 watt smile, Sugar & Spice, paired with massive quads, natural chest, big traps, and a real Brazilian Booty.
ALL INQUIRIES must include the following:
1) Type of Session you are inquiring about. (MUST BE 21 & up)
2) The desired Date(s) & Duration for listed session.
*LOCAL SESSIONS: (TAMPA BAY AREA)-All local sessions have a Minimal 1hr session requirement in order to book. Client is responsible for the hotel fee used for the duration of their session. *Hosting location will be available in the near future, but unavailable at this time.
* IN_STATE TRAVEL SESSIONS (FL sessions that are outside Tampa Bay area but are still within reasonable commutable driven distances):  In-state Commutable Sessions have a 1-2hr- minimal session requirement depending on the distance. Also, for me to commute for the session there will a rate .82 cents per mile to desired location and back to original home base location. Depending on the distance there may be a 1-night hotel accommodation requirement. Locations outside of central FL da like south FL, are not feasible to drive to, session and return without rest the same day.
* PER REQUEST OUT OF STATE TRAVEL SESSIONS: PRT sessions have a 2-3hrs session minimal in order to book depending on distance traveled, plus client is required to book proper Hotel accommodation for sessionette and round- trip airfare arrangements will automatically be required. Lyft/Uber Fee upon arrival & departure to & from airport.
* TOUR DATE SESSIONS: Tour date sessions are announced on the sessionette page as city/state & dates that she intends to be at that location. The sessionette intends to host all sessions. No hotel fees are incurred on behalf of the client. In order to book, client will be required to pay 50% of the total session cost as a nonrefundable deposit securing your desired date & time. Sessions have a 30-60min minimal depending on location. 
*Any Virtual/Cam/phone sessions have a minimal 30min requirement in order to book. Time is prepaid.
3) FOR SAFETY REASONS:
To book ANY & ALL Session you must provide either one of two options for vetting;
Option A) Please provide at least 2 current sessionette references with valid contact information such as email. *Your reference will be contacted. ONLY Once your references have been verified to be in good standing then we can discuss pricing, details and book your session.
OR
Option B) First time. NO References. NO Problem. Please provide an emailed copy of your Up to Date  and Current Level 1 background check, along with a image of valid photo ID.
*ID WHY?  Well, in order to verify your identity. (Details of what can be blacked out can be provided because not all personal information is pertinent in this case)
*BACKGROUND CHECK WHY? A level 1 background check is less invasive as a lot of your personal information isn't necessary to ensure my Safety. At the end of the day, I arrive to provide each and everyone with the utmost respect & discretion. I am solely concerned with confirming that your given identity matches and thus, insuring me the accuracy that  you have no priors with physical or sexual related crimes.
~•~In-Person (local & travel) Sessions~•~ :
••• Muscle Goddess sessions: •Scissor Holds • Lift & Carry, Fantasy Wresting with active resistance strength comparison (On site Measurement Taping, side by side size comparison • Strength comparison in a workout session "gym" etc.)
•••Muscle Worshipping Sessions: •Muscle Worshipping •Breath Play• Flexing/Posing •Squeeze Play • Muscle Domination etc.
•••Muscle Girl Fan Sessions:  Gym workout session/Date • Event Companion etc.
••• FemDom- DOMME: Mistress Snu-Snu: catering to wide range of scenes, kinks, and fetishes. Please Email to inquire about your specific Kink(s)- Be specific.
••• Private Virtual Sessions offering 3 levels of interaction: A) Roleplay chat B) Flirty Girl C) 1-on-1 interactive. *Details are provided via email (C2C/TEXT/Phone/SKYPE/SNAPCHAT/WhatsApp)
Services Offered
Private Webcam / Skype / Video Chat
Phone Chat
Other Webcam Shows
Fantasy Wrestling
Scissoring
Lift and Carry
Posing / Modeling
Belly PunchingIn-Gym
Training
Others: Please email request
Dominatrix Services
Virtual Sessions
Others: Please email request
Travel
| | | | | |
| --- | --- | --- | --- | --- |
| Date Begins | Date Ends | City | Area | Country |
| 09/29/2023 | 10/01/2023 | Boston | Massachusetts | United States |
| 10/13/2023 | 10/16/2023 | NY | New York | United States |
| 10/27/2023 | 10/29/2023 | LA | California | United States |
My Gallery