BELLA INK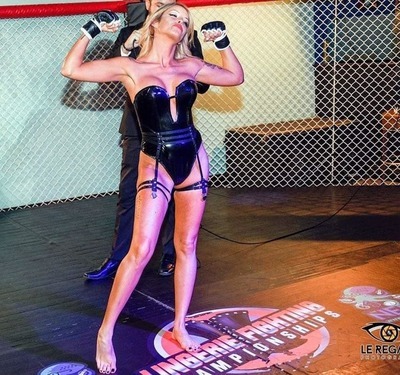 Contact
Location:&nbspUnited States , Tennessee, Nashville
Email: [email protected]
Last Activity: 11/27/2023
Stats
Height: 5'7" - 170 cm
Weight: 135 lbs - 61.2 kg
Physique: Athletic
Years Of Experience: 5-15 years plus
Tip Me
About
cYou want to know a little about me? Bella Ink has started to dabble in the wrestling, catfighting, and mma for a couple years. Before I got into the fetish work I was always actively involved in sports and working out all the time. I even trained in boxing at one point and was going to do an amateur fight however, I went a different route at that time. Now 5 years later I've done multiple fantasy, semi- competitive, and full competitive fights. Don't let my weight and height fool you, I've wrestled and sessioned with some pretty big name people and people you wouldn't think I would make tap. Take a chance with me and see what you got! I love to wrestle and dominate both guys and girls think you have what it takes? Message me to work with me! Time Wasters will be reported by me automatically and will need a non refundable deposit/reference in order to book!!!
Session Deposit Policy
Deposit is Non Refundable . Period .
Deposit is Non Refundable if you cancel anytime before the agreed session date.
Deposit is Refundable if you cancel a minimum of 2 weeks prior to the session date.
Deposit is Refundable if I cancel the session.
Deposit is Refundable if I have to cancel and we are unable to reschedule.
Services Offered
Private Webcam / Skype / Video Chat
Phone Chat
Other Webcam Shows
Competitive Wrestling
Semi-Competitive Wrestling
Fantasy Wrestling
Pro Wrestling
Submission Wrestling
Pin Wrestling
2 on 1 Wrestling
Couples Wrestling
MMAJudo
Brazilian Jiu-Jitsu
Karate
Grappling
Semi-Competitive Boxing
Fantasy Boxing
Semi-Competitive Kickboxing
Fantasy Kickboxing
Fantasy Catfighting
2 or More on 1 Handicap Matches
Tag Team Matches
Armwrestling
Foxy
Boxing
Female vs Female
Tickle Wrestling
Scissoring
Custom Videos
Feats of Strength
Lift and Carry
Posing / Modeling
Belly PunchingIn-Gym
Training
Bondage Wrestling
Others: Please email request
Travel
| | | | | |
| --- | --- | --- | --- | --- |
| Date Begins | Date Ends | City | Area | Country |
| 03/04/2023 | 12/31/2023 | Nashville | Tennessee | United States |
| 12/01/2023 | 12/22/2023 | Raleigh | North Carolina | United States |
| 12/01/2023 | 12/22/2023 | Charlotte | North Carolina | United States |
| 12/01/2023 | 12/22/2023 | Greensboro | North Carolina | United States |
| 12/01/2023 | 12/22/2023 | Roanoke | Virginia | United States |
| 12/01/2023 | 12/22/2023 | richmond | Virginia | United States |
| 12/01/2023 | 12/22/2023 | Fairfax | Virginia | United States |
| 12/01/2023 | 12/22/2023 | Washington | District of Columbia | United States |
| 12/01/2023 | 12/22/2023 | Baltimore | Maryland | United States |
| 12/01/2023 | 12/22/2023 | Dover | Delaware | United States |
| 12/01/2023 | 12/22/2023 | York | Pennsylvania | United States |
| 12/01/2023 | 12/22/2023 | Horsham | Pennsylvania | United States |
| 12/01/2023 | 12/22/2023 | Philadelphia | Pennsylvania | United States |
| 12/01/2023 | 12/22/2023 | New Brunswick | New Jersey | United States |
| 12/01/2023 | 12/22/2023 | Fort Lee | New Jersey | United States |
| 12/01/2023 | 12/22/2023 | Cherry Lee | New Jersey | United States |
| 12/01/2023 | 12/22/2023 | Jersey Shore | New Jersey | United States |
| 12/01/2023 | 12/22/2023 | Manhatten | New York | United States |
| 12/01/2023 | 12/22/2023 | White plains | New York | United States |
| 12/01/2023 | 12/22/2023 | Brooklyn | New York | United States |
| 12/01/2023 | 12/22/2023 | New York | New York | United States |
My Gallery