AmbraPixieKiller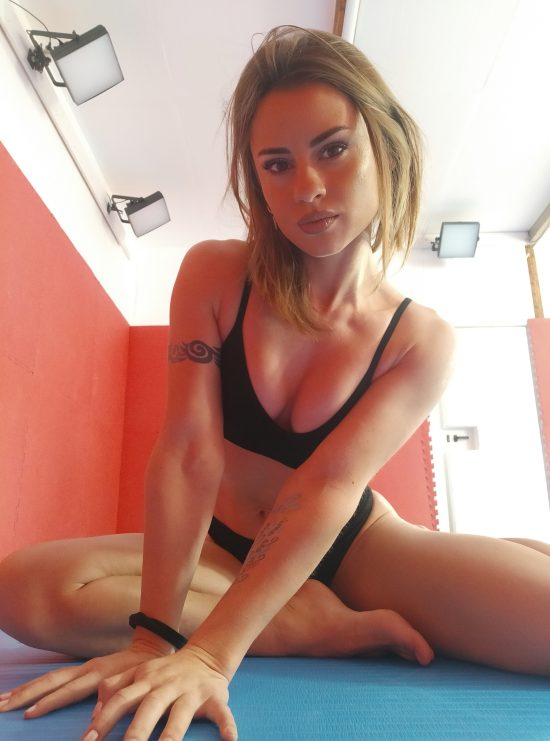 Contact
Location:&nbspItaly , OTHER, Padova
Email: [email protected]
Last Activity: 11/18/2023
Stats
Height: 5'2" - 157 cm
Weight: 105 lbs - 47.6 kg
Physique: Athletic
Years Of Experience: 5-15 years plus
About
𝐇𝐢 𝐞𝐯𝐞𝐫𝐲𝐨𝐧𝐞,
𝐈'𝐦 𝐀𝐦𝐛𝐫𝐚 𝐚𝐧𝐝 𝐈 𝐥𝐢𝐯𝐞 𝐢𝐧 𝐧𝐨𝐫𝐭𝐡𝐞𝐫𝐧 𝐈𝐭𝐚𝐥𝐲 𝐛𝐮𝐭 𝐈'𝐦 𝐚𝐥𝐰𝐚𝐲𝐬 𝐚𝐫𝐨𝐮𝐧𝐝 𝐄𝐮𝐫𝐨𝐩𝐞 𝐭𝐨 𝐦𝐚𝐤𝐞 𝐦𝐞𝐧 𝐬𝐮𝐟𝐟𝐞𝐫 𝐰𝐢𝐭𝐡 𝐦𝐲 𝐛𝐣𝐣 𝐚𝐧𝐝 𝐬𝐜𝐢𝐬𝐬𝐨𝐫 𝐭𝐞𝐜𝐡𝐧𝐢𝐪𝐮𝐞𝐬.
𝐈 𝐚𝐦 𝐯𝐞𝐫𝐲 𝐚𝐜𝐭𝐢𝐯𝐞 𝐩𝐞𝐫𝐬𝐨𝐧, 𝐚𝐥𝐰𝐚𝐲𝐬 𝐥𝐨𝐨𝐤𝐢𝐧𝐠 𝐟𝐨𝐫 𝐧𝐨𝐯𝐞𝐥𝐭𝐲, 𝐈 𝐥𝐨𝐯𝐞 𝐭𝐫𝐚𝐯𝐞𝐥𝐥𝐢𝐧𝐠 𝐚𝐥 𝐝𝐨𝐢𝐧𝐠 𝐦𝐲 𝐣𝐨𝐛 𝐭𝐡𝐚𝐭 𝐚𝐥𝐥𝐨𝐰𝐬 𝐦𝐞 𝐭𝐨 𝐝𝐨 𝐰𝐡𝐚𝐭 𝐈 𝐥𝐨𝐯𝐞.𝐈 𝐭𝐫𝐚𝐢𝐧 𝐡𝐚𝐫𝐝 𝐭𝐨 𝐚𝐜𝐡𝐢𝐞𝐯𝐞 𝐦𝐲 𝐠𝐨𝐚𝐥𝐬 𝐚𝐧𝐝 𝐝𝐨𝐧'𝐭 𝐠𝐢𝐯𝐞 𝐮𝐩 𝐢𝐧 𝐭𝐡𝐞 𝐟𝐚𝐜𝐞 𝐨𝐟 𝐚𝐧𝐲 𝐨𝐛𝐬𝐭𝐚𝐜𝐥𝐞.𝐈 𝐥𝐨𝐯𝐞 𝐦𝐲 𝐬𝐩𝐨𝐫𝐭𝐬 :𝐰𝐫𝐞𝐬𝐭𝐥𝐢𝐧𝐠, 𝐛𝐫𝐚𝐳𝐢𝐥𝐢𝐚𝐧 𝐣𝐢𝐮𝐣𝐢𝐭𝐬𝐮, 𝐜𝐥𝐢𝐦𝐛𝐢𝐧𝐠 , 𝐡𝐢𝐤𝐢𝐧𝐠 𝐢𝐧 𝐭𝐡𝐞 𝐦𝐨𝐮𝐧𝐭𝐚𝐢𝐧𝐬 𝐚𝐧𝐝 𝐫𝐚𝐜𝐞 𝐛𝐢𝐤𝐞.
𝐘𝐨𝐮 𝐜𝐚𝐧 𝐚𝐥𝐬𝐨 𝐡𝐚𝐯𝐞 𝐚 𝐬𝐨𝐮𝐯𝐞𝐧𝐢𝐫 𝐯𝐢𝐝𝐞𝐨 𝐨𝐟 𝐭𝐡𝐞 𝐬𝐞𝐬𝐬𝐢𝐨𝐧 𝐨𝐫 𝐟𝐢𝐥𝐦 𝐚 𝐯𝐢𝐝𝐞𝐨 𝐭𝐨𝐠𝐞𝐭𝐡𝐞𝐫 𝐚𝐧𝐝 𝐭𝐡𝐞𝐧 𝐩𝐮𝐛𝐥𝐢𝐬𝐡 𝐢𝐭, 𝐲𝐨𝐮 𝐜𝐚𝐧 𝐛𝐞 𝐚 𝐬𝐭𝐚𝐫 𝐨𝐟 𝐦𝐲 𝐟𝐮𝐭𝐮𝐫𝐞 𝐰𝐞𝐛𝐬𝐢𝐭𝐞.
𝐁𝐨𝐨𝐤 𝐲𝐨𝐮𝐫 𝐬𝐞𝐬𝐬𝐢𝐨𝐧 𝐰𝐢𝐭𝐡 𝐦𝐞 𝐭𝐨 𝐥𝐞𝐭 𝐲𝐨𝐮𝐫𝐬𝐞𝐥𝐟 𝐛𝐞 𝐬𝐮𝐫𝐩𝐫𝐢𝐬𝐞𝐝 𝐛𝐲 𝐭𝐡𝐞 𝐢𝐧𝐜𝐫𝐞𝐝𝐢𝐛𝐥𝐞 𝐬𝐭𝐫𝐞𝐧𝐠𝐭𝐡 𝐨𝐟 𝐦𝐲 𝐚𝐫𝐦𝐬 𝐚𝐧𝐝 𝐥𝐞𝐠𝐬, 𝐢𝐟 𝐲𝐨𝐮 𝐰𝐢𝐬𝐡 𝐲𝐨𝐮 𝐜𝐚𝐧 𝐚𝐥𝐬𝐨 𝐫𝐞𝐪𝐮𝐞𝐬𝐭 𝐂𝐔𝐒𝐓𝐎𝐌 𝐕𝐈𝐃𝐄𝐎𝐒.
𝐈𝐟 𝐲𝐨𝐮 𝐩𝐚𝐲 𝐦𝐲 𝐭𝐫𝐚𝐯𝐞𝐥 𝐚𝐧𝐝 𝐝𝐨 𝐦𝐢𝐧𝐮𝐦𝐮𝐧 𝐭𝐰𝐨 𝐡𝐨𝐮𝐫 𝐬𝐞𝐬𝐬𝐢𝐨𝐧 𝐈 𝐜𝐚𝐧 𝐭𝐫𝐚𝐯𝐞𝐥 𝐟𝐨𝐫 𝐲𝐨𝐮.
𝐍𝐎 𝐒𝐄𝐗𝐔𝐀𝐋, 𝐍𝐎 𝐇𝐀𝐏𝐏𝐘𝐄𝐍𝐃𝐈𝐍𝐆, 𝐍𝐎 𝐍𝐔𝐃𝐄, 𝐍𝐎 𝐓𝐏𝐋𝐄𝐒𝐒. 𝐈 𝐰𝐢𝐥𝐥 𝐧𝐨𝐭 𝐜𝐨𝐧𝐬𝐢𝐝𝐞𝐫 𝐭𝐡𝐢𝐬 𝐭𝐲𝐩𝐞 𝐨𝐟 𝐫𝐞𝐪𝐮𝐞𝐬𝐭
Session Deposit Policy
Deposit is Refundable if I have to cancel and we are unable to reschedule.
Services Offered
Private Webcam / Skype / Video Chat
Phone Chat
Competitive Wrestling
Semi-Competitive Wrestling
Fantasy Wrestling
Pro Wrestling
Submission Wrestling
2 on 1 Wrestling
Couples Wrestling
Brazilian Jiu-Jitsu
Grappling
Fantasy Boxing
Fantasy Kickboxing
Fantasy Catfighting
Armwrestling
Tickle Wrestling
Scissoring
Custom Videos
Feats of Strength
Posing / Modeling
Belly PunchingIn-Gym
Training
Bondage Wrestling
Others: Please email request
Travel
| | | | | |
| --- | --- | --- | --- | --- |
| Date Begins | Date Ends | City | Area | Country |
| 02/10/2024 | 02/11/2024 | Bruxelles | OTHER | Belgium |
| 03/09/2024 | 03/10/2024 | Frankfurt | OTHER | Germany |
My Gallery