Alexis Luna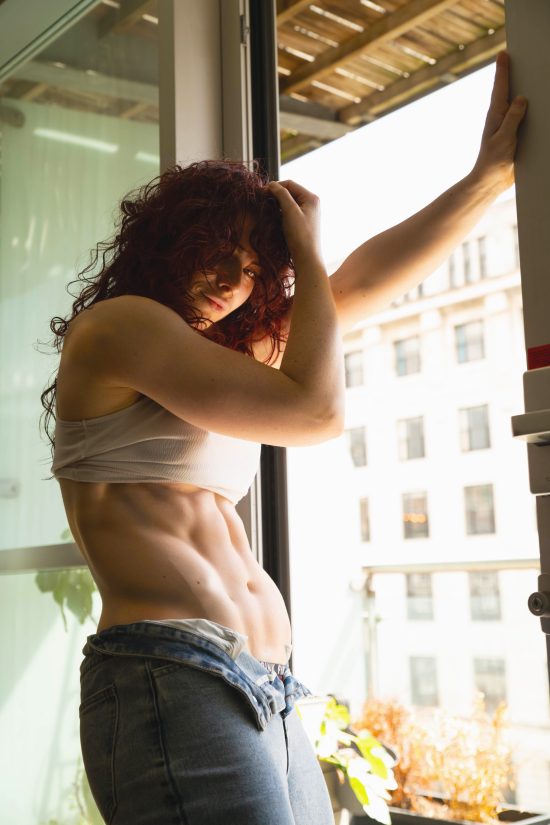 Contact
Location:&nbspUnited Kingdom , OTHER, Manchester
Email: [email protected]
Last Activity: 01/22/2023
Stats
Height: 5'4" - 163 cm
Weight: 145 lbs - 65.8 kg
Physique: Bodybuilder
About
I'm a full-time international pro model and lifetime natural competitive athlete, so you'll get the perfect package of femininity and extreme strength. If you haven't already been floored by a punch or a pin, I'm pretty sure my big green eyes will do the job as you stare into them.
I compete in powerlifting and can squat over 165kg (over 2.5x BW); my sixpack, big biceps and even bigger quads are here all year round to submit you. I've got relentless stamina from over 10 years martial arts training with particular skill in Muay Thai and kickboxing, and started BJJ in 2022. 
I'm also a BDSM model and pro dominatrix, which means that when I dominate you, it won't just be with my muscle mass. I offer fantasy wrestling sessions (face-sitting, scissoring, sleeper holds, muscle worship, foot worship, tickling), arm wrestling, lift & carry (max 105kg), *nude wrestling, oil wrestling or semi-competitive. I am also available for video shoots and private custom requests, plus online naked PT. Outcalls come with a premium.
When contacting, please first outline your preferred city (anywhere in the world), your session date, type, length and if you have sessioned with anyone before (you will be ignored if you can't follow this instruction). Anyone asking for sexual services will be blocked.
SESSION RULES:
I take 50% deposit upon booking to confirm the session via PayPal or Cashapp ONLY. Sessions on tour must be paid via the aforementioned payment methods only (I DO NOT ACCEPT CASH ABROAD), UK sessions cash or transfer. Cancellation within 7 days of the session date (or within 14 days of a booked session on an overseas tour) loses your deposit. Cancellation before this time gives deposit back -£50 (or equiv conversion). Cancellation within 48 hours (or a no-show) requires full 100% of the agreed session fee, including any venue and travel fees.
Arrive to the session already showered (max 10 mins early), ensuring that any skin conditions/wounds are covered and all nail sets are trimmed smoothly. If you choose to shower upon arrival, it will come out of your session time. If you are late (and I am not back-to-back), I can delay for up to 10 minutes. After this time, your session will be cut short. Anyone who touches me inappropriately or without consent will be asked to leave immediately.
Remember that I compete and am also a model, so I will not withstand excessive/unnecessary brutality (e.g. dangerously fast muscle stretches & arm bars or nails being dug into my skin).
*Nude wrestling: only I will be nude. I do not offer topless at semi or competitive levels due to injury risk and skin damage I've suffered in sessions. Nude sessions are for fantasy and oil only, WITHOUT facesitting.
Looking forward to seeing the surprise in your eyes when we session 🙂
Lexi
EXTRA LOCATIONS:
Amsterdam solo or doubles with Black Venus or Amata at Amata's 2-3 Feb
Manchester 14-17 Feb
Manchester 20-23 March
Enquire for availability at any of the above locations. Manchester is my home city.
Past tours:
Italy
Barcelona
Berlin
France
Amsterdam
New York
Copenhagen
Waiting list locations:
Services Offered
Private Webcam / Skype / Video Chat
Phone Chat
Semi-Competitive Wrestling
Fantasy Wrestling
Pro Wrestling
Submission Wrestling
Pin Wrestling
2 on 1 Wrestling
Couples Wrestling
Brazilian Jiu-Jitsu
Muay Thai
Grappling
Semi-Competitive Boxing
Fantasy Boxing
Semi-Competitive Kickboxing
Fantasy Kickboxing
Fantasy Catfighting
Armwrestling
Female vs Female
Tickle Wrestling
Scissoring
Custom Videos
Feats of Strength
Lift and Carry
Posing / Modeling
Training
Bondage Wrestling
Travel
| | | | | |
| --- | --- | --- | --- | --- |
| Date Begins | Date Ends | City | Area | Country |
| 02/02/2023 | 02/06/2023 | Amsterdam | OTHER | Netherlands |
| 02/08/2023 | 02/09/2023 | London | OTHER | United Kingdom |
| 02/20/2023 | 02/20/2023 | Vancouver | OTHER | Canada |
| 03/24/2023 | 03/26/2023 | London | OTHER | United Kingdom |
| 03/29/2023 | 03/29/2023 | London | OTHER | United Kingdom |
| 04/01/2023 | 04/06/2023 | Dubai | OTHER | United Arab Emirates |
| 04/11/2023 | 04/16/2023 | Brooklyn | New York | United States |
| 04/17/2023 | 04/18/2023 | Boston | Massachusetts | United States |
| 04/19/2023 | 04/23/2023 | Toronto | OTHER | Canada |
| 04/24/2023 | 04/27/2023 | Chicago | Illinois | United States |
| 07/12/2023 | 07/31/2023 | LA | California | United States |
| 07/31/2023 | 08/10/2023 | Las Vegas | Nevada | United States |
My Gallery