Alex NYC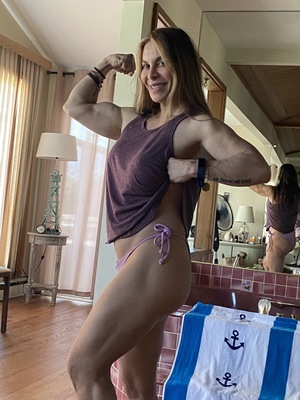 Contact
Location:&nbspUnited States , New York, Manhattan
Email: [email protected]
Last Activity: 03/09/2023
Stats
Height: 5'3" - 160 cm
Weight: 130 lbs - 59 kg
Physique: Bodybuilder
Tip Me
About
***KINDLY NOTE: I AM IN NEW YORK, PLEASE DONT BE CONFUSED WITH MY PHONE AREA CODE 🙂 Its 813 BUT ITS NYC.
***All emails, phone calls and texts answered within 24 hours. If you don't receive an email answer do check your spam.
***I aim to create a SAFE SPACE for both of US. With safety, discretion, trust and health we can let go and escape.
***I am located in MANHATTAN.
***All Payments sent are kept discreet.
***ALL boundaries respected. No texts after a certain hour, no problem 🙂
***Gentlemen: I have no need to ask you for a ton of personal information! I realize this is a private world. And I personally find that a turn off. If we get along via email, and all goes smoothly we will have a great session. I aim to keep things easy, fun and discree
*** I am a lady whos stays IN SHAPE with MUSCLE ALL YEAR. You will ALWAYS SEE ME WITH POPPING MUSCLES. NO OFF SEASON
*** I look forward to spending time with all of you special people, old friends and new! I ENJOY my sessions and find it rewarding to have all my hard work in the gym get appreciated. Im very comfortable posing.  Im friendly, personable and warm and I have an extremely healthy and positive outlook on sessions.  I truly enjoy everything about this forum and theyre quite an escape for me too 🙂 It empowers me to indulge in this private time. Im very understanding about privacy and discretion. I love this secret world.  I have no judgements. The only silly question is the 1 not asked. So dont be afraid! Role-Players: Im always ready for you! I enjoy playing out a great fantasy. Outstanding Bodyparts: Though Id say my mind, most would say Biceps, Triceps and the many layers of my muscular calves!! *** FOOT Lovers get an extra shout-out 🙂 Im told my feet are pretty and well groomed and I sure enjoy them getting lots of TLC. My idea of Heaven. 🙂 XOXOXO
JUDGEMENT FREE ZONE!!
2023: Happy New Year To my Friends, both the old friends and the new:)
For those of you who know me: Thanks for continuing to give me all the fun and trust. For those of you who havent met me yet heres some scoop on me:
*** I am very good with newbies and aim to give good people a chance. Reach out! If youre as authentic as me we shall work it out.
*** I dont care to treat my sessions as business. I aim to add a personal touch and I enjoy and appreciate meeting nice people.
*** YES, my pics are as advertised.
***Im VERY experienced in sessions. Both posing and wrestling. I started wrestling when I was 20 years old.
***Ive always been DOMINANT and BOSSY. In general. But! I have a soft side too 🙂
***Id LOVE to scissor lock YOU!
*** You may have heard Im a person of INTEGRITY and I value your DISCRETION. Therefore do know I understand your needs for this and Im not here to shout out your personal info.
*** Im an extremely straight-shooter. If we are not a match I will simply tell you upfront instead of booking a session with you for the sake of it.
***My reputation is important to me.
***Im one of the Session girls who is happy to give referrals for either the girl or session seeker. Im also here for any of you session girls who need some advice or wish to do doubles.
*** Referrals available! The select gentlemen I chose to see know they have found the fun combined with the trust and discretion. Therefore if you feel the need I offer communications with gentleman whove had sessions with me to vouche for me. I introduce this unique service as a means of dealing with myself and my inner circle DIRECTLY as opposed to any gossip site.
***Im a fan of honestly as well as classy and articulate email correspondence. Youre likely to get better results with me by including general greetings and salutations.
*** I do not take deposits and disappear.
***IF I choose to session with YOU: Do know Im looking forward to it as much as YOU.
*** I always have excellent personal hygiene. Youd think that was a given but Ive heard it isnt!
*** Im known to have  a good sense of humor :))
Looking forward to continuing the fun with you all!
***Kindly note: Deposits are required for all sessions. If I have to reschedule I will always honor your deposit. If YOU dont show up, dont call, text nor communicate unfortunately you wont receive a refund. I ask 48 hours ahead to work things out..
HOW TO SEE ME:
Kindly INTRODUCE yourself. Don't assume because you ask to see me that you will. IF we are a good fit we will enjoy a session.
Avoid a one sentence email.
Do include your session interests and don't assume I participate in everything you want.
Do reach out ONLY if you're serious and use your manners.
I am an athlete. I am available during respectful hours and not on a moments notice.
Thank you!
Alex
Services Offered
Private Webcam / Skype / Video Chat
Phone Chat
Semi-Competitive Wrestling
Fantasy Wrestling
Submission Wrestling
Pin Wrestling
2 on 1 Wrestling
Couples Wrestling
Armwrestling
Female vs Female
Scissoring
Custom Videos
Lift and Carry
Belly PunchingIn-Gym
Training
Travel
| | | | | |
| --- | --- | --- | --- | --- |
| Date Begins | Date Ends | City | Area | Country |
My Gallery