54) Only 5 seconds of recovery – extreme scissor game!
Clip Information
Published: 04/04/2022
Length: 7&nbspMinutes
Price: $9.99&nbspUSD
Author: mistressamazon
Clip Description:
Premise: this is one of the most intense scissor videos I've shot! I think it's the most times I've made it "Kindly Obsequious" (about 7), with almost zero recovery between scissors! For lovers of extreme scissors, the real scissors where the thighs choke the slave and I don't let him breathe in the most absolute way!! The game I thought of this time is really diabolical: subjecting my slave to very long scissors, giving only 5 seconds of recovery between one scissor and the other! I start immediately with a very narrow sidescissor, which in seconds makes it "Kindly Obsequious"! (By now I know how and how much to tighten to obtain this result1). Sadistic as I am I keep it another good 30 seconds, where it slowly becomes more and more purple! When I release it makes strange noises and starts a chicken dance, but I count up to 5 seconds with my hand and immediately restrict to the maximum! I think he never got out of the "Kindly Obsequious" state and I choke for another 40 seconds! In the end I let go and a hilarious chicken dance begins! But the game is all about giving no pauses, and immediately blocking him again in a reversesidescissor with my powerful thighs sending him completely "Kindly Obsequious" again! He tries with little remaining strength to clap his hand, but his attempts do not last long! Another 30 seconds of complete choking, no breath, no air! When my thighs close you know it's impossible to breathe! After 30 seconds I see he stretches one arm strangely, twisting it. I let go, count up to 5 seconds and choke it again mercilessly! When I tighten I understand that he has never gotten out of the "Kindly Obsequious" state, and instead of restraining this thing excites me even more, and I squeeze for another 45 seconds almost recklessly! When I let go, he does an absurd chicken dance, it looks like a puppet moved by threads! But the game must continue, so I position myself and choke it again with a backscissor! Choke so hard that it squirms like a fish out of water, but it doesn't last long and once again becomes "Kindly Obsequious!". I hold 30 seconds, leave 5 seconds and then shrink again! I like this game more and more! This time, however, he is lucky, as a chicken dance makes him move his neck and get him back! So I decide to choke hima little more and then get to my reverse scissor! I don't want to make a mistake and I immediately tighten to the maximum to close everything! Result: once again in a few seconds it becomes "Kindly Obsequious!". I continue another 20 seconds, then I leave and count up to 5 seconds! As soon as her chicken dance starts and I feel my head rising, I close it immediately and squeeze with all my strength! Another 30 seconds of total throttling, and I let go! In the end I enjoy seeing his final chicken dance, he seems possessed by how much he moves and tries to get back to normal! But I'm sadistic and if you buy this video I'll choke him even more extreme!
Clip Gallery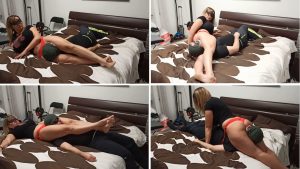 Keywords