51) Gaming with Reverse Scissor !
Clip Information
Published: 03/29/2022
Length: 4&nbspMinutes
Price: $6.99&nbspUSD
Author: mistressamazon
Clip Description:
When I turn on my console and start playing my video games, it always suits me to have a slave between my legs to choke! That way I can let off steam if I can't get through a level of play! In order not to be disturbed, I then tie my slave's hands, and position myself to choke him in powerful and long reverse scissors! Obviously I ignore it and I don't even turn around to see if it needs air, because I only have to concentrate on the video game! At some point I want to be more comfortable and I place full weight on his face, suffocating him completely! After about 1 minute with no air he knocks me forward, which was a big mistake for him! My thighs are on the sides of her neck again in another reverse scissor! He makes weird noises, but I don't care and make him "Kindly Obsequious"! Fortunately for him, after 25 seconds I finish the level and let go, making him breathe again!! After a short chicken dance I see her hands massaging her neck, lol! For him, this game wasn't all that fun!
Clip Gallery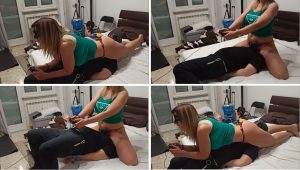 Keywords