50) Breast smother domain !
Clip Information
Published: 03/28/2022
Length: 5&nbspMinutes
Price: $6.99&nbspUSD
Author: mistressamazon
Clip Description:
Once again I want to smother my slave with my huge big boobs! This time I tie him to the chair, put his face in a heavy balaclava to make it difficult for him to breathe, and I sink his face between my tits, making him smother for a very long time and ignoring his moans! After a bit of suffering, when he lacks air for good, I decide to improvise! I stop the room for a moment and I'm going to get a plastic bag! At that point I close his head in the bag, tightening it around the neck with a rope, and again I sink his face between my big tits, sending him into total oblivion! I try to follow all his movements so as not to let him enter even an ounce of air, and in the end I manage to make him "Kindly Obsequious!". Just to be safe, I wait another 20 seconds before taking his head out of my boobs, taking off the plastic bag and letting him breathe! Now I'm getting a taste of this kind of extreme smothering! Once he has taken his breath, I immediately dip his face again between my huge boobs to continue to exhaust him by dint of smothering! I love using my big tits as a weapon to smother slaves!
Clip Gallery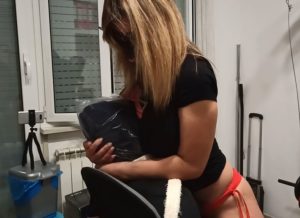 Keywords