28) Variety of scissor – Extreme action !!
Clip Information
Published: 03/17/2022
Length: 8&nbspMinutes
Price: $12.99&nbspUSD
Author: mistressamazon
Clip Description:
Have you wondered why my videos almost never last more than 10 minutes! Why am I subjecting my slave to a series of choking so extreme that he cannot support that much! And even in this video, in fact, I devastate it with a series of non-stop scissors, always tightening and carrying the scissors in an extreme way! I start with a very tight side scissor that makes his tongue stick out and his eye sockets out, ignoring all his signals and desperate requests for air! Not even the time to get him to resume that immediately my thighs envelop him in a reverse side scissor that makes him cough noisily! At that point I decide to squeeze it with my inner thigh with a back scissor that drives it crazy! First he makes incomprehensible sounds, then he moves his arms in a weird dance while he is completely "Kindly obsequious"! I hold maximum hold for 40 seconds as you see her face turn purple! As soon as I leave it, the chicken dance begins, but I have no time to waste and I immediately choke it in a devastating figure four, blocking any flow of liquids and air for a full 30 seconds! While he is engaged in another chicken dance I position myself to have him undergo 2 reverse scissors, one after the other, where I make him "Kindly Obsequious" for 30-40 seconds both times with the power of my huge thighs! In the end I left him free also because with his arms he made too strange movements and incomprehensible verses with his mouth! Maybe this time I went too hard, but for me it is important to satisfy my fans who want to be extreme action!
Clip Gallery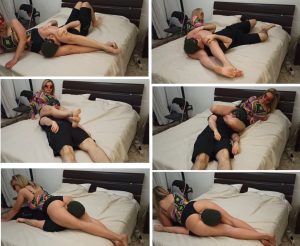 Keywords