21) Extreme smother training!
Clip Information
Published: 03/14/2022
Length: 12&nbspMinutes
Price: $12.99&nbspUSD
Author: mistressamazon
Clip Description:
After training my slave to suffer chokes, now I have to train him to suffer smothering! In 10 minutes I'll try to never let him breathe using fullweight facesitting, breast smothering using my huge boobs and very long hand smothering! There is just one small detail: no surrender signals are allowed, and I will decide the smothering times completely (and they are longer than 1 minute!). In particular at the end of the video he is very weak, and in fact he does not react while I keep his airways closed with my hands for almost 1 minute and a half. I finish it all with a nice two-handed choke, just to make it even more confusing! It was a very hard workout but I think his lung capacity at the end of the video increased a lot!
Clip Gallery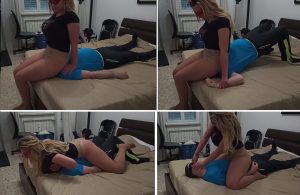 Keywords