18) Reverse scissor power!
Clip Information
Published: 03/14/2022
Length: 5&nbspMinutes
Price: $9.99&nbspUSD
Author: mistressamazon
Clip Description:
I'm really enjoying tying my slave's hands before I start choking him mercilessly! This time I use a grip that I do really well, that is the reverse scissor! After tying his hands behind his back, I make him lie down on the bed, and immediately I position myself to squeeze him between my powerful thighs and choke him in the grip of my power! It takes very little for me to block all his airways! On a couple of occasions he goes "Kindly Obsequious" and I continue the same, having fun feeling how oddly he breathes as I let go and his head falls back onto the bed! At the end of the scissors to thank me for having spared him, he begins to worship my powerful legs by kissing and hugging them all!
Clip Gallery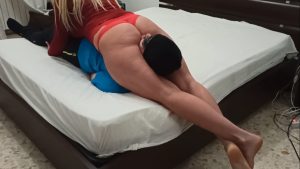 Keywords