Tori Nyx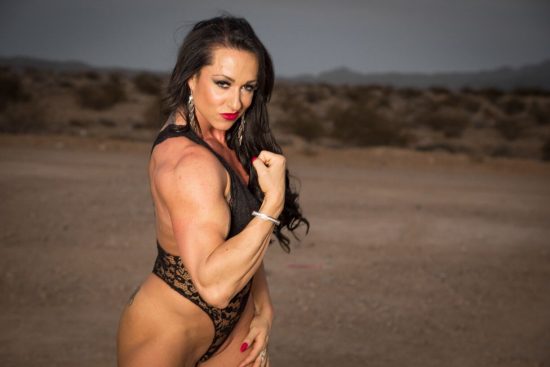 Contact
Location:&nbspUnited States , Nevada, Las Vegas
Email: [email protected]
Last Activity: 09/20/2023
Stats
Height: 5'7" - 170 cm
Weight: 165 lbs - 74.8 kg
Physique: Bodybuilder
Years Of Experience: 5-15 years plus
About
LET ME BE CLEAR: NO ORAL SEX, NO MOUTH TO MOUTH KISSING AND NO INTERCOURSE IS OFFERED IN MY SESSIONS.  DO NOT BOTHER ASKING!
When contacting me, include:
Name
City you are looking to session in
What type of session you're interested in
Date/Time(s) you prefer
**Please be detailed in how you would like our session to go!  All queries will be answered if presented in a pleasant & respectful tone.  The more concise you are, the better I am able to prioritize your email with a quicker response.  
Strong, Sexy, Smart, Mysterious, Genuine, Professional and Fun are all words you can expect to use to describe me.
As a bodybuilder for 23 years and at the top of my league as an IFBB Pro, I love nothing more than to showcase my work..  I truly enjoy exploring almost all fantasies and fetishes and pushing you to your limits so tell me what type of session you are interested in when contacting me!  I will always be honest in what I can / can't do.  The more specific you can be in your initial inquiry the better, as I run a busy schedule and I look at my time with you as something to be respected and enjoyed.  Which is why I will always HIGHLY recommend booking in advance.
**While in Las Vegas, I only offer outcall sessions.
I look forward to meeting you!
~ XOXO ~
Services Offered
Private Webcam / Skype / Video Chat
Phone Chat
Other Webcam Shows
Fantasy Wrestling
Submission Wrestling
Pin Wrestling
Fantasy Boxing
Fantasy Kickboxing
Armwrestling
Foxy
Scissoring
Posing / Modeling
Belly PunchingIn-Gym
Training
Others: Please email request
Travel
| | | | | |
| --- | --- | --- | --- | --- |
| Date Begins | Date Ends | City | Area | Country |
My Gallery
Events
Reviews
Old Reviews
Kane1971
12/19/2021
I signed up to meet Tori… This was what I thought was short notice… About 2 weeks. Apparently not on her schedule. She is so sweet on this.
I wasn't sure what to expect, but when her legs got around my head…. Omg. I was about to be unconscious. Not kidding about that… And she got me once on a straight headscissor on the side of the bed. The key is…her scissors were head… Not neck.
The next cool thing is… We got to talking about infinity and the edge of the solar system…. This in my opinion is a great feature of her. She is really a smart person.
The next thing she did for me was to adapt to trampling. She was so adaptavtive to that. I couldn't believe that.
björnborkmanatee
11/06/2021
I sessioned with Tori a couple of years back. she was easy to schedule and communicate with, a true professional.
The session was great. She's gorgeous and also down to earth and made me feel at ease. We didn't go hard on the wrestling but she did assert her feminine dominance and she had me. Sigh. Definitely someone I'd session with again. She's lovely.
submusclefan
07/26/2021
Simply. Awesome.
First up, Tori's photos look great, but she's way more attractive in person. She's beautiful in a please come home with me and meet my mother sort of way. Her calm demeanor put me at ease the moment we met and then we enjoyed a very nice conversation – she's fluent in a wide variety of subjects – before getting down to a scissoring and muscle worship session.
Her physique is fantastic. She obviously takes great care of herself and I felt lucky to be in the room with her. She wanted and allowed me to enjoy a warm, sensual exploration of her incredible musculature. Her appreciative smile was genuine and only enhanced the experience for me.
Her scissors took me to another place. Her rock-hard legs fit perfectly around my neck and I was taken into near-twilight multiple times. Each time I regained full consciousness, I was more and more attracted to Tori and what she was doing to me.
And then, if that wasn't enough, she treated me to some sweet breast smothers before taking me all the way to heaven with a facesit finish.
Tori is a 5 out of 5 for me and I cannot wait to visit Vegas again so I can see her. Communication was prompt and professional and scheduling was easy. I agree 100% with the above client who said that she is a must see. I'm only wondering what took me so long!
Sheckyarms
06/27/2021
I had a session with her a little over a month ago .Tori was really professional you made me feel at ease we discussed the session and what I just expect for my first time. She's really at the top of her game I was kind of proud of myself cuz she said she was at 80% of her scissors before I had to tap.
alcheney
04/14/2021
Tori was a godsend for me! Gorgeous AF, I mean everything – Her face, body, personality; I melted so many times over her beautiful smile, sexy physique, and legs to die for. She's also incredibly personable and genuine too and that made a huge difference in making quite the impression on me. I saw her three times over the weekend and enjoyed every minute of it! Which included trampling, scissoring, butt slams, and crushing me to death. She's by far the best session girl I've seen. She had me in cloud9, she was that good. Mmm so dreamy…
BT
03/19/2021
I just got home from seeing Tori this evening. This is the fourth time I have seen her, but the first time since December of 2019. One of the things that I have hated most about Covid is the fact that I have not been able to see Tori specifically. I arrived at her room and we picked up like we had seen each other just yesterday. Tori is a student of life and can carry on a conversation about a myriad of topics.
Tori has a striking physique and a gorgeous face. I am huge fan of big round shoulders and then how the physique flows off of that. Every time I have met Tori there is a single vision moment that has been frozen into my mind. Tonight it was her sitting on my chest looking down at me, smiling and doing a double bicep pose. Looking up and seeing a beautiful woman with big round shoulders solid and well shaped biceps, and with a wide lat spread. I will never forget that sight.
Tori has strong legs and very tight leg scissors. She is one of my favorite session providers and will see her as often as our paths cross.
She is a must see.
gargoyle67
03/17/2021
Guys!!! This lady is absolutely beautiful and drop dead sexy🥵 I can only imagine how many times she is hit on everyday just walking around Vegas and the Casinos🎰. Was my best first time session ever!! and she is definitely on my top 5 of all time list. I have been doing sessions for almost 20 years so, it actually means something saying that.
She showed up on time and is not a clock watcher!! a great conversationalist makes her lots of fun🧐as she understands fetish and enjoys the psychology in making your fantasies come true😈 Just treat her like a lady and respect her boundaries.
She came across a little cool 😎 upfront but that melted away in minutes after small talk sizing me up👍Lots of real jerks out there now a days, so you can't blame the ladies for being cautious!!!A total class act, I cannot recommend her highly enough when you hit Las Vegas💪
@bbcdnyc
10/08/2020
Absolutely need Tori to come to NYC this year
BT
12/09/2019
I just got home from seeing Tori this afternoon. And wow, what a woman. Gorgeous, phenomenal physique and above all a great personality. Smart, great conversationalist, and cool as heck. She is strong as an ox, and if you have any questions about how dense her muscle is, just have her put all of her weight on you…..she is every ounce of the 165lbs she says she is. All of her muscles have great shape and she just looks stunning in person. Wow. I am a big dude and she toyed with me. I like a little of muscle worship and some light one sided wrestling with scissors, and she put on a show. This is the third time I have seen her since the end of April, and I will see her again when life allows it. She is in no means a clock watcher and I have enjoyed every second I have been in her presence. I cannot recommend her enough.
Anonymous
10/13/2019
I met Tori for the first time last week in Vegas.
Firstly (and I know it has become a cliché but I'll say it anyway because it's absolutely true) – she looks much better in real life. There are certain qualities that still photos just can't convey – like Tori's intellect and charming personally – she simply has that rare star quality which you get to experience immediately the first few seconds you meet her.
We had a wrestling role playing session acting out one of my "scripts" – and she so extremely well got into character! (did I mention star quality already?:) My stomach literally hurt after our session (or sessions – see below) from laughing out so loud as the plot thickened (i.e. as I got myself into more and more trouble in our role play:)
And not to mention her strength – she's definitely the strongest girl I've ever met.
I actually had two sessions with Tori on the same day! (we originally scheduled for noon time and since I enjoyed it so much we had another session in the evening of that very same day – which never happened to me before) so you do the math yourselves (and do yourselves a favor and go meet her:).
I'll definitely see Tori again next time I'm in town.
Poonslayer187
06/18/2019
I just had my first session with Tori here in Vegas and all I can say is WOW!!!
She is a beautiful sexy hard body who is very personable and takes the time to get to know you and your interests. I had a domination session and certainly had to use our agreed upon safe word more than a few times as I was mercilessly destroyed smothered, lifted and taken to another planet by this beautiful Amazon queen.
Tori's pics don't do her just justice- she looks on-season and she definitely has the look of a 20-year IFBB veteran.
She has the looks and vibe of an assassin. Super hot and deadly. If this was yelp I'd give her 10 stars! Thank you Tori!
Takedown01
06/18/2019
On a recent trip to Las Vegas, I had the great and good fortune to meet Tori and connect with her for a session. First and foremost, she is a breathtakingly beautiful woman. And strong… she's easily one of the strongest women I've ever encountered – she had me seeing stars within seconds of her applying her headscissor. It felt like she wasn't going hard, too. I can only imagine her at full intensity. Ladies and Gents… If your travels take you to Las Vegas, please be sure to connect with this fantastic lady. I'll be sure to do so next time I'm in town.
BT
06/16/2019
Well my hope came true. I posted in my last review that I hoped to see Tori again, and I did last night (6/14/19.) Everything I said before is still true. And even in the short month and a half since I saw her last I swear that her muscles are fuller and stronger though she says she weighs the same. Stunning, strong and sweet. Easy to communicate with and easier to session with. We did a few things and then I told her to just have fun and she did not disappoint. She will twist you and squeeze you and do the whole thing with a smile on her face. Very chill person and very easy to work with in all ways. She is pretty awesome, and since hoping worked last time….I hope to see her again, sooner rather then later.
Anonymous
05/29/2019
I just had a third session with Tori over Memorial Day weekend in Las Vegas. Guys I sessioned with her several months ago and I never could have imagined that she could be MORE beautiful and, oh, so much stronger than before!! She is putting on more muscle and believe me you will feel it! This time she knocked me out 3 times! And EVERY time I had the pleasure of opening my eyes to the sight of this beautiful women smiling down at me while bringing me back to life. Believe ME there is nothing like THAT!!
She is always very responsive, friendly and easy to set up a session with. Just don't waste her time! This is a woman you won't regret meeting! Please don't miss this woman! But be careful, because you will NEVER be the same!!!
BT
04/30/2019
I just walked in from seeing Tori. All I can say is wow. She was very easy to communicate with and setting up the session was a breeze.
She met me at the door to her hotel room and she is beyond stunning. Gorgeous woman with an unreal physique, and powerful as can be. She enjoys being in control and honestly she can control me all she wants (truthfully I don't think I would have a choice in that matter.) Big full muscles with amazing shapes covered by smooth, soft skin. Her pictures do little to no justice to her beauty. STRONG!!! and after having her sit on my chest she is every ounce of the advertised 165lbs. If you get a chance to see her, I 100% recommend taking that chance. I hope to see her again in the future.
Anonymous
03/23/2019
Tori is the best, so easy to talk to. Makes you feel so comfortable. Beautiful lady and so strong. I recommend her for a session anytime you visit Vegas.
Anonymous
02/11/2019
Just had a Session with Tori in Vegas. Wow! We did a role play..With her showing me who the stronger sex was.This young lady is the real deal. When you see her legs …they will blow you away, Sexy.. Lady like and HARD as steel. Could not get over how strong her legs were. I was in leg heaven.. and over matched and defenseless. She was very careful not to injure me. First time I ever wrote a review. Very attractive lady, very intelligent lady. But most of all.. a very sweet lady. Was very impressed .. best decision I ever made in Vegas.
Anonymous
02/04/2019
I just recently had sessions with Tori on back to back days…and OH MY GOD! First of all she was very responsive and setting up the sessions was a breeze. So let me just say…this woman is the PERFECT combination of beauty, intelligence, sense of humor, and muscle…Oh those muscles! Please don't underestimate her strength because she will squeeze you like you thought you could only dream of. It's like she is from another world…and if you let her, she will take you there. I call it Tori's world…and once you've been to Tori's world you will NEVER want to leave and you will NEVER be the same again.
Anonymous
02/02/2019
Just had a couples session with Tori, she could not have been better to deal with. Never felt rushed , made us both feel relaxed and at ease. She is very strong,, stronger than I thought she would be, would highly recommend her!
stingrayy990
01/13/2019
Had a session in San Francisco recently. Wonderful session, she is very nice to chat with, friendly, great muscles. Highly recommended.
Dogecoin32
12/30/2018
Tori is real deal book her now…
I FOUND THE BEST AFTER 20 YEARS OF SESSIONS! WORTH THE READ BELOW.
I was visiting Vegas for a few days and decided to jump on sessiongirls and saw Tori's profile which had just popped up that day! I was blown away by her beauty in her pics and couldn't contact her fast enough to see if she was available or even real!
Tori was extremely prompt with her replies and came across very nice and down to earth and we hit things off right away. During our email chat she asked what type of session I liked and even provided outfit options, extremely accommodating. She met me at my hotel wearing a professional business type outfit and heels, GORGEOUS! If she looked that good in casual clothes I trembling in anticipation to see what she would look like in the outfit of choice which was a short skirt, tall heels and a sexy top. I was blow away by her body and beauty when she walked out of the bathroom. We saw eye to eye with her heels on which I LOVE and I am 6ft tall. She is a big girl! Her legs and ass are thick, hard and show a lot of definition and her arms are big but I couldn't keep my eyes off her face because she is so beautiful. Before things got started we hung out on the bed and talked for a while to get to know each other and found out we had a ton in common based on our life journeys as we are near the same age. As we were talking Tori was flexing and putting on a sexy show for me and needless to say I couldn't concentrate on our conversation and wanted to focus on her amazing body. She is the best at sensual muscle worship which is what I love and really made me feel comfortable the entire time which is VERY important to me. Tori is not a clock watcher and makes sure her focus is on you the entire time as I have had many girls who just seemed like they didn't want to be there. Tori knows what turns us muscle loving guys on and loves being with her fans. I had so much fun with her during our first session that I immediately booked a second for the next day before she left my room. I will do what ever it takes to see her again as she made that much of an impact on me! I have never felt so good after a session in 20 years! Thank you Tori! You will not regret the time you spend with this amazing women!
Anonymous
11/23/2018
I have to say, if you like a Olympia level Figure working on Physique level BEAUTIFUL woman, then Tori is the gal! True in that her pictures do not do her justice on how incredible her body is, and especially awesome legs. The first session is always a little iffy as we were both feeling each other out what we like and do not like, (I like a variety in my session such as posing, squeezing, etc.) but I was happy she was able to squeeze me into her busy schedule and session was very good. But I saw the potential for a GREAT session, so I took a chance and set up another one the next day as I was there on a short trip. The second session, now that we were more comfortable with each other was MORE than GREAT! I will definitely see her again when I am back in Vegas!
11/19/2018
I've been doing sessions for over 15 years with 20 different ladies.
After my session with Tori I will only see her. She looks 10x better in person than her pictures on this site. The best way to describe her is tall, gorgeous with a perfectly proportioned hardbody. During our correspondence she asked what I liked and what outfits to bring. I only wanted her to pose and head scissors.
Tori was on time and not a clock watcher. The session began after she changed and came out of the bathroom wearing 6" spiked heels and a very short tight dress. After some posing she got busy putting me in several different head scissors and just knew how much pressure to give while throwing in some smack talk. Her skin is soft and smooth with the hardest muscle under that skin.
It was so good we had a second session that night. She's a sweetheart.
">