Queen Lucrecia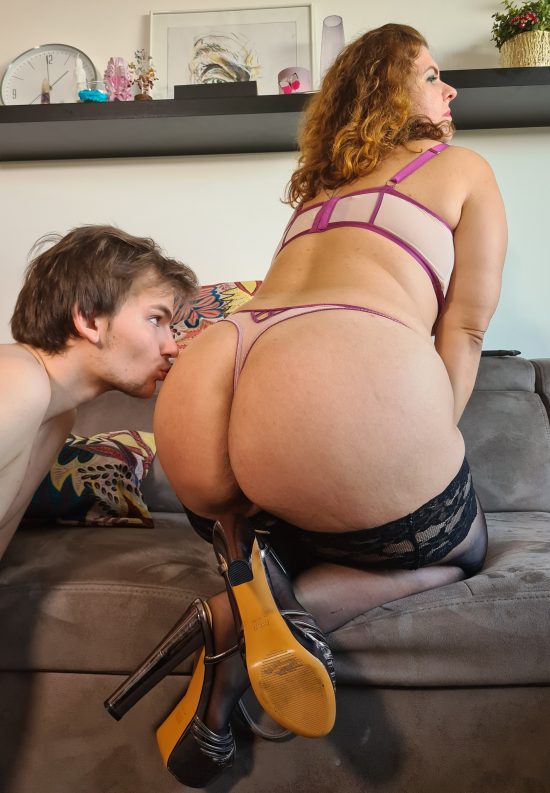 Contact
Location:&nbspCzech Republic , OTHER, Prague
Email: [email protected]
Last Activity: 09/01/2023
Stats
Height: 6' - 183 cm
Weight: 225 lbs - 102.1 kg
Physique: Curvy
Years Of Experience: 5-15 years plus
Tip Me
About
I've entered the amazing and exciting fetish wrestling scene in 2014 thank to the Fight Pulse production which found me. Since then I've enjoyed lots of grappling, domination and fetish fun!
Would you like to meet a session girl, who truly enjoys overpowering men, punishing them and using them as her boy-toy? Then you're lucky you've found me!
I've been punishing cocky boys since elementary school.
If you're a fan of curves, strength and dominant women – I'm the full package. I can be very kind, yet sadistic too. And lets not forget that I love to wrestle. Whether you're a beginner or more experienced wrestler, we will have lots of fun on the mats. My favorite rules are pins and submissions! You'll feel overwhelmed under my full weight. You won't have any other option than tapping in my headscissors.
I also love facesitting, bondage, foot domination. Or perhaps you'll surprise me with your own fetish/roleplay scenario. I'm up for experiments.
PLEASE NOTE THAT I DON'T OFFER ANY TYPE OF SEX OR RELEASE. Don't ask for it and approach politely, so I can respect you too.
You can also find my clipstore CZECH AMAZON with lots of competitive wrestling and physical domination or my FEMDOM store KINKY LUCRECIA Feel free to contact me about custom of your dreams ;).
Services Offered
Competitive Wrestling
Semi-Competitive Wrestling
Fantasy Wrestling
Pro Wrestling
Submission Wrestling
Pin Wrestling
2 on 1 Wrestling
Couples Wrestling
Grappling
Semi-Competitive Boxing
Fantasy Boxing
Fantasy Kickboxing
2 or More on 1 Handicap Matches
Female vs Female
Tickle Wrestling
Scissoring
Custom Videos
Lift and Carry
Bondage Wrestling
Travel
My Gallery
Events
Reviews
Old Reviews
karlchenc
12/28/2019
Wrestling against Lucrecia
Going in I knew that it would be a very one-sided affair as she not only topped my 5'6" by six inches, in addition she outweighed me by a hefty 81 pounds. Yet, I intended to give it all I had and to make her work and work very hard for each submission and for each pin. Prior to the match I told her I wanted to struggle and that I would mainly leave it up to her what holds to apply to force a submission or to have my shoulders solidly pinned for ten seconds.
We had wrestled a couple of times a while ago. Even though I was soundly defeated both times, I felt I had been in the fight and that I had made her work for each pin and submission. I had realistic expectations that I would do a little better this time around. As it was, this time she totally cleaned my clock. True, she had gained about 3 or 4 kilos since our last meeting. That alone does not explain her total domination. I believe she has improved her wrestling skills and as a rank amateur I had no defense.
We started out on our knees. We managed to encircle each other's body with our arms. So far so good. Two seconds later I was on my back and Lucrecia on top of me. She put her knees onto my shoulders, basically using all her weight to nail my shoulders to the mat. She slowly started to count, during the early part of the match I occasionally even managed to lift one of my shoulders, she repositioned herself a little, again pinning me, and whether I liked it or not, this time she was able to reach the ten count without me being able to escape the pin. Total time elapsed, certainly less than a minute.
In this fashion she was able to pin me over and over again and there was nothing I could do to stop her. With some variation each fall started the same way. Once she had encircled my body or neck with her arms, she heaved either to her right or to her left and I found myself looking up at her as she mounted my body. From that mount position she would pin me as before or easily would catch me in head or body scissors. The first time she applied head scissors I thought I could hang on for a bit, but that was mainly due to the fact that she only applied minimal pressure initially. Once she increased the pressure I quickly tapped out as I did not want to be knocked out, which she very easily could have done.
Had she wanted to she could have scored a ten-count pin or a submission in less than a minute each time we squared off. To break the monotony, she moved me around straddling me various ways. I had a difficult time with her weight to the point that I felt I had to tap out at times when all her weight was on top of me, even though she did not apply any submission holds at this very moment. No matter what I tried I was unable to prevent her from applying various submission holds, including face sitting whenever she chose that particular hold or decided to sit on my face. Once she decided to end a fall, in seconds I either was counted out or had to signal my submission.
It certainly was a very sobering one-sided affair. I have a difficult time to replay in my mind the various holds I found myself in. The one scene that remains in my brain is, when she was reverse face-sitting me on my lower face, so that I was still able to breath through my nose. As she was leaning backwards cutting off the air totally, I still could see the curvature in her spine creating a little valley in her muscular back. With my shoulders solidly pinned to the mat, it became a race whether I would tap out or whether Lucrecia would reach the ten count before I tapped.
I believe to achieve a ten count against a struggling opponent signifies a more convincing victory than forcing an opponent to tap out. I have no idea how many times I was forced to tap out as I quickly lost count. I am convinced, however, that the number of times she pinned me for ten seconds was significantly higher than the number of my tap-outs.
As an interlude we tried bondage wrestling with the obvious results. By the time I managed to get a piece of rope half way around one of her legs, she basically had me solidly tied up. I did achieve a moral victory when I managed to loosen one knot, she thought she had secured. That delayed the final outcome by perhaps 30 seconds.
Even though I was soundly defeated, and felt this in my body for a couple of days afterwards, Lucrecia was very careful throughout the match not to cause any injury. Once she had secured a superior position, she gradually increased the pressure and immediately released the hold when I tapped. It is obvious that she enjoys to wrestle and I think she likes it when her opponents struggle in vain. That probably is the reason why I find her so attractive.
Afterwards I told Lucrecia that this potentially could have been our last meeting on the mats as she simply was too strong. Now, about a month after we met, I am thinking to give it another try.
LION4321
11/08/2019
Perhaps it's a bit late but two months ago I just had a wonderful and amazing double session with Lucrecia and Amazon Olga in Israel.
This was my second time I met Lucrecia and this time was even better and more powerful (physicially and mantally) than the last time,which was also in Tel Aviv,about 10 months ago.
Anyway,I enjoyed from every second of the session and really hope to meet her again someday and that the experience will be even more delightful and special.
during the session I was totally crushed,smothered.flattened and trampled by those two tall and beautiful amazons and it was really great to worship and admire their perfect body,to submit completely to them and to be like a toy at their feet.
The session lasted about 2 hours.Two hours at heaven! 😀
Anyway,I highely reccomed about those two fadies and you may read also my review about Olga at her profile,that although she's very new to this world.she did a really good job during the session and she learn quick… 🙂
Anonymous
05/22/2019
I met Madam Lucrecia in Tel Aviv. This is my second session with her. She is after an injury so it was more light wrestling and holds sessions. This only showed how talented she is. Her holds are unbreakable. She is very flexible and quick to her size and she is using her size and strength very professionally. Also trying, I couldn't got any upper hand on her or to break any hold. Even with my extreme effort I managed to loose a little one of the holds she easily switched to another hold. Another good point is that she really enjoys wrestling and as she told me, she had to restrain herself in order not to ruin me. To know that also I am a big strong guy, 181 cm, 85 kg, and that I'm powerless against her and practically she can outwrestle me whenever she wants makes it even more exciting. She is very friendly, respectful and professional. Respects her limits and you will got a real amazon that can crush you.
byrneeoin84
10/09/2018
Had an absolutely fantastic time with Madam Lucrecia in Dublin, Sept 2018.
Firstly she was very patient and flexible with her time as I was on a strict schedule. She facilitated me even though I was running late.
For the session itself she was amazing. Completely overwhelmed me with scissors and some moves like I've never experienced. Now I will admit I'm a bit of a limp fish when it comes to sessions but Lucrecia was more than capable of taking control and showing off her strength.
Very easy to talk to between bouts and very respectful of my limits. Would highly recommend for everyone.
07/11/2018
Hello wrestling fans,
I would like to share with you my experience with private session with marvelous Madam Lucrecia. We agreed semi-competitive match for 30 minutes and for winner of match next 30 minutes of domination wrestling with bondage. From the beginning I knew who would be winner because 3 months before I had first session with Lucrecia and I got terrible beating.
Lucrecia invited me in her private wrestling studio with a smile, in good mood. She was charming and beautiful as I remember her from our first meeting. For your information I middle size man 183cm, 83kg with sporty body and you know Madam Lucrecia is big and strong lady.
She agreed with video recording of our session which i appreciated a lot. We started with arm-wrestling. I was happy because I overcomed her by both hands (2:0 for me). J Lucrecia mentioned she is not good in armwrestling. However she has other strong weapons.
We started and she let me push her down and straddle her. I could sit on her chest and tried for schoolboy pin. She easily unseated me. I attacked by bodyscissor. I squeezed as strong as I could. She was only smiling and asked me to squeeze harder. No way I was unable to make her submit. After a few of my hopeless attempts for her submission She suddenly threw me down straddle on my chest and pin my hands down on the mat. I was in classical schoolboy pin. I tried to unseat her but there was no chance she is too heavy for man as me to escape from that hold. After while she move more front and my head was between her mighty thighs. She pull my helpless hands straight in front of my head. Then she sat on my face. My head disappeared in her big boom. After a while I couldn't breathe. She moved up and let me take a breath and sat again she tortured me like that for a while then i finally tapped out.
1:0 for Lucrecia after 7 minutes.
2. Round
I was determined to score at least one point. Lucrecia obviously did not struggle with all her might. It was chance for me I got her down and sit on her chest and tried to push hands to the mat. Lucrecia protect herself and rolled over by chest down. I was on her but I could not flip her on her back. So I tried to apply reverse head-scissor. Lucrecia reacted quickly, stand up on knees wrapped her hand around my neck and pulled me between her legs and squeezed my midsection. It was terrible pain. I could not withstand it. I resigned quickly and tapped out. 2:0 for Lucrecia, 10:20 match time.
3. Round
It began similarly as previous round. Lucrecia let me wrestle her and I tried to score my first point. However I had to admit I was unable to score. As soon as she decided to make a point she did it even though I protect myself as strong as I could. 3rd point she scored by reverse head-scissor. She clamped her mighty thighs around my neck and head and squeezed. I tapped out immediately. Score 3:0 for Lucrecia, 13:50 match time.
4. Round
Lucrecia finished me very quickly because she applied grapevine in combination with breast-smothering. This hold in performance of Lucrecia is impossible to resist I think nearly for anyone. Of course in my case I submitted in a moment. Guys I like this hold very much. Lucrecia is wonderful women. So I didn't mind when my face disappear in her cleavage and I could not breathe. J Score 4:0 for Lucrecia, 19:20 match time.
Fight should continue for another 10 minutes according original schedule but Lucrecia changed her mind and decided to tie me. She released grapevine and facesat me, pulled my hands above my head and sat on them. I was so easily trapped, I tried to release myself by my all force. However I could not do anything. It was very humiliating. Lucrecia was smiling to my face when she was tying my hands by a rope. She bondage me so easily I felt as a puppet in her hands. Then she started to play with me.
Firstly she facesat me from front and rear as well. I enjoyed it a lot, even though I cannot breathe. In fact this scenario was in my dreams.
Then she breastsmothered me by her nice big boobs. She smothered me until I tapped out and I tapped out many times. I enjoyed that torture so much. J
Of course She squeezed me by her strong legs from many positions. It was the most painful part of our session.
She beat my ass by a ropes and finally she did little trampling to me. It is quite dangerous because of her weight but she was very careful did it gently.
Then she released the bondage and I thought it was end but it was mistake she wanted to continue with wrestling. I noticed she like to wrestle and I was delighted that even though I am one many guys she wrestled she enjoyed wrestling with me. So I tried to be good opponent to her for another 10 minutes. However no point on my score side was added.
It was my second session with Madam Lucrecia and I have to say it was really nice, exciting time for me again and I know that in the near future I will ask Lucrecia for next session.
Be well.
Frank alias Franta
03/23/2018
Hallo
Im experienced wrestling match with Madam Lucrecie. Match was so fantastic that i have to share it with you. There is my true story.
On wendesday 21sr of March 2018 I had a semi-competitive wrestling match with Madam Lucrecia.
It has been my first wrestling against woman. I'm quite sporty man, middle size (183 cm, 84kg). Before a match I have a confidence that I can be equal opponent to her and I was wondering if she can really beat me or not. So far I have seen many various mixed battles and many of them looked more or less like fakes. I downloaded some Lucrecia matches from Fightpulse before so I knew her before our match a little bit. In these matches Lucrecia wrestled some smaller guys who did not have any chance against her. So there was some doubts in my mind if she can really beat me.
When I saw Lucrecia on my real eyes I was stunned how pretty women she is. Additionally she was very kind and warm to me even though she is known as a strict Dominatrix. So I felt very comfortable before beginning of match.
We agreed one hour wrestling contest with submission by scissoring, smothering, pinning and facesitting rules (no chokes were allowed).
Match had started and after short while I realized that I got into big troubles. I fought with my all effort of my athletic sporty body but it was useless. Lucrecia gave me first point by breastsmothering grab. It was overwhelming how much helpless I felt in that moment. However I enjoyed it so much. Then Lucrecia got me between her mighty thighs and squeezed my body very strongly. I managed to resist her for a while (1-2 minutes) but finally it was too much for me and I gave up. Then Lucrecia show me how powerful her ass is. She smothered me by front and reverse facesitting so intensively that I nearly tapped out. My troubles continued, Lucrecia applied headscissor to my neck and poor head. I felt that she can kill me by her thighs easily. Lucrecia was giving one point after another and I was absolutely without any chance to give her at least one point. Believe me that I was trying to fight whole match's time and did not resign, but strength and skills of this beautiful lady was too much for me. Final score was 13:0 for Lucrecia. I need to stress that I was very happy during whole our match because my dreams (be overpowered by big beautiful women) came true.
If you guys have similar dreams as me i recommend you meet Lucrecia. It is real adventure of a live.
I'm looking forward for next wrestling with Lucrecia to get another exciting beating from her.
Franta (Frank from CZ)
11/21/2017
Madam Lucrecia is the real deal for gentlemen who desire a woman with incredible size, strength, and endurance. She will crush and envelop your feeble little body whether you resist or not. She lifted my 90 kg. body like I was a toy. Add to that a wonderful personality. You can't miss with Lucrecia.
10/24/2017
I fight against a tractor called Lucrecia. I lost. Life won, fight miserably lost. Too strong, too dominant. I felt like a rag in the washing machine. Painful but beautyful!!!
05/30/2017
Had a session with madam lucrecia on 5/26/17, and I had a blast!!!! I couldn't even move her, she's solid! Then I got smothered by her ass, boobs, etc. She also, headscissored me (reverse, front, side), totally had me at her mercy! It was exciting, thrilling. She was into it as well and not a clock watcher. Had me wanting more, great session.
04/04/2017
Yesterday it was time, a dream fulfilled, I could fight against Lucrecia. Today I feel like a rat after a python attack that I survived. My ribs, my ears, my arms. Everything hurts.
Although I am fit and certainly not weak, the fight started quite badly for me. After a few seconds, I was in an awkward situation. This was the beginning of a 90 minute domination of a woman who greeted me very kindly and kindly, took me the nervousness. But that was it. For 90 minutes, I was her prisoner without ever having a chance to free myself. Her leg scissors do not feel like leg scissors, as if you are pinched between two concrete slabs. And I was often in the scissors. Her facesitting is incredible. You can not move, you just hope not to stifle. Your breast smothering – the same. SGPin, Facesitting, Body and Headscissors changed. I did not know any where, where is up, where is down. Fastened in their handles I was a marionette in their hands. If you think it's enough with humiliation, followed a handsmother session. No sound came from me more than a stifled scream. I was in seventh heaven and hell at the same time. I never forget this fight. I'm looking forward to seeing her again, because she knows how to make you feel pain. Thank you !!
B.B
03/14/2017
I had the privilege of sessioning with Goddess Lucrecia in early March in Florida and words cannot describe how great a session I had.She is a big beautiful amazon who is a wonderful wrestler but is also into domination and is outstanding with role play. .Her pictures are very up to date altough she is even more gorgeous in person.She is very sweet and the more she gets to know you during the session the better it gets.My session was so dreat that I had another session 2 days later .In summation if you are looking for someone to dominate or to wrestle that is big strong beautiful and very powerful, it would be hard to find some one better.One piece of advice .Make your e mails clear as to what you want and be as concise as possible.Your reward will be good communication with the strong possibility of a great session
">