Official Queen of Calves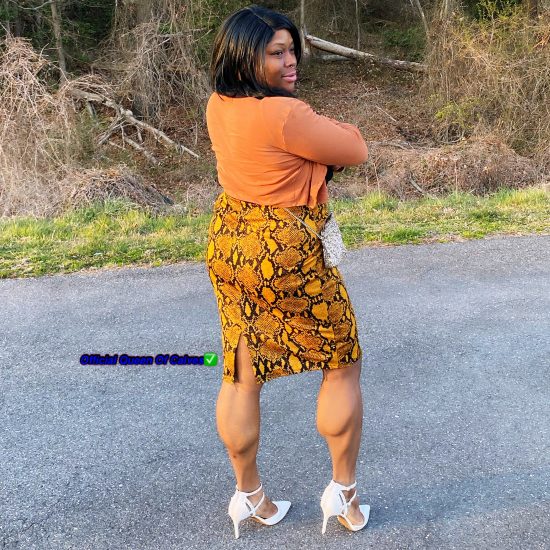 Contact
Location:&nbspUnited States , Maryland, Baltimore
Email: [email protected]
Last Activity: 05/09/2023
Stats
Height: 5'4" - 163 cm
Weight: 220 lbs - 99.8 kg
Physique: Athletic
Years Of Experience: 1-5 years

About
Hi my loves, Jas Renee here from the Maryland area.I actually am about 45 minutes from Baltimore and only 20 minutes from Washington DC . But as you know it's easier to fly into Baltimore than Washington DC(pricing, commute,etc.) So I would like to accommodate you by meeting in Baltimore if that is a better option from where you're coming from! I am a muscular calves content creator AKA Queen of Calves. I am interested in all things calves sessions. If you would like to book a session, my expertise is in trampling, scissors, and all things revolving domination with my calves as I am a very dominant woman. All of the services listed on this page I have personally performed and if I were you, I'd be curious too.🥰 I would like to meet with all ethnicities, come as you're to me as I am the sweetest girl you will ever meet!
Prior to sessions, a Skype call is required at $2.99 per minute. Just to get to know each other and what fantasy I can fulfill of yours. You can schedule/book me through my management Agecy via email at [email protected] Make sure to checkout my instagram and onlyfans as those are places where most of my work can be found. I'm just a muscular calves girl that likes to have fun with her calves. It's something about being a woman with muscular calves that has men dropping to their knees in Awe.
"Honestly, I cant wear a flowy skirt and stiletto heels to the function because all eyes on me like a Tupac in the 2000s! I'm just giggling as im walking in because I know what you're thinking about these big bulging calves… Haha, quite menacing…."
Very poised, professional, business owner…actually DBA Queen of Calves. I will arrive business like so don't worry, your secrets are safe with me. I am discreet and will take our time seriously. If you're coming into the area, make sure to allot some time for the Queen. I love meeting new people and cannot wait to converse with you. Our time will be much more organic if we allot time to get to know each other as this will be a bit of a different service. I love a good kink! I am verbal during our sessions so be prepared to talk back to me, provide safe words, etc . Also, please provide me of the Do's and don'ts of the time that we will be spending together. Please arrive professional and clean, no extra people, no house meets. Also, this is a hourly service that I am providing.  No sex you naughty, naughty boy, if you ask you may just be punished even more for disrespecting my character. Anyways…😌
Please allow 24-48 hours for a response via email.
No drugs or alcohol please, I can't get you good how i/you want if you're intoxicated.🥰
Drink water and take care of yourself. Until then…..
-Queen👑
Services Offered
Private Webcam / Skype / Video Chat
Phone Chat
Semi-Competitive Wrestling
Tickle Wrestling
Scissoring
Custom Videos
Posing / Modeling
Bondage Wrestling
OIL Wrestling
Dominatrix Services
Bondage
Corporal Punishment
Financial Domination
Hosiery
Spanking
Tickling
Trampling
Virtual Sessions
Water sports
Whipping
Travel
My Gallery