Heather Alpha Armbrust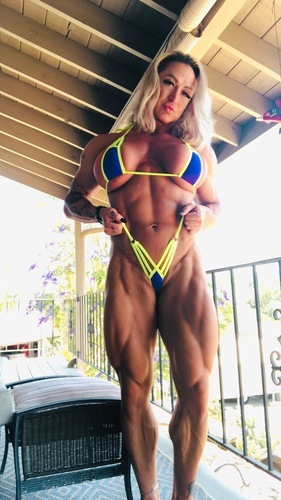 Contact
Location:&nbspUnited States , Las Vegas
Email: [email protected]
Last Activity: 02/06/2022
Stats
Height: 5'6" - 168 cm
Weight: 175 lbs - 79.4 kg
Physique: Bodybuilder
About
I am known by Heather Armbrust, Heather Policky, The Spiritual Badass or my Domina alter ego; Alpha Hughes which is the one I prefer. I am naturally a domina and wish to keep most of my work in femdom and submissives. I encourage my more submissive clients to contact me at [email protected]
You will be at the top of my priority. I still see a select few muscle worshippers as long as you know your place and are respectful.
I am retired from professional bodybuilding but still stay as muscular as possible because I love it. I will NEVER compete again but I sure look like it. My personality is naturally dominate yet kind which is a true alpha. I can be your biggest fantasy or your worst nightmare; maybe both. My meetings however, depend on the individual client as I am very versital. I like to get a clear sense of what you are seeking out of our time together so that I can make it the best experience possible. Although my first love is being a Domina and Im more of a masochist/sadomasochist, I can also go very gentle on you due to my empathetic nature. Whether you are just a hardcore fan or a true sub, I can mold the session to your fantasy. I adore being worshipped and making a man my slave is a deep, cerebral turn on. But so is inflicting pain and punishment. I can make u tremble at my feet but also relax u into putty. I transport u to what is called sub space- a euphoric feeling of safety and wholeness in my presence.
In my spiritual practices it is important to honor the self in what makes us tick rather than suppress who and what we are. Fulfilling our fantasies can bring us into alignment. I want my clients to leave floating on Cloud 9. This is therapy! The fun way🥳
I travel with all expenses paid and my minimum fee covered, otherwise its very rare that Im available anywhere but Vegas. Keep in mind that the more effortless, uncomplicated u work with me- that is how u get the best me. If u r going to be thrifty and penny pinching then u just need to save more before contacting me so u may have the optimal experience.
Think how motivated u r when someone doesnt value ur time and energy for what u do.
It straight turns me off! U get what u give.
I am also available for phone and Skype meetings! These can be very sexy😉 I love dominating this way! Or u can just watch me flex and dance😈 The fee has to be prepaid and then we set an appointment. Please use email to set it up or via Skype but u must mention you are seeking to make an appointment for me to accept. Serious contacts only!
Please note- I DO NOT take last minute appointments or in calls. Unless!.. I happen to be available and you want to pay a last minute fee. My life is scheduled and that time is to be respect as I respect yours and the money you r spending.
Lastly, scheduling is to be a simple task by using clear, precise, RESPECTFUL communication. Use understandable grammer and sentence structure. I wont tolerate any unrealistic price negotiations and/or energy vampires. I DO NOT SEE ASSHOLES!
Services Offered
Private Webcam / Skype / Video Chat, Phone Chat, Other Webcam Shows, Fantasy Wrestling, Fantasy Boxing, Fantasy Kickboxing, Tickle Wrestling, Scissoring, Custom Videos, PosingModeling, Belly PunchingIn-Gym, Training
Travel
My Gallery