Andrea Bertuzzi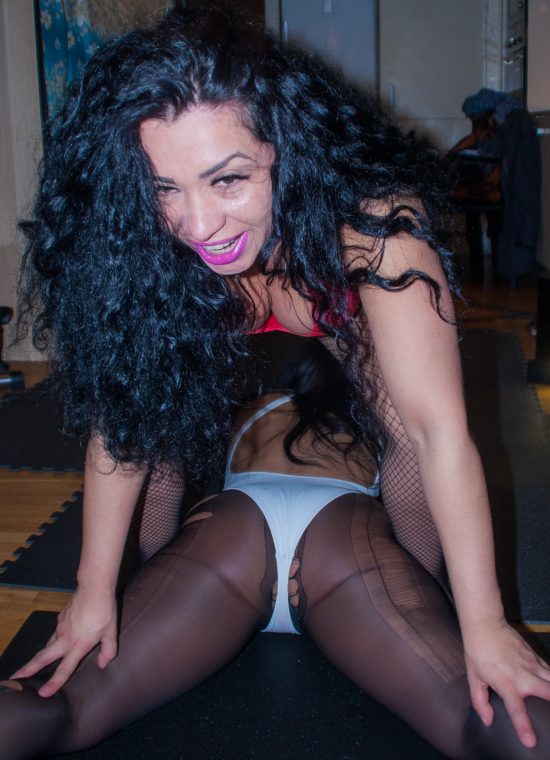 Contact
Stats
Height: 5'8" - 173 cm
Weight: 165 lbs - 74.8 kg
Physique: Bodybuilder
About
Hello sessioners! .
I have more than 10 years of experience in domination and wrestling sessions. I do semi-competitive fantasy, pro style, fantasy cat fighting, tickle wrestling, scissors and belly punching, and of course: Figure four leglock, boston crab, camel clutch, full nelson, scisors…
I adapt to your level, your imagination or your capacity for suffering.
I hope one day we can meet on the mats to see who the better wrestler is. Best wishes to you and happy submission!


Regards from Spain.
A " strong hug! " 🙂 Andrea Bertuzzi
For more information: Whatssapp Phone Number: +34642625247
Hola [email protected]!
Me llamo Andrea Bertuzzi, soy una mujer latina: adicta al gimnasio, y para descargar tensiones ¡me gusta luchar! por cierto: mi figura favorita es la del 4… Y si no sabes lo que es; quizás tendrías que buscar otras opciones o tener claro que tu única opción, conmigo: va a ser la sumisión. Pero tú tranquilo, que tan solo tienes que dar una palmadita o decir STOP: y volvemos a comenzar.
Mí formación deportiva inicial fue en el taekwondo, y después comencé a levantar pesas, por lo que  mis primeras sesiones las disfrutaba reventando bolas (ballbusting) y desinflado "latas de coca cola" golpeando panzas (belly punch) o  impresionando a mis sumisos levantándolos (Lift and carry).
Respecto a la lucha, haré todo lo posible por someterte, ya sea en lucha clásica o competitiva, (grecorromana o grappling) o de fantasía. Y por supuesto: me encantará ver la cara de tonto que se te quedará cuando me veas en lucha libre profesional (pro wrestling) con toda una colección de bañadores, medias y calzados muy particulares… a la que se suma una galeria de llaves. Y he de decir: que me siento muy orgullosa de poder bloquear tus piernas con una figura de cuatro "figure for leglock", embragar tu cuello con un "camel clutch" o literalmente: reventarte con un cagrejo "boston crab"… y por supuesto: cortar tu respiración o  pinzar tus tripas!, con cualquiera de mis tijeras… Y si te has quedado con ganas: te levanto con una nelson completa, sin olvidarme de tus extremidades. Ya he mencionado que paro cuando gustes.
En lucha: no me vas a liar, ni pillar con preguntitas, "de que sé o no" ya que tengo una considerable experiencia: realizando sesiones en toda España… y por qué será que en Santa Cruz y en las Palmas me adoran…será  acaso por su intrínseca cultura luchistica!
En mi bolso, llevo conmigo el badaje que he adquirido; gracias a todos los clientes con los que he luchado, dado que gracias a ellos:pude  aprender a desplazarme , aplicar llaves básicas (de las que me siento tan orgullosa) y con el tiempo a ejecutarlas en el combate, sí, combate: porque la mayoría de los clientes vienen a luchar. Y afortunadamente: tengo una agenda de clientes fijos, que practican diferentes tipos de lucha o "artes marciales": con los que cada día aprendo algo nuevo. También he conocido algunas de sus parejas y amigas… y me las traen, "literalmente", para que sufran o las vean vulnerables, algunas vienen con la intención de someterme a mí, para deleite de su pareja: y finalmente terminan los dos derrotados, no es broma,y he de admitir que disfruto mucho humillándolas, soy así…
También puedo decir que tengo cierto sentido del humor: por lo que si te gusta la fantasía; no creo que me sorprendas, ¡son ya muchas sesiones! y cada cliente es un mundo, nuevo, afortunadamente.
Respecto a la habitación en la que lucharemos: cuando viajamos (mis costillas y yo) … : nos almodamos a lo que hay. Y en función de la habitación, por meras medidas de seguridad, adaptaremos las necesidades de la sesión al lugar. En Barcelona, dispongo de una habitación que acondicionó uno de mis clientes fijos. Y si te va mucho la marcha: recibo clases particulares de lucha en un gimnasio: en el que me alquilan la sala a puerta cerrada.. Pero para ir ahí: tu nivel tiene que ser muy, muy bueno.
En resumén: gracias a clientes exquisitos aprendo cada día, y puedo adaptarme a tu imaginación o tu capacidad de sufrimiento: tú decides la experiencia que quierres probar.
Si quieres que luchemos, mi residencia esta en un apartamento de lujo en Europa Fira (Barcelona) pero por sesiones de trabajo: viajo con frecuencia a Valencia, Tenerife, Bilbao, San Sebastián, Sevilla, Granada, Córdoba, Marbella, Las palmas, Lanzarote, etc…
Espero que algún día podamos encontrarnos en las colchonetas para ver quien es el o la mejor
Mis mejores deseos para tí y feliz sumisión!
Saludos desde España
Un fuerte abrazo! 🙂 Andrea Bertuzzi.
Para más información: hablamos por whatsap: +34642625247. NO UTILIZO EL EMAIL
Services Offered
Private Webcam / Skype / Video Chat, Competitive Wrestling, Semi-Competitive Wrestling, Fantasy Wrestling, Pro Wrestling, Submission Wrestling, Pin Wrestling, 2 on 1 Wrestling, Grappling, Tag Team Matches, Armwrestling, Female vs Female, Tickle Wrestling, Scissoring, Lift and Carry, PosingModeling
Travel
My Gallery